If you have not been art journaling for a long time, you probably have a journal or even many that you are not satisfied with. Maybe you have even ripped off few pages, just to keep the journal pretty. If you feel disconnected with your journaling, this post is for you.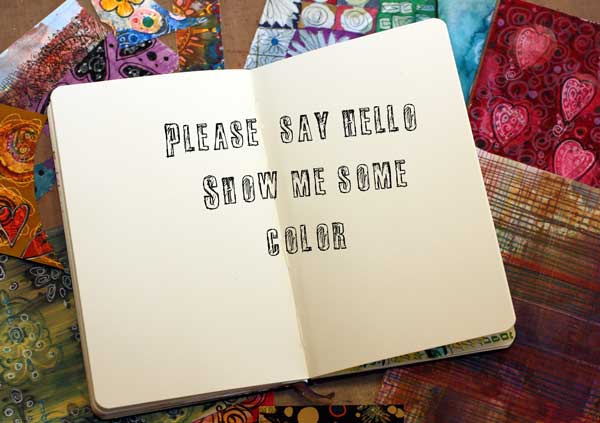 If your journal is empty, it's like freezing. "Give me some colour, give me something warm to wear!", it screams! You won't get to know your journal, neither your inner world, if you search for the perfect moment to create the perfect page. The pages can be built gradually, layer by layer, and you have to start filling those empty pages.

If you do not know where to begin, take a dry brush and some acrylic paint and paint a thin layer. You get visually better results if you do not repeat one color but make the page as asymmetrical as possible. That way colors get their own space and character from the beginning. You can paint many pages if you feel like to. If you are tired and lack inspiration, this is the thing to do!

The next thing you need to do is to let your journal see the world. Take it with you when you go to library, travel, where ever you have little moments to spend quality time with it.

While on the road, take a black pen with you and draw or write something, it does not have to be special. Remember, the pages can be built within time and even the smallest scribbles help to fill the page.

When you feel more focused you can continue with the pages that have painted backgrounds. I used acrylic paints and thin brushes to draw some doodles and colour pencils to add dimension. If you have nothing else in mind, strengthen the colored areas that you painted. Add more similar hues to each area with color pencils and work with horizontal or vertical strokes. Always work fast as it makes you use more imagination and less rational thinking. The result at this point is like a photo without a focus.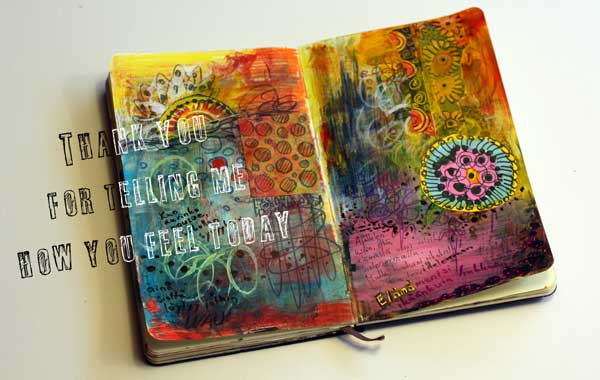 Then  decide where you would like the focus to be. Add some details there. I love to use my own hand decorated papers for details. Finally find or create a background for journaling. When I begin to make a page I do not usually know what to write but in the end I just write what I had been thinking while creating.
An art journal is the photo book of your inner world. Like with photos, the pages are not always perfect. But when you have a collection of them, they tell a story. And I guarantee – you will then love your art journal.