Now when Inktober is running, art prompts are especially popular. This week, we use them so that they highlight more than suffocate our self-expression.
Art Prompts – Threat Or Opportunity?
Using art prompts is a tricky thing. The prompt can be your master, telling you literally what to create. You can take "Snow" and draw a pile of white stuff, and then wonder if that was fun at all. On the other hand, many say that they want to create freely from their ideas but then struggle with getting in touch with what they truly want to create.
I have been using art prompts successfully to expand my artistic expression and to become more clear with my artistic vision. For me, a prompt is a starting point to discover things I love to spend time with. I don't just draw the first idea that comes to my mind, but process it further before I start drawing.
Ideas vs. Techniques – How to Become a Better Artist with the Help of Art Prompts?
Art blogs rarely talk about processing ideas, and in general, the discussion about art, especially when artists lead it, is very technique-heavy. But if I had to choose between ideas and techniques, my choice would be ideas. In my opinion, it should be ideas that make you learn the techniques, not vice versa. The art that is only about mastering the techniques is more like craft – it can be skillfully made, but the freedom of expression and creativity doesn't shine through. On the other hand, we sometimes create art that is packed with emotion that other people don't see. Then the process was cathartic, but the lack of techniques flattened the expression.
Balancing between the ideas and the techniques is not easy, and all artists struggle with it. If you focus on the techniques only, the process of creating becomes joyless and meaningless. The ideas bring back the passion for creating. That's why I also talk about ideas in my classes.
This week, I share my ideas behind the recent Inktober prompts (days 11-18). I rate how difficult each prompt was for me between 1 to 5, how I discovered the ideas for the images, and what I learned from the process. Like last week, I have also written stories for each image, articulating my thoughts after the creation process. This post is also an example of how you can use journaling to clarify your artistic vision. Words go well together with the art prompts. If you feel the need to write as a part of the actual image, you can challenge yourself in visual expression. Think about how you could visually express the words you want to write!
Prompt 1 – Snow
Difficulty: 1 – Easy
Ideas: I live in Finland, I know snow! I was thinking about the harshness of winter and if my new orchids will survive it. I am always inspired by Russian folk art and wanted to the illustration look like a northern fairytale.
Lessons Learned: When I look at the image, my emotional reaction is strong. This is who I am and what I love to create at the moment.
Story: Hope carries us. When times are hard, we have the need to protect and nurture. We want to find something to fight for. Even if those things are like rare orchids, freshly wounded, impossible to plant, we want to believe they can be saved. Women have the strength to give a home to a helpless. As well as the weakness to suffocate with love. Still, it is one of the reasons why the world functions, how we can cope through the snowy seasons, and why absolute compassion still exists in this universe.
Prompt 2 – Dragon
Difficulty: 4 – Challenging
Ideas: I elaborate on my challenges more in the story part below, but this prompt made me feel that it has to be done quickly and with as little damage as possible! So I picked my sketchbook and found a face, painted with watercolors, and decided to made it look like a dragon. The agony disappeared once I started drawing, and I really enjoyed adding horns, scales, and all.
Lessons Learned: Drawing can be a role-play or a dress-up party where I can stretch my perception of myself.
Story: This prompt has been the most uncomfortable for me so far in this year's challenge. I do like to draw animals, but I haven't seen myself as the one who draws dragons. I realized that I was also questioning whether YOU want to see any dragons either, and every time I begin to overthink what I should or shouldn't draw, there's a creative block that I must overcome. So, I wanted to show myself that yes, I can be the dragon lady. I don't just create art to protect and admire what I love, but to become open to new adventures. I had a lot of fun drawing this one, inspired by Renaissance too!
Prompt 3 – Ash
Difficulty: 2 – Normal
Ideas: Ash reminded me of the Phoenix bird, and I wanted to include some orchids too. My original idea was just to make a woman rising from the ash, but I accidentally drew the thumbs on the wrong side of the hands! Then I remembered cupids from old paintings and added the two little girls so that the hands are theirs. I really like those two mischief-makers.
Lessons Learned: Working with the non-erasable media stretches creativity and mistakes can take the work to the new level. The processing of ideas can happen also while creating, not only before.
Story: We are all mythical phoenix birds. When one era ends, another one begins. About 10 years ago, I had a long row of African violets. Then a few years later, I fell in love with Streptocarpus flowers. Now they are gone, and I am beginning a new era in my hobby of growing houseplants – the era of orchids! So my love for plants is regularly reborn. Do you recognize this kind of rebirth in your life?
Prompt 4 – Overgrown
Difficulty: 1 – Easy
Ideas: One of the easiest prompts for me! The image came instantly to my mind, and all I had to do is to draw it. I wanted to make the hands, legs, and wings for the playful fairy so that they are very plant-like.
Lessons Learned: I need to draw more fairies. It's funny that I haven't ever been drawn to them before this year, and now I am really fond of them! I guess I have found my way to interpret their playfulness.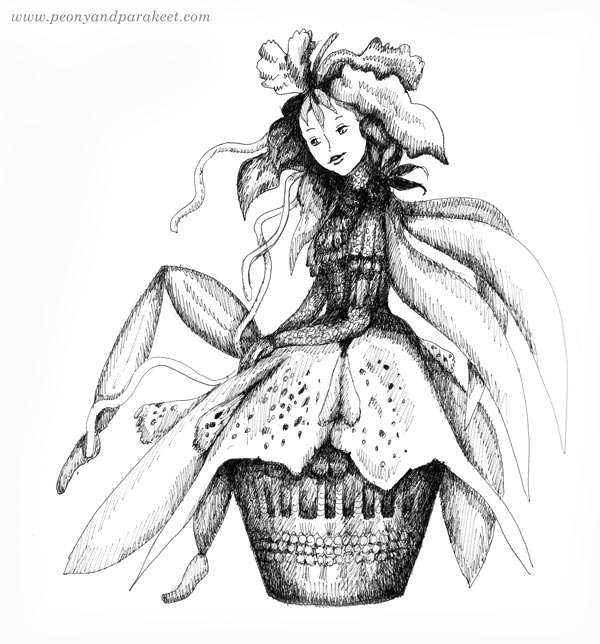 Story: I used to think that when my art grows, it will become deeper and deeper, reaching the remotest end of fine art. But during the past couple of years, my images have become more humorous, playful, and illustrational. It's been surprising to notice that the same building blocks and ideas that could express the agony in the world can be used for making illustrations that include hope, even childishness. I cherish this child in me, and I want her always to grow bigger than her current pot. And at the same time, I want to protect her from becoming so big that she stops seeing life's little pleasures.
Prompt 5 – Legend
Difficulty: 5 – Agonizing
Ideas: I hated the prompt. It made me think about photo-realistic images of Marilyn Monroe and old rock stars which are not my favorite art at all. Then I tried to approach the subject from the story-perspective, and all that I could think of was Robin Hood, King Arthur, and other similar historical stories that didn't inspire me. I realized that I needed to pick a legend that I truly appreciate, and Jane Austen came to my mind.
Lessons Learned: I really like this illustration! There's a lot of elements, but their hierarchy is so clear that the image is easy to look at. It was perhaps because I started the sketch in the evening, but finished the image the next morning. All the ideas that I had, fell in place during the night.
Story: Jane Austen is one of the most famous women in history. Do you think she predicted that? Did she know her books would make an impact on the world for hundreds of years? But there she was, alone with her thoughts in late evenings like creative people do, planning her plots. Her life was just a blink of an eye in the universe, but still, the cosmos echoes her name. Generations after generations, we have a human bond with her – no matter how linear time feels and no matter if we really even knew what she looked like.
Prompt 6 – Wild
Difficulty: 2 – Normal
Ideas: Because the prompt is so general, I just picked an inspirational image from my Instagram archive, and started from there. The image was a photo of an old clock, and it reminded me how the sense of time disappears when creating. So I made the clock look like it floats and falls apart, and followed my intuition for all the other elements. The couple on the left corner probably came because I have been watching Dancing With the Stars while drawing!
Lessons Learned: I like to express movement and create surrealistic illustrations. It makes me feel free, and sometimes it's important to focus on the process of creating rather than controlling the result.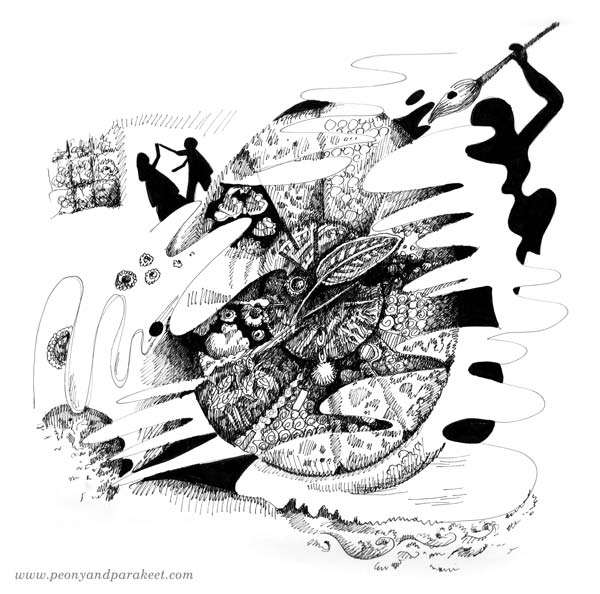 Story: There's a place in your mind where everything gets mixed, where nothing stays static, and where rules are broken. What you can't do is only other people's false assumptions. The way they define drawing – or any other skill – doesn't matter anymore. You are in a place where all is wrong and thus so right. Time flies, and you live forever. Go wild and get creating to travel there!
Prompt 7 – Misfit
Difficulty: 3 – Hard
Ideas: This prompt was for Friday, and I want Fridays to be a bit more light-hearted than other weekdays. So I wanted to make a humorous illustration that would start the weekend in a cheerful mood. First, it felt a bit challenging to combine the prompt with the humor. I love to draw women in historical dresses, and it made me think about how romantic mind and everyday chores are a definite misfit!
Lessons Learned: The empty space can be used to highlight the message. Here the composition is built so, that the romantic steps toward the past (to the left), the butterfly scene directs the eye towards her face and lower lip, and the empty space highlights the bucket. The bucket and the emptiness of the horizontal scene created by the hem are central to the message. It took a couple of extra sketches to get all the elements in place.
Story: Sweeping, scrubbing, dusting … Misfit chores for artistic souls like us, at least today!
Prompt 8 – Ornament
Difficulty: 2 – Normal
Ideas: I have been drawing ornaments quite a lot lately, and I love it. Every time I design an ornament, it makes me feel like I am doing something that I am meant to do. It's probably because it's so close to my studies in engineering and industrial design. This time I wanted to make an ornament that's not symmetrical, and that would also express a personal story.
Lessons Learned: Many of my ideas easily take the form of an ornament, and I would also like to teach making them! (Would you be interested?)
Story:
This prompt is especially close to my heart. It reminds me of how important it is to become the true self. When I studied industrial design, I realized that my expression was too ornamental. "Simplify, simplify," my teachers said. Plastic stuff that we were taught to design has to be manufactured as cheaply as possible. But I took another route and geared towards art. Ten years have passed by, and I still struggle to accept how ornamental I see the world.
But that's how it is. To me, an ornament is a time machine. I can travel through the history of humanity by merely picking shapes of any era. It also brings me closer to my roots. My grandfather studied drawing, and my father drew to me when I was a child. These two men passed away a long time ago. I never got to see my grandfather, and I wasn't very close to my father. But now there's this strange yet pleasant feeling of being who I am meant to be. I continue the chain of generations, fulfilling not only my dreams but also my father's and grandfather's secret wishes. These people enabled me the life I am living, and I am giving back to them by drawing and designing – being as ornamental as I can be.
Repeating Art Prompts – Another Version of Ornament
Difficulty: 2 – Normal
Ideas: I started working with the prompt "Ornament", but then realized, that this one is a more time-consuming piece. So I finished it for Day 19, instead of making the official prompt of the day. The idea became from art deco table lamps. They often have a statue that holds the bulb. I didn't use any reference for this one, and lately, my drawing skills have grown so that I have drawn a lot without any references. I enjoy that a lot!
Lessons Learned: This one started as a quick sketchbook drawing, but I got hooked about the idea and made it a gouache painting, black and white, in the spirit of Inktober. The paper of the sketchbook (Leuchturm A4) wasn't suitable for wet media, but I finished the painting anyway. My gouache paints were Arteza in colors Noir and Titanium White. Noir wasn't pitch black but more greyish tones. The cheap paints usually have white to lower the price. The process would have been much more pleasurable with the art supplies of better quality. It would be best if the idea, the technique, and the choices of supplies would serve each other!
Story: I call this "The Guardians of Imagination" and it is to our soul sisters in art. They keep the lights of imagination switched on, and support others to do the same. They bring the best of the past times to this day, so let's thank them, and let's be sisters to them as well.
This painting is my last contribution to this year's Inktober. I am currently working on a big illustration project, and want to focus on finishing it next week.
More About Art Prompts
Here are some older blog posts that you might want to check out too.

Experiences from Inktober 2018 when I finished all the 31 prompts:
The best art prompts of this blog:
Let's keep creating, my soul sister in art!