This week, I show how I made an extraordinary floral painting with acrylics and structure paste. See how I achieved the historical look!
I call this piece "Old Art Yearning" because I desperately miss Europe's palazzos and museums. It would definitely be the time to pack the bags for a few-day trip to Vienna or some other old city, but I chose differently because of the pandemic. But first, look at the interior of Palazzo Doria Pamphilj in Rome. My husband and I visited the place on June morning in 2017, and it was pleasantly quiet, just suitable for dreaming about living there in the middle of luxury.
So, what luxurious can you do when you are asked to stay home and be safe? I decided to create something that's like a soft drink for the old art thirst: fake but sweet and consolating!
The idea of using structure paste is from the summer, but back then, I didn't quite see as far as I did this week.
Structure Paste Inspiration from Clay
This summer, my friend Johanna Rytkölä, a ceramic artist ran a flower pot class for a small group. My husband made a stylish and minimalistic bonsai pot, but mine came out quite different!
Even if my pot was not perfect, I wanted to experiment with a 3-dimensional surface for a painting right away. I dig out a jar of structure paste that some call molding paste as well. I have blogged about the paste twice before. In 2014, I made cardboard templates to create reliefs for a mixed media piece and in another project, I made surface textures with a variety of tools.
I decided to try the template technique again, and cut simple geometric holes to a thick cardboard.
Then I placed the template on the top of the painting board and filled the holds with structure paste.
I wasn't completely satisfied with the edges of the structure paste shapes and put the board away.
Acrylic Painting on Structure Paste
But now, when I wanted to create something with historical feel, I remembered the board, and started painting on it. The small imperfections didn't bother me so much anymore. All pieces can't be so serious anyway. There has to be some room for creative play too!
I decided to paint something loose and impressionistic that would still look decorative.
On the reliefs, the strokes were sharper and more controlled than on the background.
But before I made the finishing touches, the piece looked too bare to me.
It needed a frame!
Making a Frame from Structure Paste
I still had some structure paste left and I found a piece of cardboard too. I traced the outline of the painting on a soft foam board and used that as a template for the center.
It's not easy to make a smooth surface of the paste so I didn't even try. Historical frames had all kinds of textures so the hills and valleys would look ok when painted.
I painted the outer edge of the frame black and the inner edge with gold paint.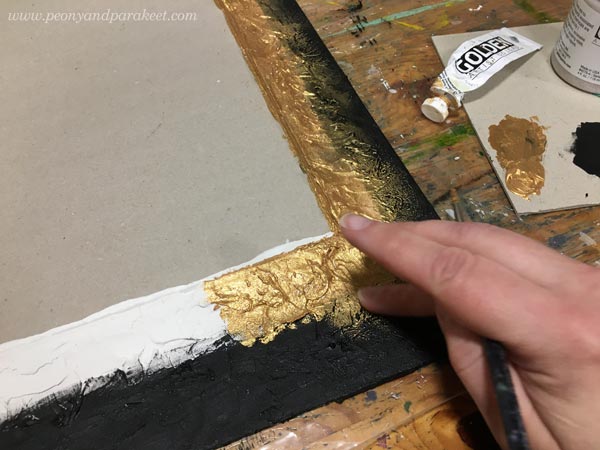 The transition from black to gold became lovely when smudging the paint with fingers. I also added some gold mica flakes on the top of the gold parts and near the edge.
Then the painting got some finishing touches and gold paint too.
I also added some acrylic paint on the frame.
A Mini-Monet for Old Art Yearners!
The finished piece is a bit clumsy, but I love the historical feel.
It's my mini-Monet!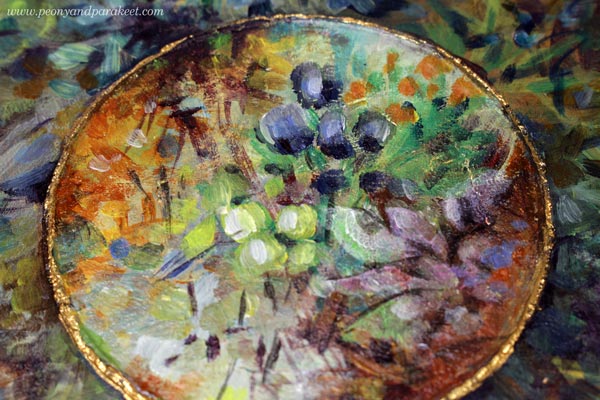 The unevenness of the structure paste in the edges looks quite good with the gold paint.
The frame was intentionally placed so that it's not quite in the middle. This way I could make the piece more interesting. I really like how these painted spots look like nails or blueberries!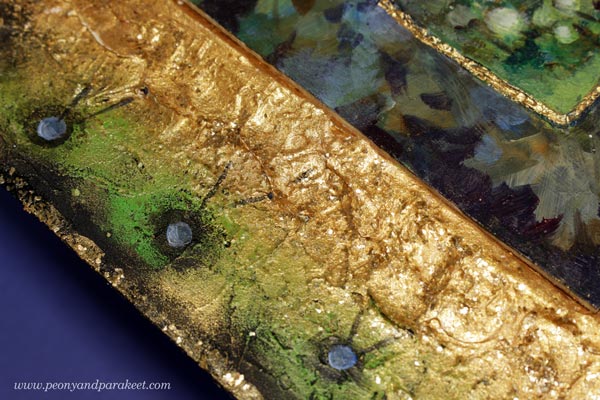 Just cardboard, structure paste, fake gold, acrylics, but I enter the gentle world of old art by looking at it!
I display this piece in our library room which has more old-fashioned style than my studio.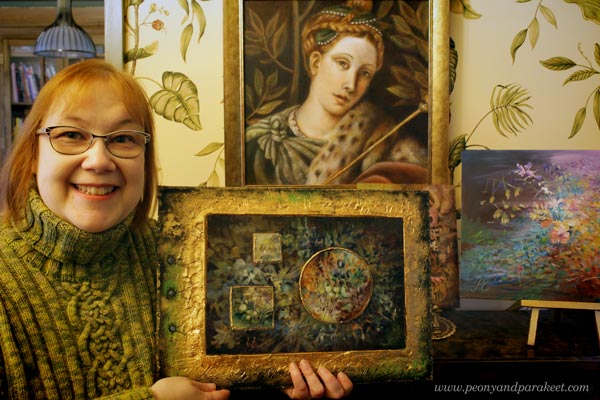 My painting has simple strokes but it's still romantic. I have bent the principles of abstract art to serve the impressionistic style. It's so much fun to paint freely like this!
Paint Dreamy Florals to Free Your Spirit!
Floral Freedom – the floral class based on Paul Klee's and Wassily Kandinsky's insights on abstract art – will begin on Dec 4, 2021. In this class flowers are not just passive decorations, but they fly, sing, and dream! >> Sign up Now!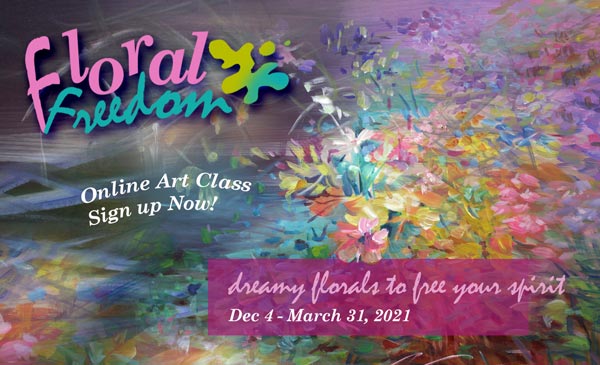 Floral Freedom is 20% off for the rest of November, so now is a good time to sign up!
>> Sign up now!