This week, I show sneak peeks and process pics of simple intuitive colorings and talk about intuitive art.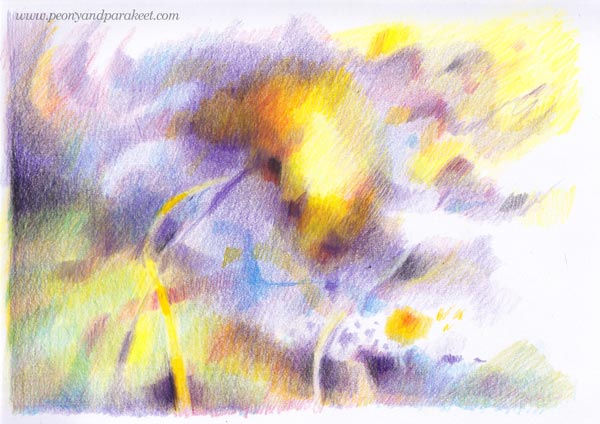 Since I made the last free video "Colored Pencils – Intuitive Approach," I have been thinking about free coloring. First, it felt like I have explored it thoroughly in the e-book Coloring Freely and in the class Inspirational Drawing. But as soon as I began to make some notes about intuitive coloring, I realized that there are things that I haven't shared in these blog posts or in my classes so far. Many of them are things that seemed complicated and heavy at first, but the more I have experimented with them, they appear to be very simple and light.
And it feels fun to color freely on a blank paper, and there's a sense of playfulness too right from the beginning.
I am a more-is-more kind of a person, but after making a series of large oil paintings, I wrote a mental note that says "less is enough" in capital letters.
Can Intuitive Coloring Be Taught and Learned?
I have also been thinking about the term "intuition" a lot. Why does it feel so intuitively correct to say that my art is intuitive? And not only that. Why do I want to teach intuitive art? Because isn't intuitive just about letting go and emptying the mind on paper? Doing what you want, doing what feels right?
But as a former engineer, it's always been hard for me to trust intuition when I am trying something new or reaching for a new level. Then the intuition is confused with the comfortable "same-old-same-old" routine. That old dog always stays close, but intuition and imagination are timid puppies. To find the puppies – that's where I feel I can help.
Would you be interested in this upcoming class?