Intuitive Coloring
Fun ways to color freely on blank paper.
Techniques for your intuition and imagination.
Intuitive Coloring is a 4-week online art class from Sept 20 to Oct 15, 2021. A new lesson is published every Monday. There are 6 projects in this 4-week class.
Week 1: Coloring Softly & Playing with Lines
Week 2: Following a Rainbow
Week 3: Facing a Spirit
Week 4: Ornamental Magic & Coloring Joyfully
You only need colored pencils, an eraser, and blank paper.
And a sharpener of course!
– How many pencils?
– As many or as few as you want!
– Is this an excuse for buying more?
– You didn't hear that from me! Any pencils will do. Let's strengthen the bond between you and them!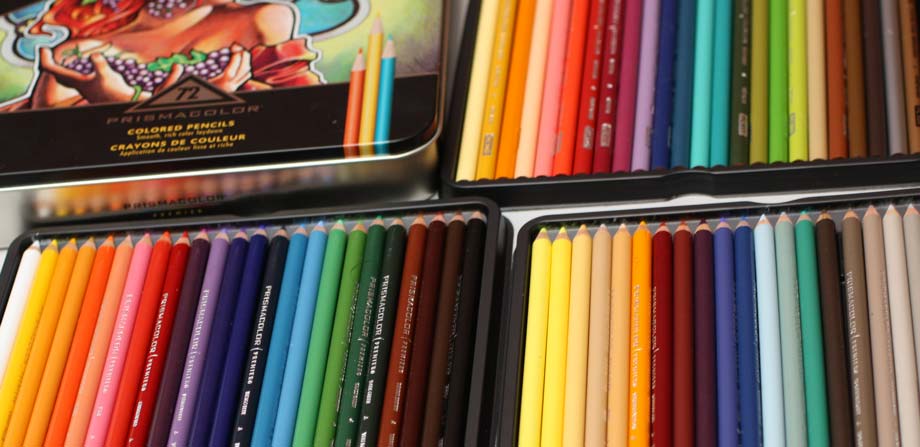 Coloring Can Be A Game – Addicting and Gradually Evolving
Yes to playfulness, no to stiff outlines. We play with lines so that they reveal rather than restrict.
Yes to building blocks, no to reference photos. We color simple shapes that tickle your intuition and imagination.
Yes to layering, no to forcing. We deepen the colors gently layer by layer.
In the gentle and intuitive approach, your affection for your art grows naturally + your hand and pencils say thank you!
"Let's spend some quality time with our pencils!"
I am Paivi Eerola, the teacher of Intuitive Coloring and a long-time fan of colored pencils. I played with them as a child and as I grew they kept following me. The pencils calmed me down as a teenager. They waited for me to come home when I was an IT professional. And now when I am a full-time artist, they still keep me company between painting projects.
Sometimes I color a corner of a notebook, other times a much bigger piece.
And every time I pick a pencil, it brings me joy.
I love to sharpen it.
I love to examine its color over and over again.
I love to let it loose and connect with my inner child.

With Intuitive Coloring, I want to spread this joy to you too.
Bonus: Membership for Art Community Bloom and Fly for 2021
With the class, you will also get a basic membership for the Bloom and Fly Facebook group where you can share your work and have conversations with fellow artists. This membership is for 2021, so you can continue coloring and sharing your art for the rest of the year.
Yes, I Want to Make My Pencils Happy!
Price: 39 EUR (about 46 USD)
The class will begin on Sept 20, reserve your spot now!
Technology Needed + Refund Policy
All the information and services are provided in electronic format. You will need Internet access and a personal email account. The documents are in PDF format, and the videos are offered as a streaming service. You can access the material as long as you want if you download them to your computer within 6 months from the purchase. If you download the videos, you will also need an application to view and download MP4 videos. You have to be over 18 to join the Bloom and Fly community. You can cancel your registration before Sept 16, after that, all sales are final.