Here's my latest painting, an intuitive still life with tulips. Last week, I had a short visit to an art supply store in Helsinki. I was surprised that they had a collection of Gelli plates for sale. When I got my first one several years ago, it wasn't as accessible. I had to contact a shop in Italy which was the only retailer in Europe at that time. It's great that Gelli plates have become more widely known. I have noticed that on my blog too. Month after month, the post "Self-Expression with Gelli Plate" is at top ten!
So I couldn't help myself at the art supply store and bought another Gelli plate. My old one is 8 by 10 inches. The new one is a smaller, only 3 by 5 inches. It's easier to handle and clean but mono printing with the big one is quicker.
Could Gelli Plates Be The Cure for Blank Paper Syndrome?
I wanted to have an experiment using both of the plates. Without any pre-planned idea about what my painting should represent, I would get over the blank paper syndrome using random monoprints. Then I would move on using brushes and working more intentionally. As always with mono printing, I used Golden Open Acrylics as paints because they don't dry as quickly as regular ones.
Here's my painting after I had some fun with Gelli plates.
And here's the finished piece.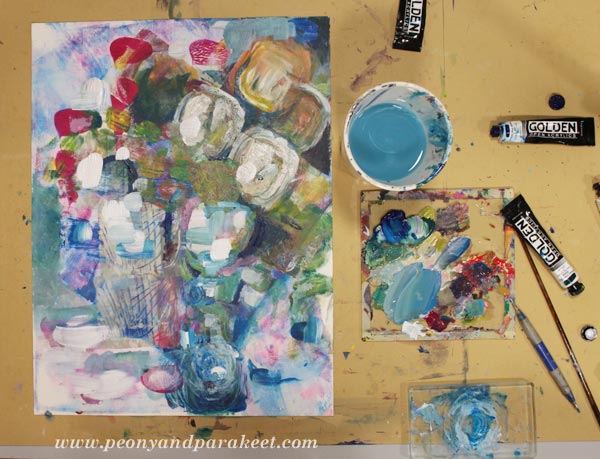 Intuitive Equals Subconscious!
After I had finished painting, I realized that it's a combination of recent events: I got a lot of tulips for my birthday, made a strawberry birthday cake and enjoyed the winter sun with Stella.
Intuitive Still Life – Watch the Video!
Here's a video about creating the intuitive still life. There you can see how adventurous my process was.
Enjoy creating more intuitively: Sign up for Inspirational Drawing 2.0!