We are heading for the winter in Finland. It has made me pull out the photos taken during the recent years from the garden. They remind me that the summer will come again. Together with my students, I dedicate this blog post for the famous Gustav Klimt (1862-1918) and the way he saw the world. It's a perfect perspective when you want to get inspiration from the garden!
Portraits with Scenes Instead of Faces Only
Stephanie Carney shows so well how Gustav would see our gardens: full of decorative elements! This way of looking combines two perspectives. First, examining the details and their decorative nature. Second, seeing the big picture: how plants are not just individual and separate but integrated into a scene.
When browsing my photo library, I realized that I have a lot of close-up photos of flowers. But for this post, I picked images that show more than just ethereal petals. The images that have more than a few details make me more attached to my garden. I think it's the same with paintings and drawings: instead of just sketching faces, we can show the whole experience.
That's how Gustav Klimt built most of his portraits: not only focusing on faces but showing more of the world around the person by expressing it through decorative and abstract elements. Klimt's mission was to combine decorative designs with fine arts, and I think it's one of the reasons why his work is fascinating for us who like to sew, quilt, embroider, or do any crafts. When looking at Stephanie's work, inspired by Klimt, I can easily imagine wearing that dress and stitching any of the beautiful motifs that can be picked from the picture!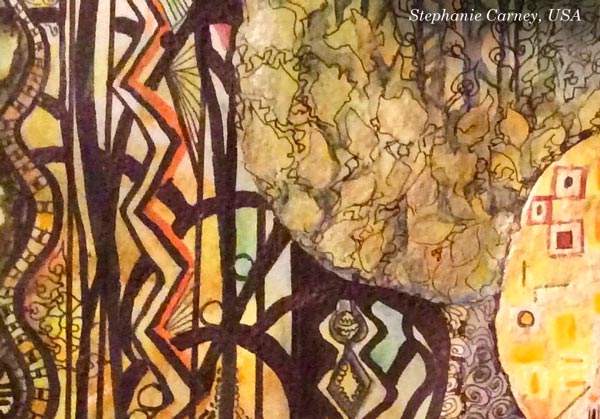 From Messy Garden to Klimt's Garden
I claim that we can look at the garden using "everyday eyes" or "magical eyes." When using the everyday eyes, everything is "should," "could" or "have to." We see weeds, neglected areas, messy grass. But with the magical eyes, we see nature as art.
For example, these ferns from my back garden horrified me when I looked at them with the everyday eyes. All I could see was a neglected flower bench getting ready for the cold weather. "I should cut those," I thought. Then I took a step back and … wow! Nature had made an Art Deco pattern for me! I felt grateful and inspired. For a moment, I was in Klimt's garden.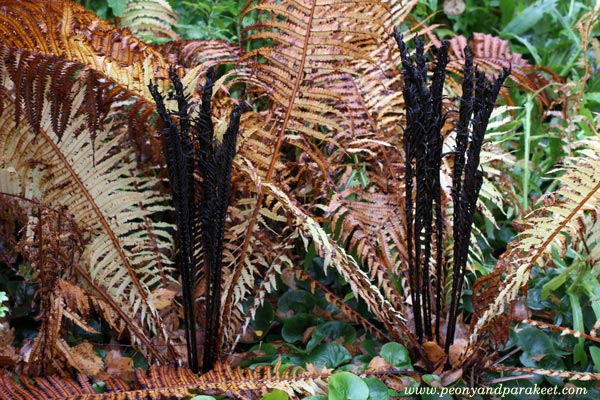 Gustav Klimt understood that when we want to express the beauty, we want to express the experience, not just copy what we see. When looking with the magical eyes – when being in Klimt's garden, our feelings get mixed with the things we see, and nothing is fully organized. That's why the sun feels more than just a bright spot in the sky in Lorraine Cline's work. It doesn't only make flowers grow, but it's an uplifting force for humans as well. We get wrapped in its warmth, and for a moment, we are just one of the many plants in Klimt's garden.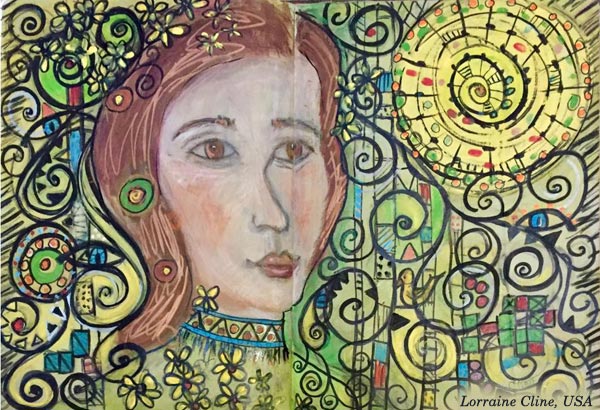 Quilted Garden
Gustav Klimt saw the world as a stream of patterns and colors. Sometimes they were symbolic, sometimes more literal like the artwork below, showing a baby's quilt. Even if the painting is fine art, it honors crafts.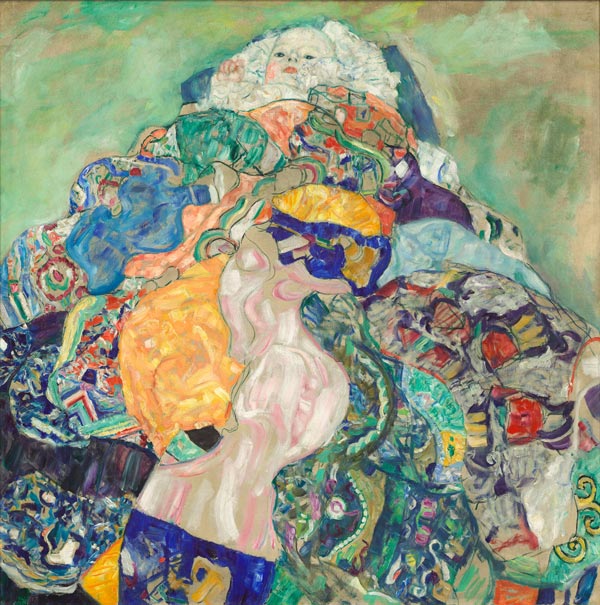 At Klimt's garden, there's no distinct border between nature's and man's creations. When you look at the world with the magical eyes, they become one.
Pirkko-Liisa Mannoja's piece combines drawing and painting, but to me, it also looks like an art quilt.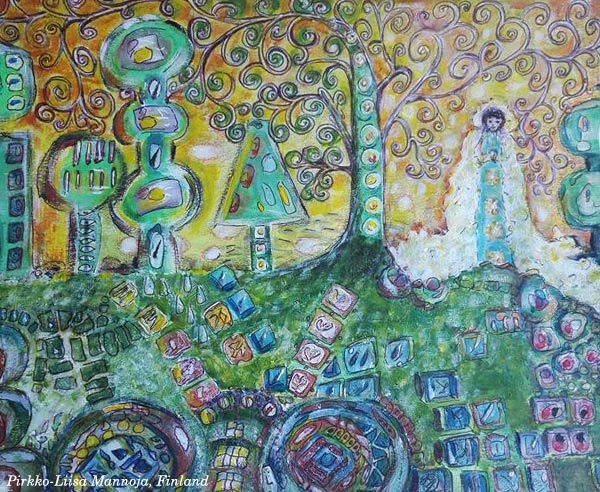 When we use the everyday eyes, we see the world as clearly-defined objects. We see green grass and red flowers. But when we look with the magical eyes, we see things that are more abstract, like the way the light forms spots in the background. That's one of the subtle things that make Pirkko-Liisa's work shine.
In Klimt's garden, the grass can be white, and the observer can be green.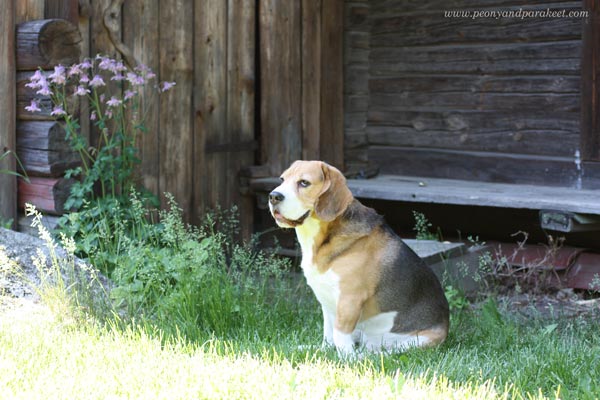 In Klimt's garden, we treat trees like they were close friends. I love how Christie Juhasz expresses that in her beautiful art journal spread.
In Klimt's garden, martagons take us back to Art Nouveau with their decoratively shaped stems and delicately colored flowers.
In Klimt's garden, we connect with the outside world so that it lightens up our inner world. When I look at Mackie d'Arge's gorgeous piece, I feel connected to both.
When we look at the world with the everyday eyes, we worry about the weather when we look up.

But when we change to the magical eyes, the sky and the earth are not separate at all. Just like in Diana Jackson's expressive piece!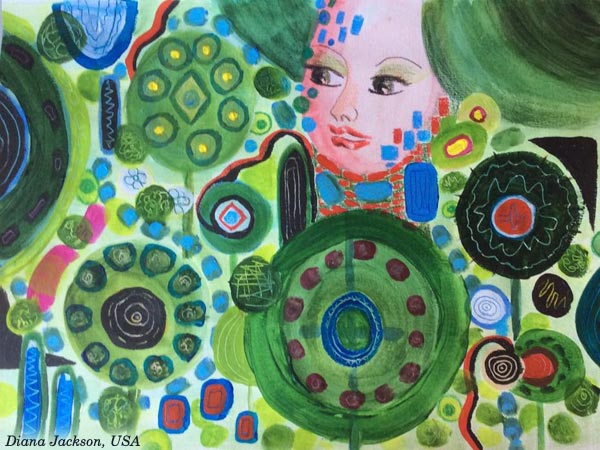 Winter in Klimt's Garden
I wrote most of this blog post yesterday. When I woke up this morning, the snow had come to Finland. It felt depressing. "The garden is gone," I said to myself. But then I realized that I had my everyday eyes. When looking with the magical eyes, Klimt's garden is there for sure. It has just changed its colors.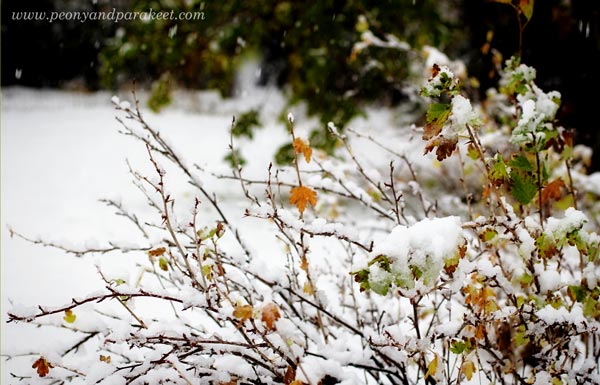 Klimt's Garden in Your Art Journal!
The student artwork in this blog post is created from the mini-course Patterned Topiary. In the mini-course, you can create a decorative garden scene in Gustav Klimt's style. The mini-course is available as a part of Imagine Monthly Fall 2016 art journaling bundle, packed with four more inspiring themes and techniques. And to celebrate the snow arriving in Southern Finland, you will get the generous 30% off during the weekend (from Oct 26 to Oct 29, midnight PST). >> Buy now!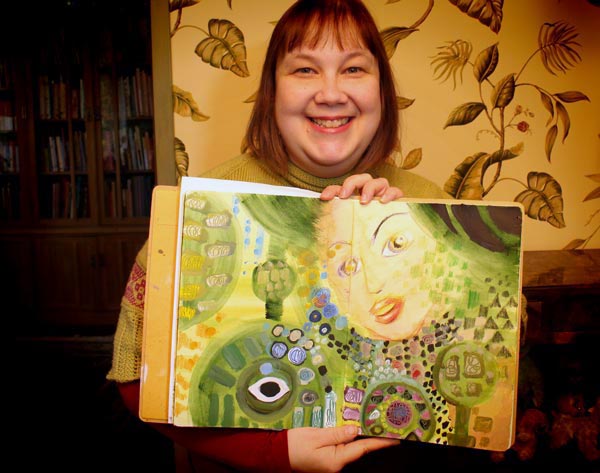 Create Klimt's Garden: Buy Patterned Topiary + 4 inspiring mini-courses!