This week, I have a new spread for my colored pencil journal, and it's based on layering colored pencils. I share detailed photos so that you can try this too!
This coloring technique creates magical looseness, even if it begins with very stiff shapes. Because layering the colored pencils is the key here, it's important to keep the layers light because paper can't hold color endlessly.
Step 1 – Set Atmosphere
Choose a color that sets the mood for the image. My choice was pink.
Color the background lightly, but leave some blank areas near the edges and where you want the focal point to be. The heart is my focal point.
The blank parts will allow you to include lovely color variations in the last layers. Color softly and avoid outlines so that the overall feel is magical from the first layer.
Step 2 – Add Pattern
Stick with the same pencil and continue the monotone look by coloring rings on the colored area.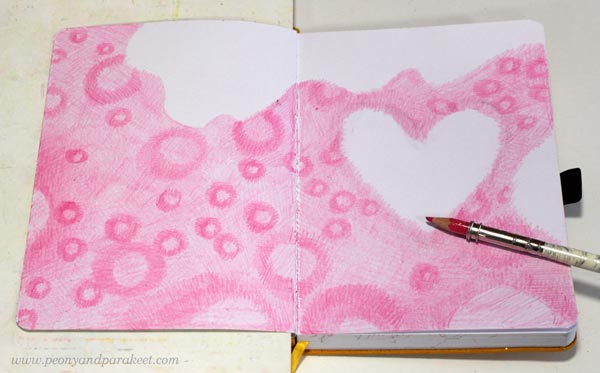 Make sure that the rings are different in size and spread a little unevenly so that the result looks natural and interesting. Think about fabrics but not the easiest polka dots, but a bit more intricate design.
Here's a closeup of my rings. Again, I don't use outlines but color them with short strokes that go in many directions.
Step 3 – Destroy
This step could be called "destruction" because now we color random shapes that don't follow the previous layers at all. Bring in new bright colors. Color stripes, rectangles, random shapes, and lines freely.
You can go over the blank parts too but keep the focal point a little less untouched.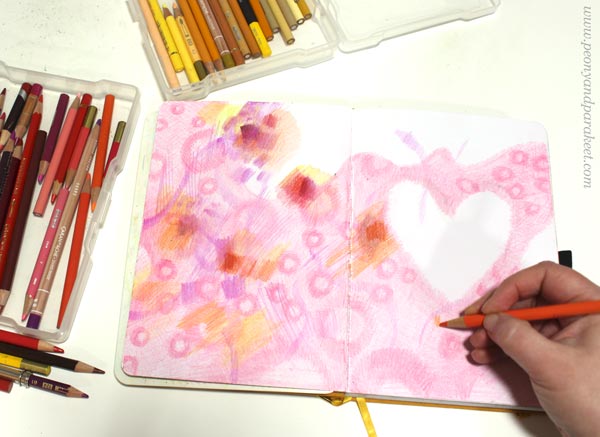 The idea is not to cover previous layers fully but to destroy their rhythm.
Here's a closeup of my work. The new shapes and lines have taken over, and the rings are not so well visible anymore.
Step 4 – Discover
Keep coloring, but now bring in darker tones too. Keep the layers light and shapes soft, but when you discover something that you like, highlight its edges with a darker color.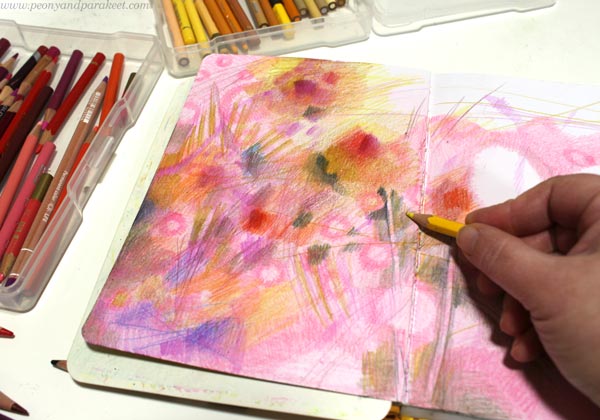 I didn't use any green pencils in my spread, but it does have some green shades. Mixing black and yellow makes lovely olive green.
Now it's also the time to bring some rings back to the foreground!
These rings remind me of perennial Bellis flowers!
Here's a closeup of digging out the rings – now flowers – with dark colors.
I don't bring up all the rings, just some! This makes the layered look: some elements are covered and located further in the background, some come up to the foreground. The stiffness of the background pattern looks attractive when it's combined with looser coloring.
Step 5 – Finish with Message
Your work will be finished when it delivers a message. The focal point, the heart in my case, is essential for achieving this. I like to work intuitively so that I don't try to define the message right from the beginning but let the insight grow with the coloring. Here, I left the heart light and made it look icy and magical.
First, I thought about this winter, how tough it has been to walk the dogs on icy roads, and how much I want spring to come. And then it hit me how ice must mourn when its life is coming to an ending. How between the first flowers, there's a little block of ice, looking around, feeling isolated.
This little frozen heart is like a rare unicorn – reflecting the surroundings, introvertedly, like we all do when we are creating.
I find this kind of pondering an important part of art-making. That's why I always try to end with a message even if viewers can freely find their explanations as well.
Fun Botanicum – Sign up Now!
From March 15 to May 15, 2022, I run an online class for us who are inspired by nature and fantasy and love plants. The class is called Fun Botanicum and we will draw fantasy plants by scribbling, doodling, and layering with colored pencils. Join us!
The early-bird sale ends soon! Early-bird price: 59 EUR, now 49 EUR. >> Sign Up Now!
The sale ends on Feb 20, 2022, at midnight PST.