You know I love beautiful and decorative things. But the more I create, the more I feel that creating art should be expression first, aesthetics second. This watercolor collage is called "Leftright Wrongright" and it is about how sometimes the old wrong and unconventional can be the new right.
Rubber Stamp Art
If you think of experimental and avant-garde, would you ever consider using rubber stamps? In that context, they are the most boring thing. They are the absolutely wrong choice when you want to create unique and advanced art. But as my mission was to express how wrong can be right, I just could not resist taking the risk and using them! I painted the background with watercolors and then started stamping.
I only stamped once with each of the stamps. That way they were seen as individuals, not as a bunch of clones. I have used this principal before too, see Can Rubber Stamping be Art and Make Samplers to Save Bits and Pieces.
Watercolors
Watercolors are my trusted friend. They make the best backgrounds but also, they make rubber stamps look much more interesting. After the whole background was covered with stamped images, all different from each other, I added water and brushed the water-based ink to blend with watercolors.
With the big brush, I doodled this and that thinking fierce fully about destruction and bravery.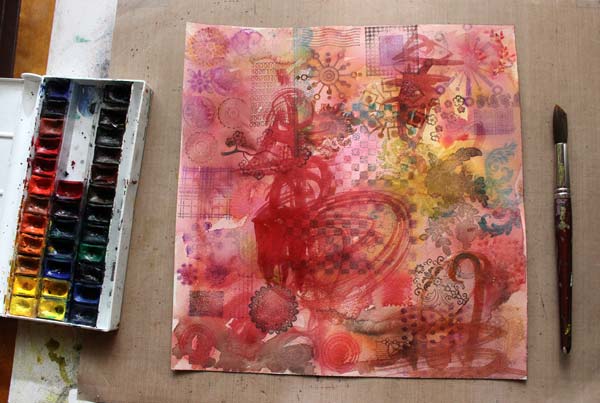 With a smaller brush, I added details and enhanced them with colored pencils.
Imitating Rubber Stamps
To make the stamped images even more individual, I added hand drawing to make few of them bigger and more handmade. A thin drawing pen is great for imitating rubber stamps that have delicate details.
Finishing
When I worked with this artwork, it became clear to me that the final touches are crucial here. I should not only do what I usually do but add something that is against the rules, disrespectful even. First, I doodled with a white gel pen and let the doodling look a bit dreadful. Then, I grabbed a piece of paper, painted red and yellow with heavy acrylic paint. The unsophisticated color and the clumsiness of the shapes when I cut it made it look so wrong.
But I finished this artwork with a new attitude. As I wanted to express that sometimes we need to do things that make us feel uncomfortable, I needed to break my ordinary rules. I added few rough elements without over-decorating them. They are the wrong that makes the right spin. They make me ask: do right and wrong exist at all when creating art? If we think that unconventional is wrong, are we denying the true power of art and where it can take us?
Hopefully, this inspires you to add something wrong to your art, and make it right!
Let me be your art teacher: Subscribe to my weekly emails!