Less stiffness, more liberation
The compelling class to create compelling art!
Are you questioning yourself when creating art:
– Am I doing everything right?
– Is my artwork finished or not?
– What would other people think about my art?
Improving in art can be the most difficult job if you do it all alone.
To move forward, take this class!
Liberated Artist


is a 4-week online workshop, starting in April 4th 2016.
It makes you to move from stiff compositions to personal visual expression.
You will paint rich, liberated art and finish it with clear focus and meaning.
Students say:

"Something huge inside of me changed, and then it became much easier to sit down and freely let it flow through me." – Susan Rajkumar, India/USA

"This class really helped me to see how I could start from ground zero
and express something that was personal." – Cheryl Rayner, USA

"Now I am painting from a place inside of me instead of copying what I see outside.
I had previously quit painting because I didn't know what to paint.
Now I want to paint every day." – Linda Thompson, Canada

Solving Intuitive Mysteries
Creating art can be like writing a good novel.
You build a structured mystery and then solve it by adding focus and meaning.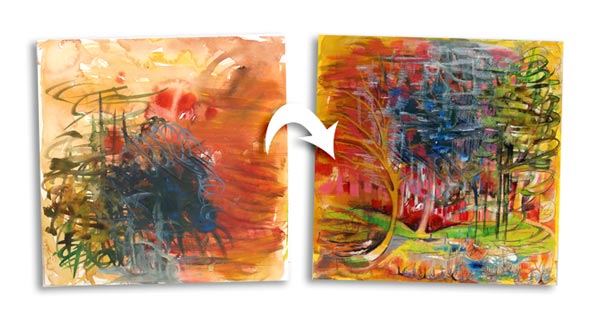 "I have learned to embrace the unexpected and be open to the story of the painting." – Karen Nowviskie, USA

Teacher: Päivi Eerola
I am a full-time artist and designer from Finland with degrees in both industrial design and computer engineering. With that, I have a long experience of how to use logical reasoning so that it does not prohibit, but feeds creative, intuitive doing.
I believe that we should constantly explore what we have experienced in life and where we want to go next. By combining visual principles with that self-exploration, creating art will not only enrich our own lives but our work will resonate with other people too.
Paivi says: "This class is about taking your art to the next level. If you get stuck, I will give you personal suggestions on how to continue with the painting."

A student says: "In the classes that I have taken online, you are the only teacher that has provided feedback. I feel that the entire class benefited from this; not only was it benificial, it was encouraging."
– Lorraine Cline, USA
Course Structure and Material
You will create 4 original mixed media paintings on watercolor paper, 1 painting in each week. Each painting is made in two phases. First, we fill the paper with paint and then continue finishing it with colored pencils. We will be creating abstract landscapes, florals, portraits, and still lives with a liberated and personal twist.
Each week you will receive links to instructional PDF files and course videos via email.
On Liberation Mondays you will get instructions on how to quickly start your painting.
On Focused Wednesdays you will be guided through the finishing of your artwork.
The course PDFs and videos are downloadable. If you save the material on your computer, you can access it from your computer as long as you want. The course material will be available for download until the end of December 2016.
Connecting with Teacher and Other Students
The course has a secret Facebook group where you can connect with the teacher and other students. You can post your work, ask questions, and join the conversation. If you prefer to get feedback privately, you can email a picture of your artwork to the teacher and get helpful feedback by email.
Course Schedule
Course starts: April 4th, 2016
and ends: May 1st, 2016
Week 1: Expressive Landscapes
– how to start with the loose and liberated approach
– how to add focus and meaning to "messy and wild"
– using personal experiences in your art
Week 2: Flowers of Interaction
– connecting and grouping shapes and textures
– how to move from conventional to unconventional
– how to create more compelling art
Week 3: Dynamic Portraits
– how to decorate less and express more
– the path to your own personal style
– defining your current state and taking a step further
Week 4: Powerful Still Lives
– how to create balanced but interesting compositions
– improving the quality of your art by using 7 principles
– balancing between the inner artist and the inner critic
Required Supplies
– Thick watercolor paper that can be cut to 12 by 12 inch square. Teacher's recommendation for thickness: 300 g/m2 (140 lb). Choose a fairly smooth, fine grain paper.
– A watercolor set. Teacher uses St Petersburg White Nights watercolors but feel free to use what you have.
– Acrylic paints. Teacher uses Golden Heavy Body acrylic paints but feel free to use what you have.
– Brushes with various widths and shapes. Make sure you have at least 4 brushes: 1 flat with a short and narrow tip (appr. 3 mm/0.1 inches wide), 1 flat (appr. 10 mm/0.4 inches wide) and a thin and thick round brush.
– A palette knife (plastic or steel)
– Soft-tipped colored pencils. Teacher uses Prismacolor Soft Core and Caran d'Ache Luminance pencils but feel free to use what you have.
Questions and Answers about Liberated Artist
What technology do I need to have to fully enjoy the course?
You will need Internet access and an email account. You will also need basic programs to view (and download) MP4 videos and PDF files. Usually these can be already found in your computer. To participate the group discussion, you will need a Facebook account. If you want to upload your artwork to the group or email your artwork to the teacher, you will need a camera or a scanner, at least a phone camera.
I am an absolute beginner. Is this course for me?
Yes, this course is for you if you enjoy seeing expressive art and talking about it. However, this is not a basic art course that focuses on supplies and how to use them but a course that will take your imagination and self-expression to a new level. I suggest experimenting with the art supplies listed before the class, so that you will get more out of it. You will receive more detailed instructions for this within 24 hours after the registration.
I have created art for years. Is this course for me?
Yes, this course is especially suitable for those, who have created realistic art but want to step out of their comfort zone and examine a more abstract and liberated approach. On the other hand, this course is also great for those, who have been enjoying messy mixed media but who want to add more meaning to their art.
A student says: "Thank you so much Paivi. You have no idea how thrilled I have been to take each lesson, collaborate with other artists, receive your honest feedback and direction." – Kathy Lewis