While building new classes and updating the web site (see the new Create page!), I realized that I have over 450 blog posts in this blog. I have been blogging for a long time, but still, it's a big number! While going through those posts, I realized that more than a diary, this blog is like a manual, lot's of instructions and tips on how to start creating and keep on creating. I have no intentions to change it. However, I feel I have left out many things that have happened during the spring, so this post is a bit different.
Libraries
As I work from home, most days during this spring have been spent in the library room of our house. While creating new mini-courses for Imagine Monthly Spring 2016, I have also visited public libraries examining art history where I get most of my ideas from. This "library time" is one of the best things in my job as an art teacher. I love the feeling of control that I get from seeing all the books around me. It's very different from browsing information on the internet. Internet is like a tube or a bunch of tubes, while libraries are like arenas, bringing more information visible at the same time.
I have not only visited the usual local libraries, located near my home, but "the library", National Library of Finland.
I tried to capture its' beauty to one panorama photo but it doesn't quite show all the wonderful details the building has.
Trees
When working from home, garden views become important. Our back garden has old trees that had grown too big and they had to be cut. We hired arborists to do that and the trees looked like sculptures first, now there's lot's of green already.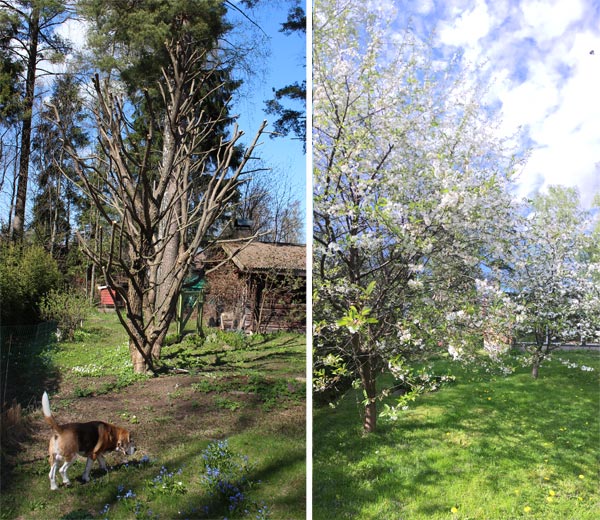 Another tree-related event was when our apple and cherry trees blossomed. It was more beautiful than ever before, the spring had been so warm. Like creating this William Morris inspired spread for one of the mini-courses, would predict a warm weather to Finland!
Speaking of trees, I visited the center of Helsinki to see a famous Japanese artist Yayoi Kusama's instalaltion. Again, I tried to get a panorama photo of it!
Small and Surreal
Spots came to my mind already earlier in the spring when I spent a lot of time examining Hundertwasser's surrealistic way to build big pictures from small structures.
No wonder I have not only taken panoramas, but used macro lense too. When we took care of our long spruce fence, I saw small dew drops that looked like mini worlds! Who wouldn't want to go there and see what treasures they carry!
Taking photos is really important part of my creative process. The camera challenges me to see further than the obvious.
What a Movie!
In May, after publishing the mini-course on Claude Monet's style, I went to a movie theatre to see a special documentary. It was called Painting the Modern Garden: Monet to Matisse. Anybody who likes flowers, gardening and painting should see it!
Mid-Century Magic Box
June's highlight was Rut Bryk's exhibition Magic Box and the inspiration I got from it.
Earlier in the spring, I had already examined mid-century modern designs. My mini-course for Imagine Monthly Spring 2016 was about how to make your own mid-century modern art journal page.
From Expressive Skies to Seas
After examining Claude Monet's style, I became more and more aware of how beautiful skies can be. There were some beautiful sunsets this spring.
These glowing sunsets made me think about landscapes and how expressive they can be – how we can create fantasy landscapes and use them as a tool of self-expression! Then I saw a couple of art exhibitions that had seascapes and felt drawn to them more than ever before. So the last mini-course of the spring is about seascapes.
When I make recordings for my classes, I must confess that it's terribly exciting. It requires extreme concentration to produce the artwork in front of the camera and take care of all the little things that make a good video. Every brush stroke has to be educational as well as exact. I intend to get better and better at this, showing how you can create with less fuss and more expression!
Cosmo – My Dog
My beagle Cosmo has had health issues for the whole spring. It has been stressful and I have worried about him a lot. He is already 11 years old so I have feared for the worst. But luckily the cure was found finally and he is now happy and healthy again, enjoying the beginning of summer.
Imagine Monthly Continues
Imagine Monthly Spring 2016 closes in the end of June. Before that you can still sign up and receive all the 6 mini-courses immediately after the purchase + get access to the discussion group to see what other students have been creating! These courses will become for sale individually sometimes in July-August, but as self-study classes, without the access to the discussion group.
Imagine Monthly Fall 2016 will start in August 1st! Get 5 new mini-courses, 1 per month from August to December, sign up now!