This watercolor painting is one of those I made for the video Watercolor 101 for Intuitive Painting. The painting uses the techniques presented on the video, so I won't publish phase photos this time as they are on the video. Buy the video and you'll learn the techniques!
This blog post is about doubt – the doubt that all the beauty you can create in your art does not really exist. Who cares? Well, at least I do. To be exact, a part of me does. Besides design, I have a degree in computer science and sometimes I can be an overly organized and analytical person. So, there's a little engineer in me who always questions what I am doing. I call her "he" here, just to separate the little engineer from the little artist (the artistic side of me) easily.
When she showed him the watercolor painting, the little engineer said:
– "Ok, but can this really exist?"
– "Well, it's an intuitive painting expressing how I see the music", she answered, feeling a bit offended.
– "It is called Graceful Aria", the little artist continued.
– "I just see some kind of landscape there", he said. "It makes me wonder if that kind of landscape could really exist."
– "I don't think the landscape is important here. If you want to grab something concrete, you should look for the light and water. This painting focuses on them."
– "This is just the kind of dreamy thoughts from you, that I do not understand. I just see trees, mud and some sky. But to be honest – if you want to paint trees, mud and sky, you could do a better job there."
The little artist gritted her teeth. But then she realized she could actually show the connection of light and water. Namely, the little engineer had filed all her photographs so that it would be really quick to find the nature's wonders she had documented while the little engineer had controlled the leashes of the dogs.
"Remember this evening?", she asked. "See how the light hits the leaves!"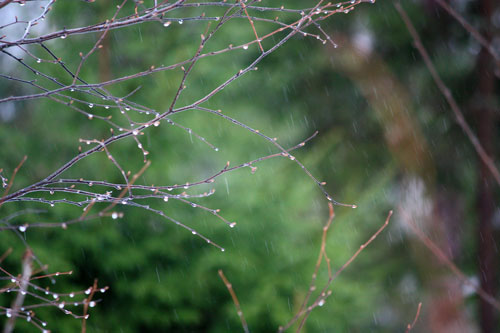 "This spring was really rainy. You hated the rain, but look how beautiful and soft it can be!"
"And you must remember this magical morning, when the rain drops had frozen and it was like millions of diamonds were set on the trees!"
"When we walked home one afternoon, it was mesmerising to see the sky refelecting from the fresh asphalt. In the painting, the water creates wonders too. It makes the watercolors show their true beauty."
"I always want to photograph this, when in March, the snow and light interact with each other. The snow is frozen water, did you know that?"
"Of course I knew that! Ok, you proved your point. If you could always present things as systematically as you did here, we would not have any problems, you know."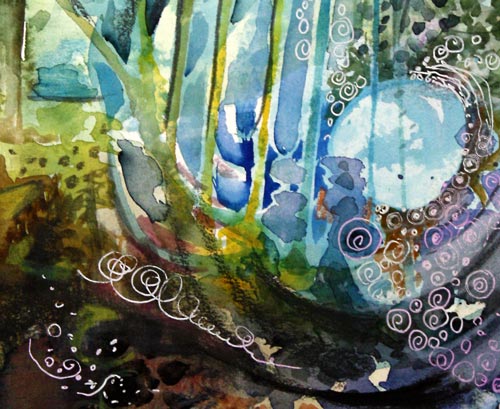 – "I need a nap today since it's so tiring to explain big things, like art, to you."
– "I thought I was able to fire you up to get the blog post done! Go ahead and take the nap, meanwhile I can sort out and sharpen your colored pencils!"
Have Fun with Watercolors – Buy Watercolor 101 for Intuitive Painting