Yesterday, I opened the door of a local art supply store and headed to a specific shelf. On my way to the store, when walking on the narrow streets in the center of Helsinki, I felt it. The feeling that I got a year ago when I opened a tube of Mussini oil paint for the first time. I was attending an art class about old masters painting techniques, and we used the best oil paints I could imagine. Not that I could imagine so much because I had never used oil paints before. But I didn't expect to experience that strange feeling. It contained both appreciation and excitement. The appreciation of color, and the excitement to learn more from it.
It was not that I would have been new to color. I had been painting with acrylic paints for a long time. When I was a teenager, I got them from my parents who thought that it was a perfect solution to me. No worrying about toxic painting fluids and still being able to paint with ease. The acrylic paints have developed a lot since that time, since the eighties. They have worked perfectly for my needs. I have found a good brand too. I really like Golden acrylics.
But now I was standing in the front of a vast collection of Mussini oil paint tubes. I picked the color chart and went through my choices one more time. For a whole year, I had been going through this in my mind: raw umber, zinc white, titanium white, yellow ochre and so on. It had been a mantra that changed a little bit every month. The paints are expensive, and I had to pick the colors carefully. One tube can cost more than 70 euros.
Plan for the Hand and Mind
After trying out the paints for the first time, I went to live in denial. Yes, I had painted the class pieces with oils because they were provided by the class. But the odorless and water-soluble acrylics felt much more suitable for me. After a while, my attitude changed a bit. I let myself dream about the oil paints. I visited the art supply store, touched the clean and shiny tubes, imagined getting just a bit of paint on a palette and make it last for as long as possible.
But dreaming and reality are surprisingly close. It's difficult just to dream and not to do anything. So I made a plan that felt more like extortion. I had to get my floral painting class finished. I had to get several acrylic paintings finished. I had to figure out where and how I would store the paints. I had to get more information about the oil paints and the painting liquids.
I still had some finishing touches to do for my paintings in progress, but other than that I had followed the plan. So I started picking the tubes: raw umber, zinc white, titanium white, yellow ochre and so on. After selecting the colors, I went for the liquids: poppy oil, turpentine, and glossy dammar varnish.
When I left the store, my mind summarized the past year. Learning the old masters' techniques had been essential for growing my technical skills. My art had become less imaginative, and more conventional.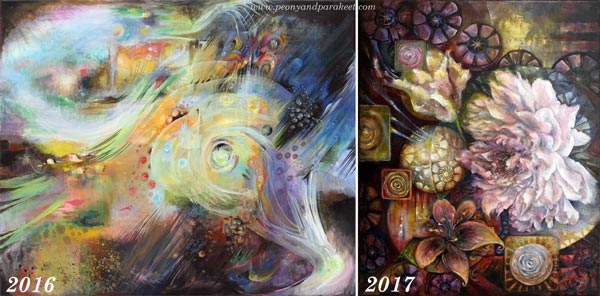 I had a turning point in 2016 when I felt that my imagination and my hand didn't function so well together anymore. My imagination wanted to proceed to new territories, but my hand couldn't follow. But now when my hand is wiser, I can also challenge my mind more freely. Purchasing the oil paints were a reward for the persistence that I have had for the last twelve months. However, it wasn't the only reward. I was also going to see the new movie Loving Vincent.
Loving Vincent – The Movie
The movie theatre was about 10 minutes walk away from the art supply store. When I arrived, there were several queues for the tickets. I joined one. While I was waiting for my turn, a young man suddenly came to me and asked: "Do you want a free ticket? I have two, and my friend wasn't able to come." I happily accepted it and thanked the man. "Is this a sign?", I asked myself. "Is this the final sign that I should do this – go forward, open the tubes, start painting my newest, odd ideas?" I don't believe in destiny so much, but at that moment, it felt like Vincent van Gogh was talking to me: "Do that, paint those ideas, just like I painted mine."
I found the movie very emotional. Every time, I saw a familiar painting coming to live, tears came to my eyes. I realized that this movie had to be published now, not earlier. Vincent's art has become so well-known during the past decades that it unifies us. Art that was odd for masses of the 19th century is understood by every one living the 21st century. It has become so familiar that it's sometimes difficult to appreciate it. And still, we need to feel the togetherness that Vincent's paintings can offer. They are like icons that make us stronger together.
Looking back helps us to move forward. As artists, we are all Vincent's descendants. No matter how we paint, what technique we use, we know about modern art because of Vincent. We know more than the people of the 19th century, and that enables us to explore art to all kinds of directions.
Loving Vincent – Art from the Students
I want to celebrate Vincent by showing beautiful pieces made by my students. They are made from my class Selfie Fantasy that shows an adaptation of Vincent's technique.
Christie Juhasz: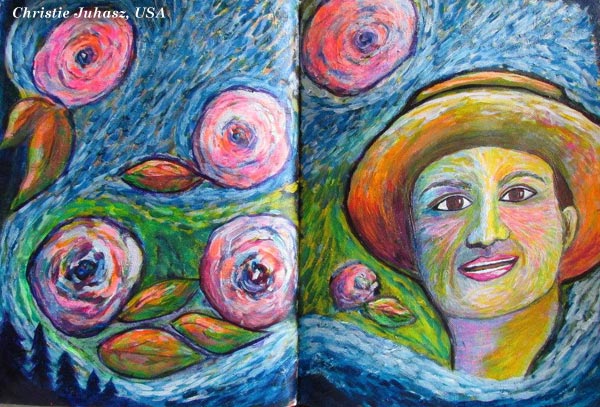 Terry Whyte:
Denise Dineen:
Gina Meadows: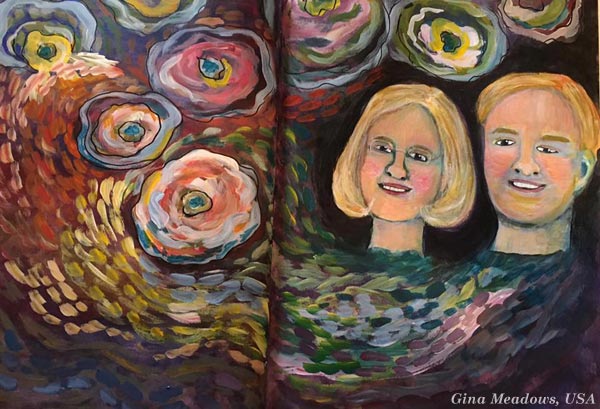 Patricia Furey:
Stephanie Carney:
Have you seen the movie? What did you think about it?
Imagine Through Art – Buy 5 inspiring mini-courses! (including the Vincent-inspired one)