This week, I gather inspiration for the next painting of a series, enabled by the grant that I got from Arts Promotion Centre Finland. This is the third blog post of this project, see the first one here and the second one here!
German Renaissance Portraits by Lucas Cranach
The first painting of my series (The Empire of Light) was inspired by Sandro Botticelli, Italy. Now I move further up in time and on a map and go to Germany to meet Lucas Cranach the Elder (1472-1553). Here's a spread in my colored pencil journal inspired by Cranach's style.
She is a weird-looking little woman but so are Lucas's portraits too.
Their faces are small and not so pretty at all, at least according to today's standards. Are these two even smiling at all? Is that boredom or irony?
Cranach's women seem so arrogantly materialistic that it doesn't feel suitable for a series about spirituality at all. But because expressing light is impossible without painting the darkness, I have decided to explore spirituality's ultimate opposites as well. Like insolence, materialism, and money.
Lucas Cranach's Super Production
Lucas Cranach the Elder wasn't just a painter. He was a businessman who ran a workshop and a pharmacy too. His unusually large workshop wasn't just for fine art. Printing presses produced religious images for people who had less money.
Lucas Cranach surely knew how to run a business. When he needed pigments, he decided to found a pharmacy at the same go. He got friends with prestigious people like Martin Luther. I can imagine Lucas whispering to Martin at a dinner: "What kind of images does your religious movement need? I can produce thousands of them!"
He must have had a sense of humor too. And yet, his figures and the way he painted the clothing, are a bit stiff and clumsy.
From Cranach's Bluntness To Sharp Pencils
When Botticelli made an elegant curve, Cranach added a straight like like saying: "That'll do. They won't notice it anyway." So my Cranach imitation was built around similar angular lines and weird proportions.
But the more I worked with the face, the more real it felt. The woman wasn't just an angel but had vices as well. She felt so relatable and maybe because I was glancing at my new sharpener. In the middle of the spirituality project, I had become very materialistic and spent almost 150 EUR on it.
Botticelli's goddesses wouldn't be even willing to touch it. But Cranach's women would grab the handle without hindrance. They would crank fast and smile quietly, and it would all look a little immodest.
My workshop has produced a lot of pencil shavings lately.
I can assure you that all my pencils are sharp!
Long Live the Spirit of Lucas Cranach!
Queen Dido's smile in Cranach's painting is deceiving. She had made a decision to leave the materialistic world.
Her story goes like this: Dido founded the city of Carthago after her husband died. Then her lover, a Trojan hero Aineias was taken away and in agony, she killed herself.
Black and white always go together. Dido was not just a wealthy royal, but a sensitive woman too. Maybe Lucas Cranach and Martin Luther had deep discussions over dinner. Perhaps my sharpener will live longer than I do and serve many enthusiastic colorers after me.
The most inspiring detail in Dido's clothing is this carelessly painted ornament on the hem. It just floats there! It doesn't follow the folds of the fabric at all. But its living line documents Cranach's spirit.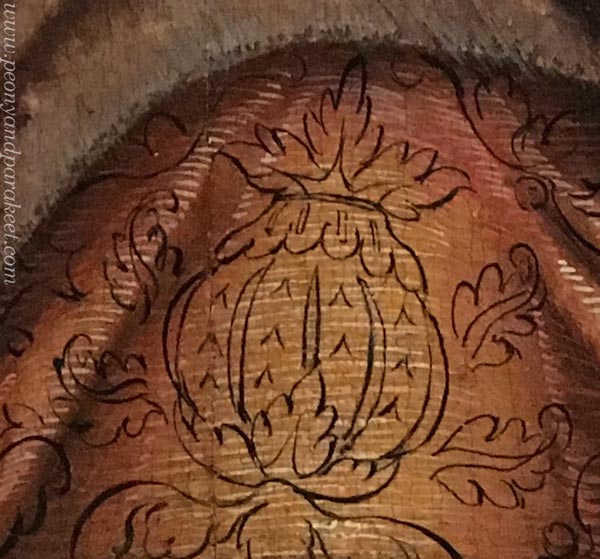 No matter what the subject is, art always carries a spirit with the way we draw lines.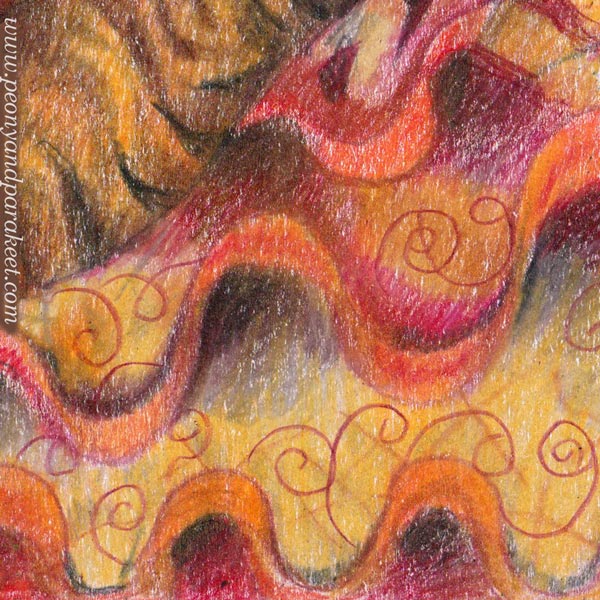 Like Cranach, I made two layers of lines, first x-shapes, then swirls.
Colored Pencil Journal
This journal spread will be my inspiration for a new abstract oil painting.
My little journal has quite many drawings already. I browse it often and it brings me joy.
Do you also have an art journal, a visual diary, or a sketchbook that you like to browse and fill? Can you find your living line there?
P.S. My photos of Lucas Cranach the Elder's paintings are from an exhibition in 2019, see this blog post for more pics!