My latest painting called "Abracadabra" is a big one, 56 x 38 cm or 28 x 15 inches. It was a lot of fun to create so I want to dedicate this post to the magical effects that water creates when painting with watercolors.
Magical Mess
Right from the beginning, this painting had a mind of its own. And as you can see from the photo, I also used a lot of water to make the process even more uncontrollable. The more I paint this way, the more boring all the other mediums feel. Watercolors are magical companions, introvert when in pans but extrovert on paper!
Tip: Start with a plenty of water!
In this project, I was testing Arches Cold Press watercolor paper, new to me. It has a weird smell when it's wet but other than that I quite like it!
Fun Appearances
When I add some sharpness and control, I try to do that gently so that I don't put too much burden on flowers that have born naturally. The idea is to bring out the best details.
Tip: Add dark shapes to bring out the magical watercolor effects!
Fascinating Translucency
When painting with a lot of water, watercolor becomes magically transparent. I love how the colors get mixed when they are layered.
Tip: Let each layer dry properly!
Watercolors Can Draw!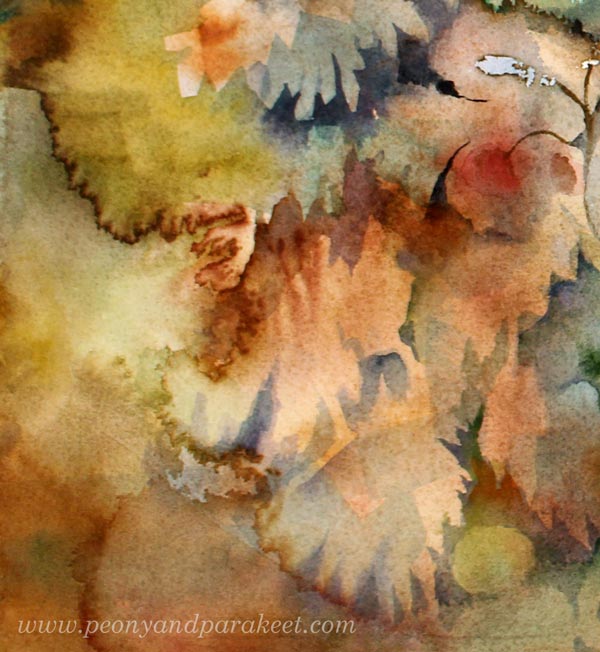 I also like to think that watercolors can draw. When applying water, watercolor blooms with sharp frilly edges. These lines can be more than just lovely outlines. In the detail below, I used one to make a stem!
Tip: Use your imagination to make the most of what you have on paper!
Flow and Melody in the Safe Haven
I have had mixed emotions this spring. I have lost some old birds and my oldest dog has been sick. It's been something that I have found difficult to share, it's still so recent. But in the middle of all the worries, my studio has become a safe haven where I have been painting in the late evenings. The colors of the 16th-18th centuries and the pop songs of the 1980s have inspired me. Do you still remember Abracadabra by Steve Miller Band? A very superficial hit song but it has such a flow in the melody that it goes well with magical watercolor!
Come to draw and paint flowers with me – Sign up for Floral Fantasies in 3 Styles!