This week, I have a new miniature painting and share tips for making small-sized paintings in general.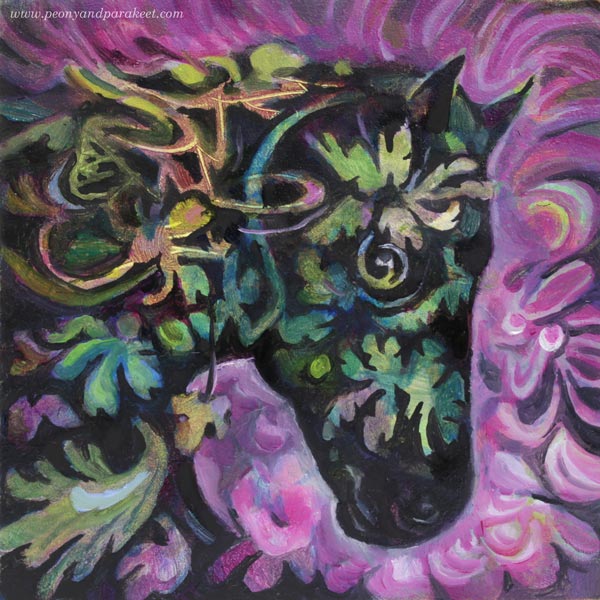 Let me introduce Ebony, my newest miniature painting! It's only 10 cm x 10 cm (4 inches x 4 inches). The size shows better in the photo below.
This is an oil painting, and it took over a month from start to finish, but just because I let each layer dry properly. There's about a week drying time between each layer. If you use acrylic paints or watercolors, the process is much quicker!
The Beginning – Making Not So Beautiful Mess
As usual, I didn't have any particular idea for the painting when I started. Here's how the painting looked after a couple of layers.
My surface here is Ampersand Gessoboard Panel. It's very smooth and thus suitable for small details. I had bought a pack of four over a year ago. I finished the first one last year, see this blog post!
When making an abstract mess, I don't usually settle for pretty little messes, but make the mess more layered. When the mess is as ugly as I can bare, it begins to talk to me. It came to my mind, that the random strokes could be mane, and there could be a horse coming up.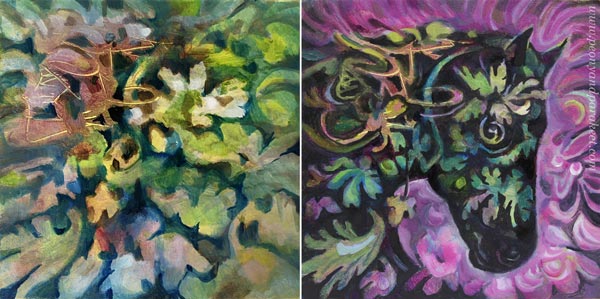 Using Negative Painting to Dig Out the Spirit
I like to use negative painting a lot. So here, I painted the background first so that it defined the head of the horse. When painting the surroundings, you slowly get closer to the actual spirit. It's like taming a wild animal!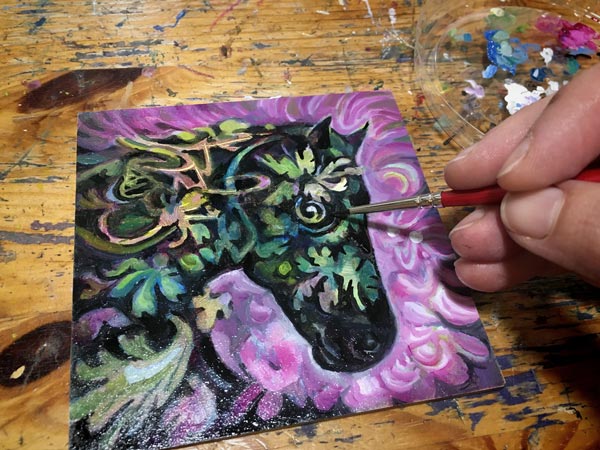 Ebony is now a gentle soul, and she reminds me of Black Beauty, the television series in the 1970s. I watched every episode and it inspired me to play with plastic horses.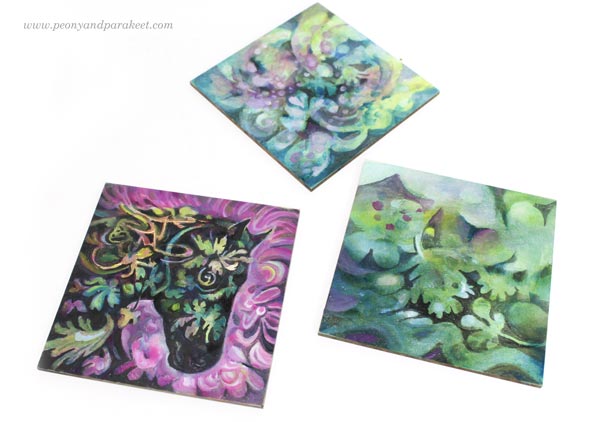 I still have two more panels to finish. I think I will dig out horses or other animals from their messes so that I get a small series of miniature paintings.
My Four Tips for Painting in Miniature
Start boldly and enjoy all kinds of mark-making and color play. If you are painting on paper, you can start with a bigger piece, and then cut it into smaller ones.
Make a few big shapes that contain smaller ones. In my painting, the horse is one big shape, the background another. Let smaller shapes break the borders of the bigger shapes so that the image doesn't look stiff.
The negative painting technique where you paint the surroundings of the shape enables you to paint delicate shapes easily. Magical Forest is the class to take for mastering this technique!
We hold miniature pieces quite close when looking at them, so the quality of brushwork matters. Use thin paint, small brushes and even magnifiers if needed. Taking photos and zooming them helps to see the details too. Decodashery is the class to take for making the best out of every stroke!
Drawing Small
Of course, your miniature artwork doesn't have to be a painting, but a drawing! For me, drawing has been in a significant role in becoming a better painter. It can be just free drawing like in Inspirational Drawing, or more intentional practice like in Animal Inkdom and Magical Inkdom. I use both approaches in painting too.
I hope you enjoyed this week's project. Do you like painting or drawing in small size?