This week, we go deep into the messy art journal style. See how to mimic messy mixed media pages in colored pencils!
I wanted to add some happy freedom to my colored pencil diary. So here are the most recent spreads!
These spreads have an impression of a messy mixed media look – collage, paints, and all – but they have been made with colored pencils only.
Confessions from a Former Art Journal Book Junkie
Let's first turn back time over ten years when my best hobby was art journaling. My day job took a lot of time, so buying became a part of self-expression. I bought almost every possible book about art journaling and dreamed about becoming a mixed media artist.
Now when I look at these books, their examples look clumsy, sometimes even ugly. But I still get attracted by the easiness that made me buy the books: "Messy is ok, you can do it!" And so did I: mixed paints, pens, collage, and all the possible media into one spread. "Mixed media techniques" was the word that I was looking for when browsing a book store or Youtube.
Art Journals Started a Journey
These journals were all the art that I created for a long time. Like the books stated, I assumed that the messy pages would be enough to define me as an artist. In some ways, I was right. A messy art journal style was a ticket to the world of art-making, blogging, even teaching. For example, in Collageland, I use paints, pens, and scissors to create fun and messy pages.
But in 2013, when I was in a local art supply store and proudly presented one of the journals to the owner, his fake smile told me that I hadn't even started yet. In the traditional side of art-making, that is!
Nowadays, I think of myself being a traditional artist rather than a mixed media crafter. I prefer to stick with one medium at a time and my main artworks are more on the traditional side. And I wince every time when someone calls me a mixed media artist!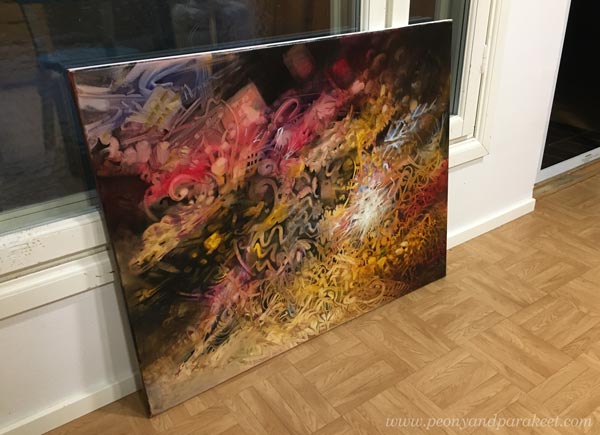 But art journaling has led me to so many happy places that I don't ever want to get too far from it. Often, I have just replaced images from magazines with my own hand drawings.
So, instead of collecting products, I can be the product. My most popular classes like Animal Inkdom and Magical Inkdom have started on that idea.
Choosing the Shortest Pencils
The best thing that I have learned from art journaling is to not over-think and just start creating. It often feels like my hand knows more than my brain. So, when I want to think further and forward, I say to my shortest pencils: "Let's create something messy, like in the old times!". And these little pensioners are always willing to get back to work and do what's expected.
Using old and much-used pencils also takes off the pressure of pursuing brilliancy right from the beginning. For example, before I started building the class Intuitive Coloring, preliminary pieces were made with the shorties, and then for the actual recordings, I picked longer and more prestigious pencils.
So, when coloring a mess, do it with a small and diverse set of retired pencils that no longer care if you are a true artist or not!
Collage Imitation in Messy Art Journal Style
On the first spread, I mimicked what we used to include in our messy art journals: paper scraps, geometric stencils, scribbling, simple marks like x's and o's, flowers, and curves.
Just keep layering until the paper is covered, and don't forget to mimic the glue too! Make the elements go on top of each other, or erase a part of them to make everything look integrated.
Look at my little pencils! Aren't they endearing? I have started to carry them in a pencil case so that they are always with me, ready to be pampered.
Paint Imitation in Messy Art Journal Style
Then let's change the mindset a bit and move from mimicking products to imitating paints. Start with stripes and small splotches and slowly grow them so that they cover more of the blank page.
When we make a mess with paints, the edges are jagged, so color freely and intentionally make errors on the shapes.
My orange rectangles represent a product, a stencil maybe, but most of the elements are more like watercolor, acrylics, or inks.
Watercolor spots have dark edges that softly fade away. By adding more colors, you can make the spots look translucent.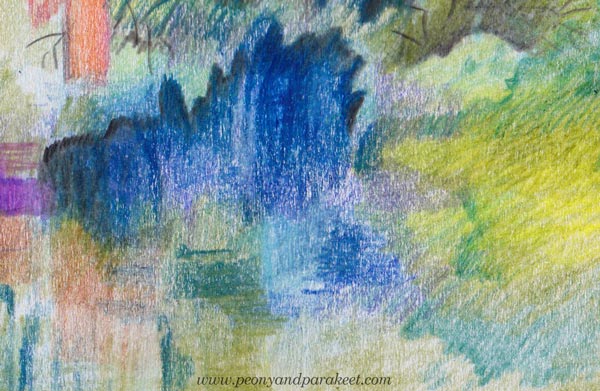 Acrylic paint has wider shadows, reflections of light (stripes and spots), and less transparency.
Add tiny spots too and make sure that their patterning is irregular.
Drawing all kinds of splashes and drops was so much fun that I am now thinking: could I imitate watercolor in oils. Doesn't this prove that mess-making and traditional fine art are not so far away from each other after all?
I hope this inspired you to pick your pencils and start faux mixed media with them!