Here's my latest little study in watercolor, called "Ikebana." I finished it today, but for a long time, it was just a piece of watercolor paper with random doodles and colored spots. I had started the piece in December 2016 when running a local art class. I had just painted mindlessly while discussing with the students and then left the piece unfinished.
Choosing Not to Toss Away
When I was holding the unfinished, ugly painting, I thought of my choices. I could toss the paper away and forget the thing. Or I could treat it as a treasure and make the most of it, despite the controlling straight lines that went through the page and other uninspiring details. To me, choosing to continue the painting, is usually always the better choice. Making the most what I have calms me down, gives me a sense of purpose, and positively challenges me. I don't consider it so much as a choice of saving money or space but getting a peace of mind.
I have also noticed that when I work on with the old pieces, I find new ways to make them more expressive. That in turn, helps me to develop better classes and help my students. This time, I was inspired by April's theme of Bloom and Fly – surreal art!
Getting back to old doodles also reminds me that even if I can't make all the details work together, art is never fully perfect. Often the minor "mistakes" add personality and interesting tension to the piece.
I also like to store the finished pieces organized in folders.
Using Up Old Art Supplies
One of my favorite things is to organize art supplies once in a while. I try to find the best places for them so that they get used up. I find it much more pleasurable to buy new supplies when there's the actual need. It's also nice when I have had time to think what to purchase next.
So when I noticed that some pans of my White Nights watercolor set are getting empty, I decided to experiment and fill some with paint from the old tubes. I found an old gouache tube by Schminke, the pink that I totally love but had forgotten, and I hope it will keep on wetting well even after the pan is fully dried.
One of the pans that I made, the muddy green, is a color mix. It's a color that I usually use for watercolor paintings to give brighter colors more power.
My Meditation – Cleaning Brushes
The longer I have created art, the more I have put a focus on my brushes. I used to buy them carelessly and toss them away once they didn't seem to work anymore. But nowadays, I like to appreciate what I have and take time to clean the brushes carefully after each painting session.
The cleaner that I currently use is The Masters Brush Cleaner, recommended to me by my artist friend Eeva Nikunen. I have saved many old brushes by cleaning them properly with this cleaner, and I couldn't even think of cleaning oil paint from the brushes with anything else.
This cleaner is a solid soap. You dip the brush in water and then rub the soap with the brush. Formerly, I only washed the brushes with warm water after watercolor painting. Now I use the cleaner for watercolor brushes too, and it's lovely to begin a new painting session when my brushes are like new!
No Need for Inventing New Ideas
To me, looking old stuff with fresh eyes is one of the best things in art, and it applies to ideas as well. See "From Innovation to Experience" from 2014 and Origami from 2016-2018!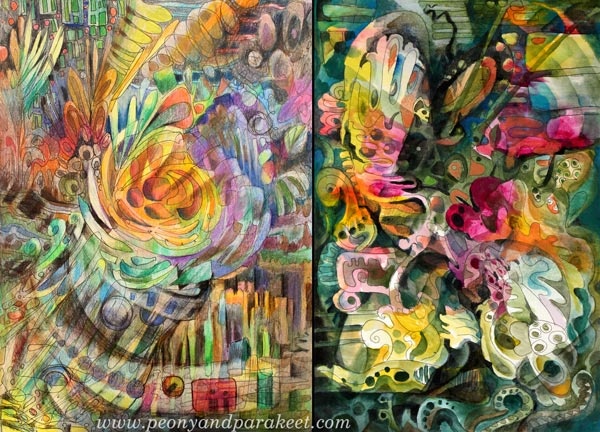 Is This Too Much Minimalism?
I was hesitant to write this blog post because I don't want to take the joy out of buying new stuff and starting new art. I also enjoy that! But often the best cure for procrastination is to stop thinking what you don't have and start using your creativity to make the most of what you already have. Bonding with the old supplies and ideas can give a sense of independence and freedom too.
"It's not who you are that holds you back, it's who you think you're not." – Artist Jean-Michel Basquiat
I heard this quote from one of the members of Bloom and Fly, and it feels appropriate here too!
Bloom and Fly – Get new inspiration and perspective to your art!
>> Sign up here!