In 2015, I recorded one of my most popular free videos called Farewell to Summer with Watercolors. At that time, I was practicing basic watercolor techniques and wanted to see how they would fit with the process of following a reference photo.
Now when I am preparing for the new class Watercolor Journey, I went to my archive and looked at that piece again. I was interested in the actual location more than the techniques – how our front garden had changed during the years and seasons, and also: how it's going to change as we currently have big plans for the garden.
Moleskine Watercolor Notebook as an Art Journal
This spring, I have realized that there can be a straight-forward but hooking connection between watercolor painting and memory keeping. I picked up an old Moleskine Watercolor Notebook and started making little watercolor sketches that record either the outer or the inner world. This kind of creative play between the reality and the imagination make the most out of watercolors and their many techniques.
My watercolor diary – as I now call it – is not just a technique sketchbook. It's a nonlinear expressive journal that is sometimes very grounded, other times more other-worldly. I have a couple of rules that I try to follow on every page:
1) Don't pencil-sketch the page before painting.
2) Get creative and let loose in one way or another.
Live Broadcast – Keeping a Watercolor Diary
Next week, on June 13, I am showing this small art journal and sharing some ideas on what to put on the pages. Come and join this live broadcast, save your spot here!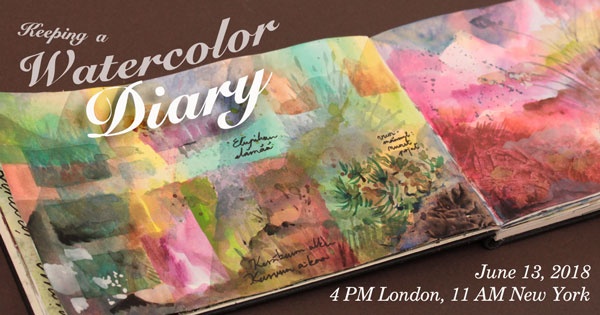 Watercolor Journey – Early-Bird Sale Ends on June 10th!
Before we meet, do sign up for my new class Watercolor Journey before the early-bird sale ends on June 10th (midnight, PDT)! Watercolor Journey is especially for you who admires traditional watercolorists but who wants to be more loose and contemporary in your approach. If you find sketching, perspective painting, careful shadowing and copying boring, but want to learn tips and tricks to let watercolors do half the work for you, you don't want to miss this class!

Connect the dots between watercolor techniques and creative expression – Sign up for Watercolor Journey!