The famous impressionistic painter Claude Monet inspired me to creates this art journaling mini-course. Strokes of Energy has just been released as a part of Imagine Monthly.
Calmness vs. Energy
When I examined Monet's painting style, I spent a lot of time with calming blues and greens.
But the more I painted, the more I brought energy into the painting. Even if you feel calm when watching Monet's paintings, his painting style is much more than just lightly caressing the canvas. Directional strokes and plenty of colors are essential in Monet's impressionistic style. The most fun part of using the active energy is creating all the juicy details with short strokes of paint.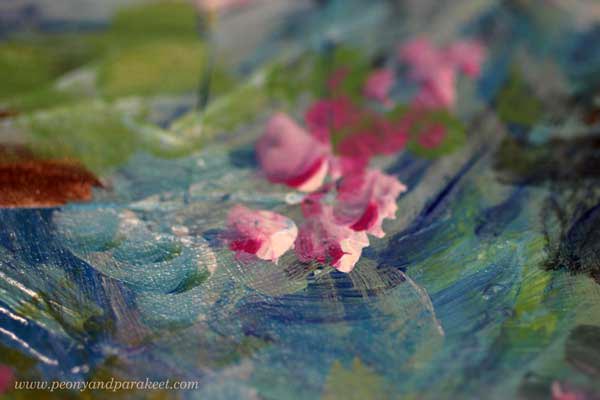 Monet's Fresh Air to Your Art Journal
A big part of art journaling is about making sketches, experiments and building the collection of pages. But every art journal needs also pages that you want to watch again and again. They are like a breath of fresh air among all not so finished pages.
4 Published Mini-Courses, 2 More to Come
Alphonse Mucha, William Morris, Friedensreich Hundertwasser and Claude Monet have been my inspiration for this spring. When you sign up for Imagine Monthly, you will get all these 4 mini-courses right after the purchase and 2 more in the coming months.
Also, you will get to be a part of a great community! Every week, when I look at the unique versions my students have made from the exercises, I am in awe. I feel extremely lucky to be part of the group and wish all those masters could still be alive and participate the conversation!
>> Imagine Monthly – Sign up here!