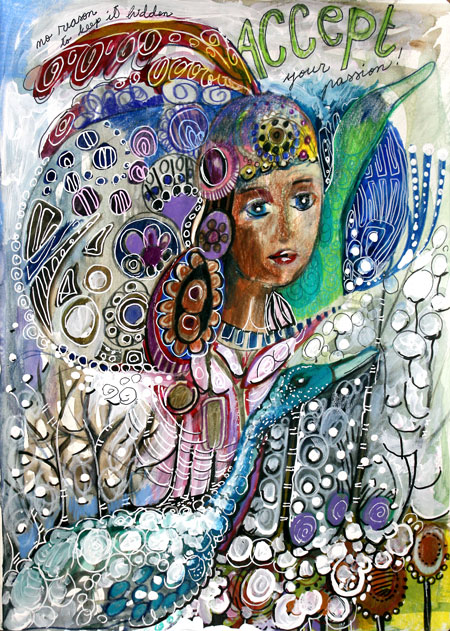 My latest art journal page is inspired by a discussion in an art journal group. It was about how to deal with the criticism towards your art. One woman told a story which touched me deeply. Someone had accidentally seen photos of her art and asked if they were made by her little grandchildren. After that she did not feel comfortable making art again. The story made me think about how important other people's reactions to our arts and crafts is. How much we yearn for comments and how the critique can scare us. I also share those feelings. These are my conclusions of the subject. (And yes, I have new pencils!)
1) Pick Your Specialists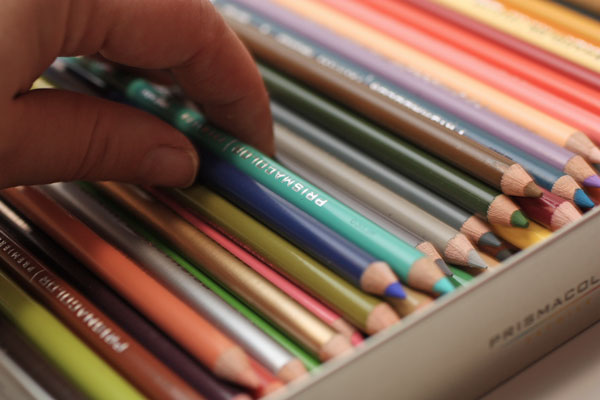 "Can you simplify, Paivi?", said my teachers in so many words while I was studying industrial design. Because, in design, it all starts from the basic concepts, basic shapes and little alterations to them. I have always loved decorating. So I rushed through the first design decisions to get into adding swirls and tiny dots to the each of the designs. When I completed a sketch for a bar code reader, a teacher said: "What can I say, it is like a Russian icon painting with a flair of folk". And he did not even know I had painted icons as a child!
"Your sketches all look the same", he continued.
I did not get it. For me, they were all so different.
– "The same shape is repeated all over again."
When I went back home, I thought that studying industrial design was going to change me to the direction I did not like. Within a year I would be living on a white box with no carpets on the floor and wear black glasses. But the end result was nothing like. My interest in art history and decorative art only increased within the time as practicing different styles helped me realize there's no need to create a too narrow image of my own art.
At the end of the studies, one of the teachers said to me, carelessly: We just got an application from a person who reminded you: so many details, so little simplifying! We can't accept him in. To design is to simplify. Despite your beginning, you do have learned that." It meant a world to me – according to her, I was a simplifier, a designer.
In today's world, there's a specialist for everything. I yearned for the specialist to testify, objectively. And once she did, I was happy. But later I have begun to think that actually, in art, everyone has to define their own specialists. The range of art and design is huge and surely, everybody doesn't like every piece of art.
So, don't even expect that everybody likes your art – is a specialist of your style. Pick those that you want to please and forget the rest!
2) Improve Your Communication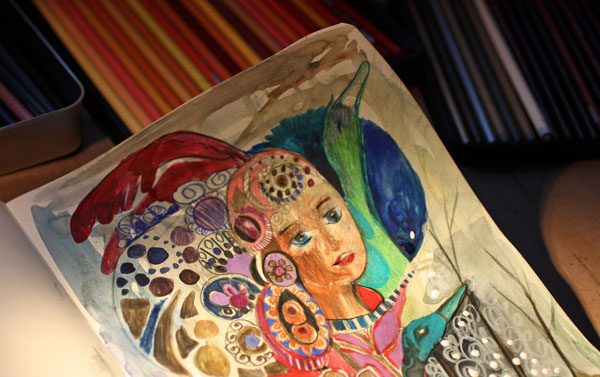 An artist Ann Rea has said:  "Art is communication". I think that focusing on what we want to say with our art is often more beneficial than focusing on the techniques. When someone comments our art, whether the feedback is positive or negative, we can always ask: "What do you see here? How does it make you feel? What do you like the most?" (Or "like the least", if you are brave enough, and if you have chosen the person to be your specialist.)
Sometimes it is not so much about delivering a certain message, but touching people. When we are touched by our own art, it may seem surprising that others do not get touched by it. Then we need to improve our visual communication or fill in the story verbally. (The power of art journaling!)
Instead of thinking "I want to become a better artist" you may want to think "I want to become a better visual communicator." After that, you will often find art critique easier to swallow!
3) Set the Risk Level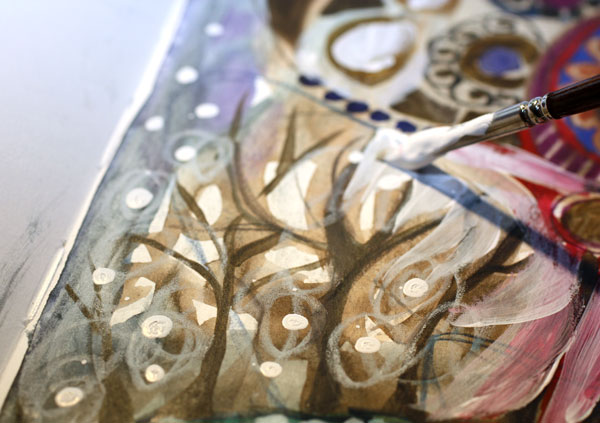 If you only want to hear positive comments, set the risk level low. One way to do that is to stick with the realistic art and copy those who have a lot of general acceptance.
But if you want to find your own style and in the end, truly touch people, take more risks! Experiment, observe, let go of the definitions you use for yourself, think about before you start to create and while creating, stop thinking! You can set the risk level for each individual piece, and go higher from one artwork after another.
Once in a while, give yourself a permission to make high-risk art! Sometimes it may also be good to take high risks when asking for comments! But never let anyone keep you away from creating when you are on the way of unique self-expression.
In need of experimenting? – Join me for an art journaling workshop!
This is one of the many art journal pages inspired by embroidery techniques. Meet me at 21 Secrets Art Journaling Workshop where I will show you my favorite embroidered textiles and teach you how to imitate the embroideries with pens and paper! The perfect project if you want to stretch your style in a safe environment! The workshop begins in April, but you can preorder now!