This week, I show an unfinished painting and talk about the mystical side of nature and art.
I have a big painting in progress. At least it's the biggest one that I have ever made – 92 x 65 cm, about 36 x 26 inches. It's an oil painting, and it takes time because it needs to dry between the sessions. The pics you see here are from the third session, and there's at least one, maybe even two, to go. But this is the last piece of the series, so I don't want to rush. The painting needs time to mature, and I want to end the series gloriously.
I don't usually post about a piece that I haven't finished yet. It's like presenting an uneducated child that doesn't quite know how to behave. But the more perfectly my art has aligned with my personality, the more I have started to embrace imperfection. My art will always be imperfect because I am imperfect. Life is imperfect.
Rational or Mystical?
My education in software engineering has shaped my beliefs about life for tens of years. But recently, I have had experiences that feel less scientific and more mystical.
My paintings seem to know how they want to grow, and my ego disappears.
One Mystical Morning
One morning, when I was walking the dog, I saw a miraculous view. It was meant to be just an experiment. I asked myself to look at nature like I would look at a painting in progress. And suddenly, I saw everything in a new order – not organized by a hierarchy or by their aesthetic value. Gravel, weed, grass, dandelions, trees – all were equal and formed one mysterious mesh.
I was part of that mesh too. Not any more valuable than a crooked stem of a dandelion, but still tremendously happy and free.
Every Stroke is a Weed – For How Long Can It Grow?
We art instructors talk often about visual hierarchy – there's a lot of that in my classes too! The image needs a focal point, and there needs to be a visual flow in a composition. Otherwise, the image looks stiff and the viewer is left puzzled. But the more I have painted, the more I have postponed all that visual organization. That's why you see me working on the table mostly, focusing on the details.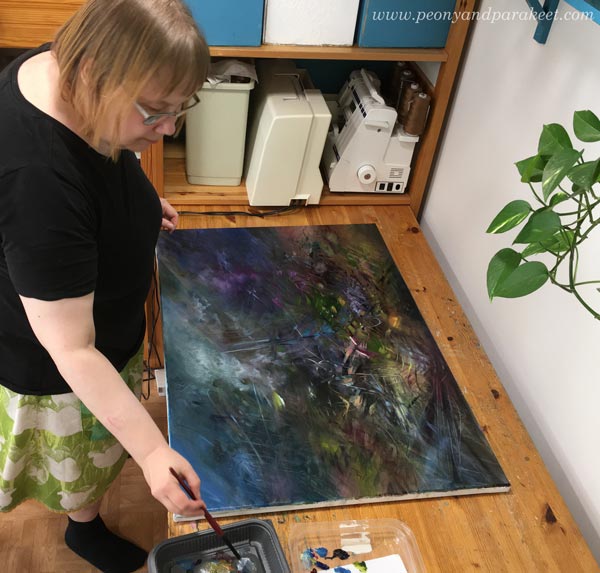 When the painting is in progress, it grows all kinds of weeds, and it's ok. Then, when I am close to an end, I will put the painting on the easel and improve the visual hierarchy and flow.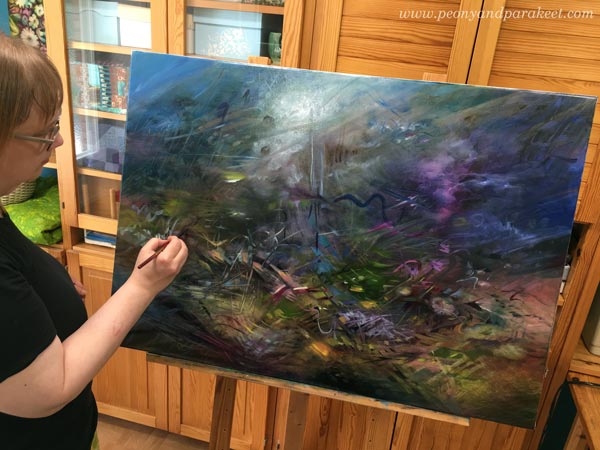 So, I let the child play freely first before teaching it to greet, bend the knees a bit, and make the viewer feel welcome. Before the last part, I can just enjoy the mesh and let the artist be one with the child.
What do you think? Does this make sense to you? Have you had mystical experiences?