Has this happened to you?
I want to start a new chapter in art-making, change direction, and feel the excitement again.
Some say that this "new-beginning-thinking" is a thread for their artistry. That their problem is not to stick with one thing long enough so that the work is more coherent.
But new beginnings are built within creativity. Like nature, we need a new season now and then. In spring, trees begin to grow new leaves, and meadows new flowers. When nourished, they grow stronger and more beautiful year by year.
My new class Floral Freedom is this kind of creative nourishment. You will start building your visual language all over again. I teach both in theory and practice what I have learned from the two master abstract painters Paul Klee and Wassily Kandinsky.
Floral Freedom combines the intellectual and the emotional side so that you will wholeheartedly enjoy painting again. You won't copy photos but use abstract techniques to express the flowers of the soul.
Yes, it will be a new beginning.
You will gather your paints and look at them from a new perspective.
You will paint lines and shapes with Paul's and Wassily's point of view.
You won't see flowers right from the beginning but still end up with a floral painting!
You will stop dividing what's abstract and what's concrete,
and your art will grow from those insights.
The beginning that builds the foundation is never a thread but a strength.
We often wait for the right time to the new beginning. It's easy to postpone it, I know. My mother passed away with too many regrets. The time never seemed to be right. A new beginning would always be somewhere in the future.

I have had a similar problem with Floral Freedom. I have wanted to build this class since 2016, after reading Paul Klee's Pedagogical Sketchbook. But there have always been excuses – what I am capable of and what's appropriate and safe. This summer, I even planned not to build a new class at all. I have made so many of them already.
But then I heard me saying:
"Don't leave without teaching what you have got from Paul and Wassily! You'll always regret not doing that!"
And yes, the better time for the class may come, but this is also a fact:
new beginnings don't wait forever. 
As you see, Floral Freedom is a very special class. I hope you will join me, pick the paints and brushes, and give yourself the joy of a new beginning.
Black Friday Week Sale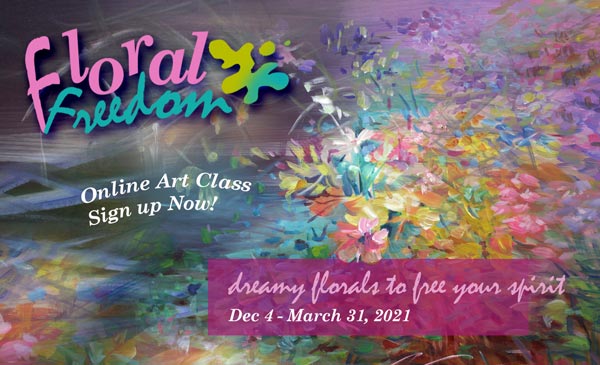 Floral Freedom is 20% off.
The sale ends on Monday, Nov 30, midnight PST.
The class begins on Dec 4.
>> Sign up now!