I have a new website for my art! It has an online shop filled with originals and prints, a portfolio, pictures of the paintings in progress, and my story. Go to paivieerola.com!
This Peony and Parakeet site will also continue, as well as blogging, classes, etc. but I wanted to have a better presentation of myself as an artist, not only as an art teacher. First, my intention was just to update this site, but it is already full of information, many of which I would like to bring more rather than less visible. So I decided to keep this site for art education and create a new site for selling art. Time will tell if having two sites is too confusing, hopefully not!
Artist Statement or Not?
I re-wrote the About page tens of times! It was quite easy to pick the things that I wanted to say, but it's still difficult to not to be too boring! I decided not to put it in the form of an artist statement because I didn't want to alienate anyone with long and grandiose sentences although the first sentences under the title could be seen as one:
"When Paivi Eerola is painting, she is a scientist who plays with the reality. Ducks can become plants, a fruit can replace fabric, and flowers can form a factory that produces glass. In this new world, everything is changing and moving, and it's all celebrating the lushness of life."
I wrote my story in the third person so that it can be used easily on other occasions too. While writing my story, I questioned if it's really how you see me and my art. But in the end, everyone has their interpretations of the images, and this is just how and what I think when I am creating them. One thing that I left out is how I test my paintings.
Original Canvas Paintings and How I Test Them
When I paint on canvas, my goal is to create a treasure rather than just an image. I test the painting so that I lay it flat on the table, walk away from it and then turn back to see what my gut reaction is. If I just make a mark that there's a painting on the table, I need to continue working on it. If the painting looks more like a thing, a glowing treasure box, then I have achieved my goal.
It's really important to me to make paintings that stand the test of time. I have spent tens of hours painting these, and I hope that they will live longer than me. Sometimes I wonder if I have this strong aspiration because I don't have any children.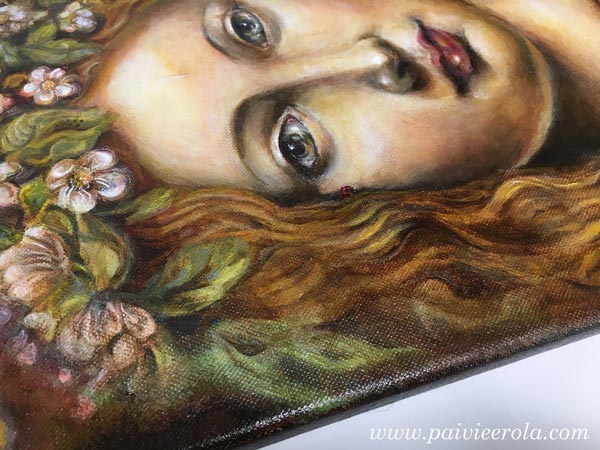 Nothing beats the luxury of an original painting, especially when it's varnished and the colors glow like the paint would still be wet. See the originals that I have currently available!
Prints from Me to You
So far, I have sold prints via Saatchi Art. It's great for US customers especially because the prints are delivered directly from there, and they also provide canvas prints. However, I also want to have few prints available directly from me, and there's a small selection at my new store. I have printed them with an inkjet printer on a lovely fine art paper.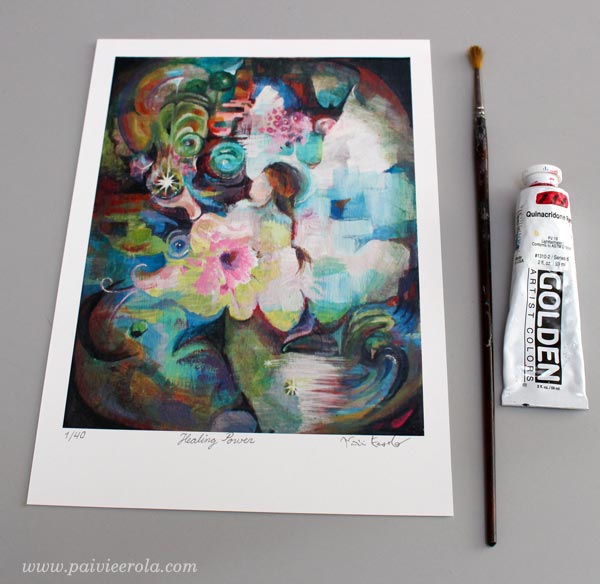 I am selling one of the prints as a limited edition. Every copy of it is signed and numbered. The painting in the print is called Healing Power. The original painting is sold, and I only produce 40 art prints from the image. So if you wish to have some healing power, would like to give that to someone, get your copy!
Portfolio
To show a big picture of what I have done, I wanted to include a portfolio that is like a small art gallery on my new website. I tried to pick the pieces that present my style but there was a lot to select from.
For example, I didn't pick this one because I didn't want to add too many. Anyway, I have a gallery on this site too, and it can be less curated!
Picking pieces for the portfolio is a really good exercise. It made me think about my artist's path and see how my ideas have merged and grown to produce new work.
Paintings in Progress
I always aim to be as transparent as possible. Being very secretive has never worked for me, it's against my personality. So there's a section called In Progress which shows the paintings that I currently work on. Now it shows my first series of oil paintings. Here's one of them so far:
Oil paintings take even more time than acrylic paintings because I need to let them dry properly before adding a new layer. You can follow the progress at the new site. I also have a separate mailing list for all who are interested in buying my paintings. Subscribe to the list here!
Hopefully, you enjoy the new site!