While preparing for a new class, I took an empty notebook and started drawing. My first idea was to decorate some notebook pages but it went further and I had a lot of fun.
Bees and Butterflies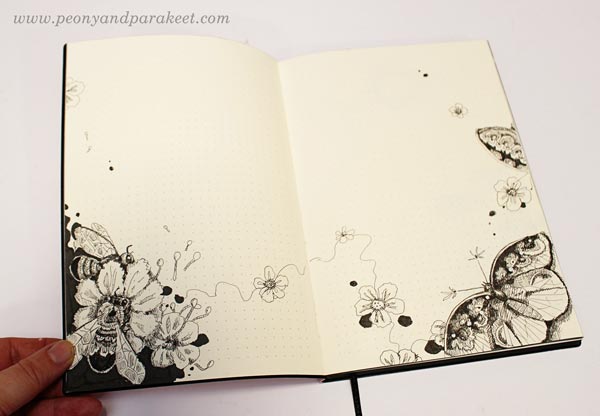 Birds and Feathers
Whale Chasing a Star
Fish Swimming Fast
Owl and Hearts
Drawing Collage Pieces
As a child, I loved paper dolls and die cut scrap pictures. So after drawing the many notebook pages, I thought I could make some additional elements as separate collage pieces.
Here are a wolf and a fox, and a delicious piece of cake! I made a cut on the cake and on the fox so that they fit together.
Playing with Notebook Drawings
I had even more fun when I realized that I can set the collage piece on the top of the drawing so that the animal becomes even more imaginative.
The combination of wolf and owl is so cute, and I also like how the fox and the cake could fit in! I think my word for 2019 is Play.
Have some cake, and then get your notebook and start drawing!
Subscribe to my weekly emails – Get a free mini-course!