This week, we'll talk about poems and how to turn them into paintings!
This acrylic painting is called "Terät liitävät kirsikkapuista," and it's my interpretation of Valter Juva's poem from 1902.
The Finnish name is a bit difficult to translate. Terät liitävät have a double meaning: 1) blades flying in the air 2) petals falling freely. Namely, a petal – terälehti – is a compound word in Finnish. Terä is a tip or a blade. Lehti means a leaf.
This is not the only language-related thing in the poem, and I struggled with the translation. But here's the best I could do!
English Translation of Valter Juva's Poem
Terät liitävät kirsikkapuista,
ja virta vieno ne vie.
Se tyynine suvantoineen
mun onneni kymi lie.
Edges fall from cherry trees
and are caught by a gentle stream.
The river and its pools
are the well of my serene.
Suviyössä, mi tuoksuu ja värjyy,
veet kultahan sulautuu;
se lekkuu lännessä päivä
ja idässä kuultaa kuu.
In the summer night, that smells and glows,
waters melt in gold;
in the west, the day is stirring,
and in the east, shines the moon.
Niin hiljaist' on ja tyyntä!
Ja koskien alla veet
ne ahtaassa piirissä viipyy,
mut siinä on syvenneet.
It's so quiet and calm!
And under the rapids,
waters dwell in a tight round
but have become deeper and deeper.
Passion for Poetry
When I was a teenager, poems were my passion in the same way drawing and painting have been. I used to read poetry, and almost daily, wrote my own. I even entered competitions, and some poems have been published. Later, this love for poems have reappeared occasionally: I have read or written some. In 2014, I even wrote a blog post about illustrating poems in art journaling.
But now, it feels that poetry has come to stay. Every time I open a big book (Runojen kirja – Book of Poems) that I won in a poem-writing competition in 1981, I see something that I want to paint. The book has over 800 pages filled with four centuries of Finnish poetry, but it's not just that. With the book, I remember many poets that I used to read. My mind is blowing, and my brushes are jumping! "Paint paint paint," they cry!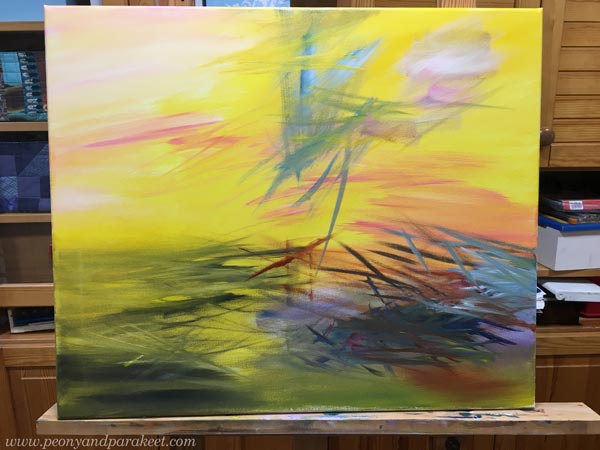 Valter Juva's poem was new to me, but I got inspired right away. This painting has a lot of yellow in the background!
It was a joy to paint those sharp petals and curvy cherry trees that so willingly release the flowers. The size of this painting is 50 x 60 cm (about 19,5 x 23,5 inches) so I was able to paint the details more roughly and quite quickly.
Paint a Poem – Trust the Inspiration!
Painting a poem doesn't have to be about illustrating every word. It can be more about finding a personal view – how the poem loosely explains your current life and often past experiences too.
In Valter Juva's poem, the connection between Japan (cherry trees) and Finland (bright summer nights) blew my mind. You who have read my blog for a long time, know that both my husband and I love everything Japanese, and we also have a Japanese garden.
White nights were magical last summer! East and west meet like in the poem!
Paint a Poem – Color the Words!
Poems are filled with interesting words that can have a double meaning or a specific nuance. We don't even have to know what strange words actually mean. It can still have a certain feeling to us, and we can express that with colors and shapes.
In Valter Juva's poem, there's a Karelian word lekkuu which means moving or stirring. To me, it has a relaxed undertone which makes me think about yellow-orange curves floating in the air, just above the water.
Paint a Poem – Break Borders!
In art, whether it's poetry or painting, we can break borders. We don't have to stick with one geographic location but create one that has characteristics of several places. Similarly, we are allowed to freely travel in time, from childhood to ancient history, and from the current moment to fantasy.
By changing the rules of reality, we can make representational elements symbolize more abstract things. They can be inanimate objects or nature's elements, for example. In Valter Juva's poem, waters have deep knowledge, In my painting, static trees take off and timid flowers jump from the plane.
Also, we can be magicians and make any material change its state. In the poem, water becomes gold, and in my painting, light is less immaterial and more touchable and concrete.
Poems are filled with metaphors, so why not let them in your paintings too!
Which poem would you like to paint?