This week, I have a new fantasy painting, and I also share tips about selecting colors.
This painting is called "Arotuuli," which is "Steppe Wind" in English. "Aro" must be one of the few words that are shorter in Finnish than in English, as Finnish words are often very long. We write compound words without space, so it makes words look even longer.
Intuitive Fantasy Painting – Two Tips for the Beginning
I like to paint intuitively, and even if this painting has horses and a woman, it started with random strokes and abstract blocks, and I had no other idea than a secret wish to be able to include a horse at some point.
Tip 1 – Dark and Light
When filling the canvas with color, I like to make dark and light color mixes so that the 3-dimensional effect tickles my imagination.
Tip 2 – Less Can Be More
I also like to pick a narrow selection of colors so that the elements look like they are exposed to the same light. In this painting, I mostly used Phthalo Turquoise, Alizarin Crimson, Yellowish Green, and Titanium White. When mixing colors, less can be more!
A Couple of My Favorite Colors
I am especially fond of Yellowish Green and Alizarin Crimson, and I recommend them warmly. Let's talk about them a bit more.
Color 1 – Yellowish Green
Yellowish Green is a color mix manufactured by Schminke Primacryl. I bought this tube because I love Daniel Smith's Rich Green Gold in watercolors, and I wanted to have a similar tone in acrylics. I like colors that remind me of lemons and lime fruits – one of the most beautiful things in the world – and I always find use for yellows. This color is like two colors in one tube: it works very well with the mixes that require yellow, but it also produces beautiful greens with blues.
Color 2 – Alizarin Crimson
Alizarin Crimson is an ugly red. I don't think you would buy it if you didn't know more about it. It looks like dried blood but works very well with color mixes. White reveals its gentler side, and when mixed with blues, you can get beautiful blacks, browns, and dark purples. It produces a pleasant and quite sunny orange with yellows, and in general, it's a workhorse, always willing to step in.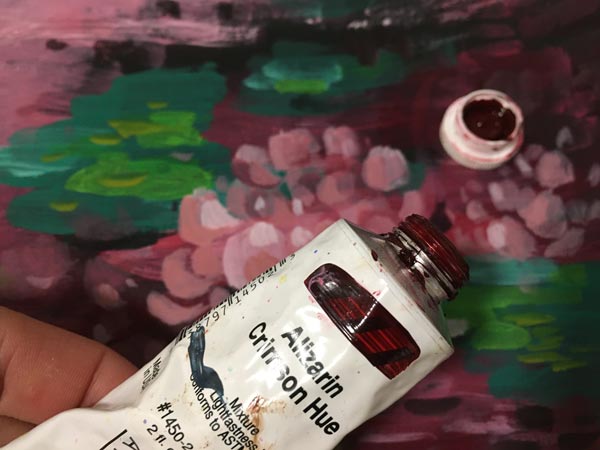 Alizarin Crimson was originally manufactured from madder, but these old organic dyes faded or changed within time, so nowadays we use synthetic substitutes. I found this color in oils first. Schminke's oil paint is called "Alizarin Madder Lake". My tube, manufactured by Golden, is "Alizarin Crimson Hue". Alizarin Crimson is sometimes called "Madder Lake" or "Alizarin Red," and the tone may vary. Pick the darkest and ugliest one!

If you are a color nerd, Bright Earth by Philip Ball is a comprehensive book about pigments and their origin.
Here's the painting before I started adding the figures. The image shows well how Yellowish Green and Alizarin Crimson work in color mixes.
Intuitive Fantasy Shape by Shape
I painted the woman and the horses so that they are partly abstract and partly realistic. Some shapes exist just because they look beautiful, others because they are building blocks for the figures.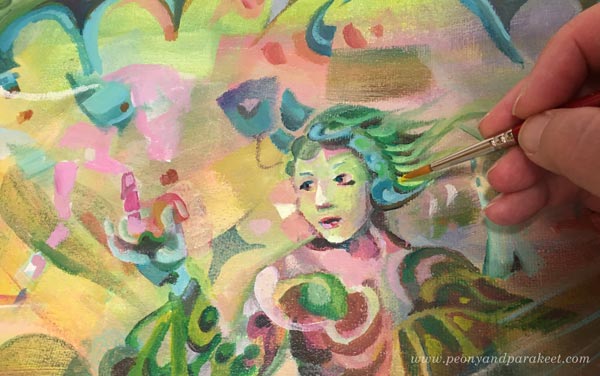 Here are some details of the finished painting. The more you zoom in, the more abstract the painting looks.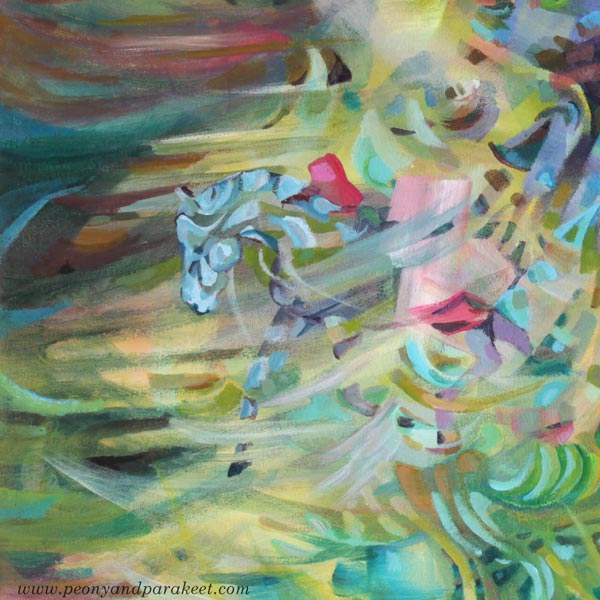 Here's the whole painting again.
I wanted to keep the colors light and bright to create an airy impression.
Intuitive Fantasy Painting – Big or Small?
"Arotuuli" is one of my biggest paintings. It's 60 x 60 cm (about 23,5 x 23,5 inches) and painted on a stretched, fairly thick canvas. I like painting on smooth surfaces. My style is detailed, and the coarse structure doesn't go well with it. The painting was started about a month ago, and I took few-hour sessions now and then. It's not as slow as you would think, because the small strokes aren't as tiny as with small pieces. Sometimes we produce clumsy just because we select a small size. For me, the bigger size has helped to create dynamic scenes rather than static portraits. "Arotuuli" continues the previous bigger painting "Paratiisi / Paradise."
But next week, something much smaller, even if I do have a new big canvas waiting!