This year, I have been thinking a lot about the balance between technical skills and the imagination. It seems that when I focus on either one, the other one suffers. Now when the year is nearly in the end, I have wanted to play with the imagination and cared less about the execution. I have always enjoyed creating intuitively: starting without intention and then figuring out what I want to express once the work has progressed.
Fantasy Figures Keep On Appearing!
Recently, I have seen fantasy figures whatever I am creating. I don't know if it's because I have been following fantasy artists lately or just that I haven't been playing with portraits for a while. Here's one of the colorful clusters from my sketchbook that I turned into a fantasy figure.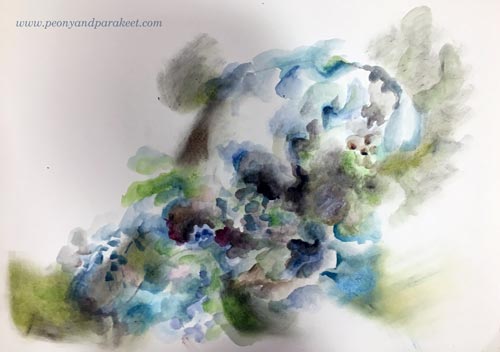 I had a lot of fun with her imagining that she is a digital nomad, re-connecting with nature, running away from her phone!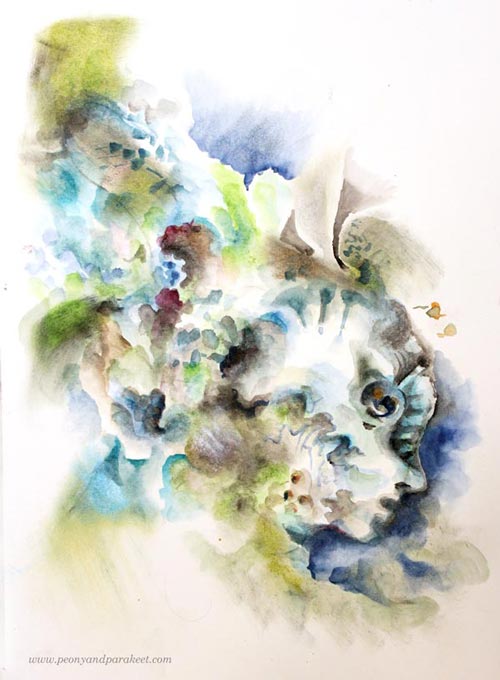 Fantasy Portrait in Oil
I also have two oil paintings in progress, and the first one is a kind of portrait too. After the geometric background, I wanted to put a giant pansy in the center, and then couldn't resist adding a face. I have painted it using a reference for the most important facial features. Then I completed the person with a more loose approach.
This is just a beginning of the painting. It will have more details and color.
Painting Fantasy Portraits – An Intuitive Approach
The best fantasy is never borrowed but takes place in your imagination. I think the way to get connected to it, is to start freely without any reference photos. The painting that is shown at the beginning of this post looked like this before I discovered that there's a face!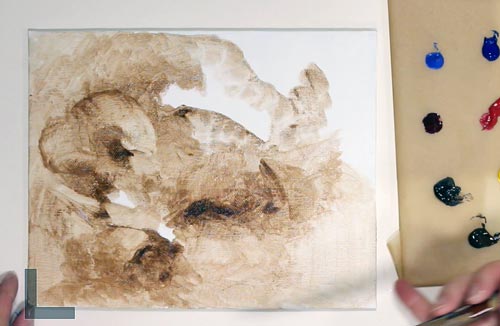 Painting this one was an exciting process, and fortunately, I recorded some parts of it. I used a couple of tricks that I learned from my skillful artist friend Eeva Nikunen: using a dead color when exploring values and adding an even color wash over the whole painting to make it more unified.
Painting Fantasy Portraits – Watch the Video!
Happy Holidays! – See You in "Bloom and Fly"!
I am not sure whether I blog next week or not. So with this painting about the new year, I want to wish you Merry Christmas and Happy Holidays! Thank you for being there!
And of course, I hope to see you in Bloom and Fly at the beginning of January! We'll start by planning your creative goals, then pick easy ideas from Rococo, explore abstracts together, etc. I will help you to express yourself so that it's adventurous and imaginative!  >> Sign up here!