This week, we'll continue the theme of painting poems from a couple of weeks ago. I create a small painting from a poem in a video and also talk about overcoming perfectionism.
Here's the acrylic painting that I created from Saima Harmaja's old poem "Olkoon niin!" I also include some examples from the class Floral Freedom at the end of this post.
Painting Poems – Watch the Video!
In the video, I show how a poem can make a painting more finished and meaningful. I also talk about why I thought I can't paint Finnish poems and how I have realized that aiming for perfection doesn't always help.
More Poetic Paintings
I created these two paintings for the class Floral Freedom. The first one is inspired by Anna-Maija Raittila's poem Ruiskukkaehtoo (Cornflower Night).
And the one below is inspired by Katri Vala's poem Kukkiva maa (Flowering Earth).
Paint Dreamy Florals to Free Your Spirit!
Floral Freedom – the abstract floral class based on Paul Klee's and Wassily Kandinsky's insights – will begin on Dec 4, 2021. In this class flowers are not just passive decorations, but they fly, sing, and dream! >> Sign up Now!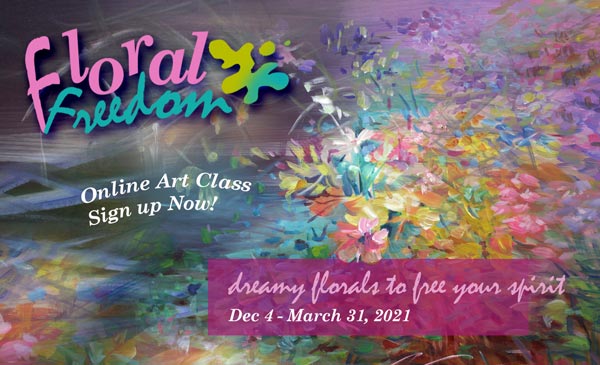 Floral Freedom is 20% off for the rest of November, so now is a good time to sign up!
>> Sign up now!