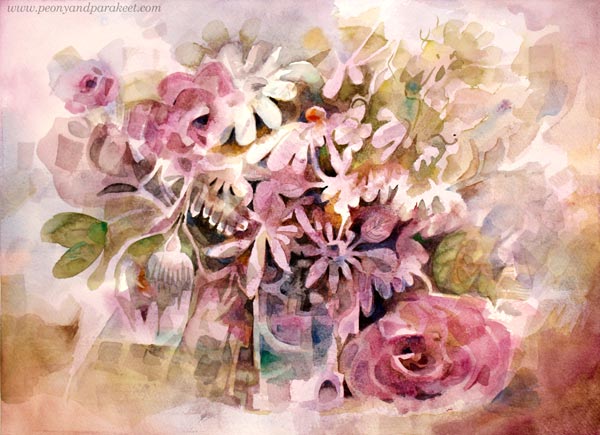 I usually have a lot to say but this time I can barely type any words. I am madly in love with painting watercolor still lives. They keep coming! It feels that any topic can be put in the form of a still life whether I am painting a princess or a bonsai.
I think that art is this kind of a bonsai: even if it would be nourished very little, it keeps staying alive, producing flowers and fruit. It's both ancient and fresh at the same time.
First a Mess, Then a Still Life!
I love how watercolors have a mind of their own. Especially, when painting without reference photos, the first brush strokes feel exciting and the possibilites seem endless.
The bonsai painting was just a mess after the first layers. I had a lot of fun making the mess!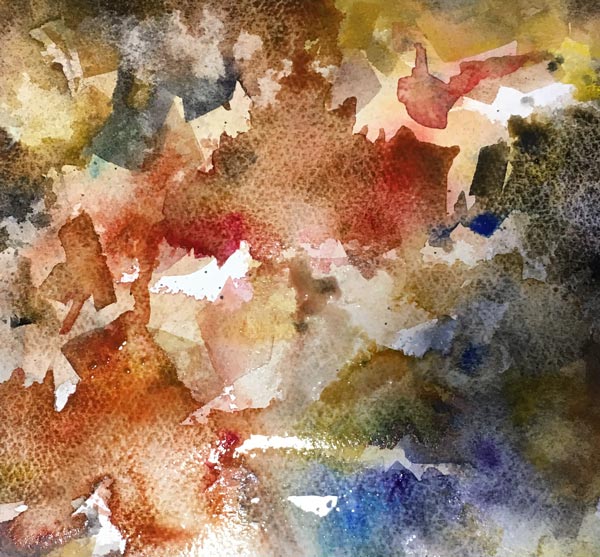 But I even had more fun bringing out the bonsai.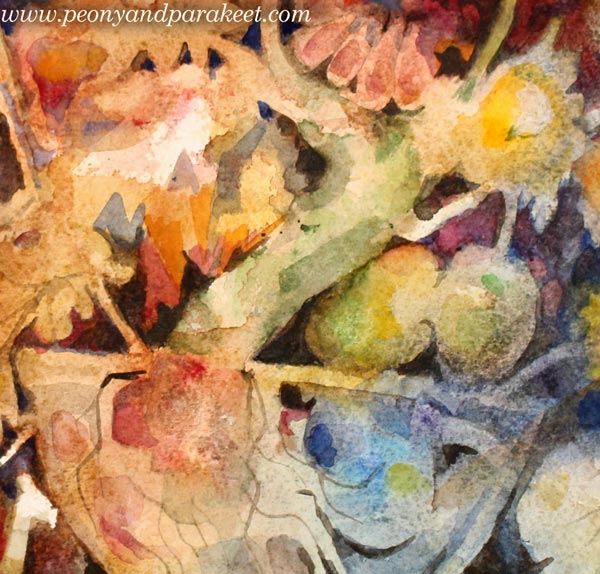 I use an abstract approach, and it's so exciting that it keeps me painting. What was first just a clumsy geometric shape is soon a delicate flower! I teach this technique in the upcoming class Floral Fantasies.
My Watercolor Set – A Mix of Brands
I like to use pans more than tubes because it's much quicker to start painting right away, not wasting time for opening and cleaning the caps. But I also buy tubes because when a pan gets empty, I can use a tube to refill it.
My watercolor set of 36 pans is originally White Nights by St. Petersburg, but within time I have purchased other brands too.
New Pans – Roman Szmall Aquarius
One of my latest purchases are pans manufactured by Roman Szmal Aquarius watercolors. It's a new professional quality brand from Poland. I find their color chart fascinating. For example, they have a very light pink called Cobalt Violet Light and their black called Aquarius Black is very granulating which means that it has a grainy texture. So far, my favorite of theirs is a warm grey called Przybysz's Grey. It's very good for muted color mixes. I am lucky that my local art supply store sells this brand!
Drawing a Watercolor Chart
Always when I change the pans, I also draw a new chart in a notebook. This is how the chart looks currently (VG = Van Gogh, RS = Roman Szmal, DS = Daniel Smith, "Oma sek"= my personal mix).
I love to curate my palette. When one color runs out, I consider carefully whether I buy more or change it! I also like to examine what the best order is for the pans, and as you see from the chart above, I often change the order a bit! This is my way to bond with the supplies, and every time I begin a new painting, I feel that they are my team, working with me!
Painting Watercolor Still Lives Together
Come to draw and paint flowers with me – Sign up for Floral Fantasies in 3 Styles!