This post is about art, music, and spirituality and enabled by Arts Promotion Centre Finland. This is the eighth blog post of the project, see the first one here, the second one here, the third one here, the fourth one here, the fifth one here, the sixth one here, and the seventh one here!
Lately, I have made two small pieces that go with the biggest paintings of the current series. So the one above has similar colors to the big blue painting in the photo below.
And the other big painting on the right has a fairly similar color scheme to the second small one below.
These two small paintings are inspired by 17th- and 18th-century Baroque music. However, despite their theme and titles, I did not listen to Händel or Vivaldi while painting them! Namely, this fall, I have wanted not only to raise the bar in art-making but also to widen my taste for music.
So I have moved from melodic pop and baroque songs to electronic soundscapes and contemporary classical music. What used to be annoying and disturbing isn't so anymore. I can paint more freely when a catchy melody isn't telling me what to do.
Painting with Music or about Music
Rather than an instant energy booster, music can be seen as a concept or a memory that can be painted or drawn. I never thought before that a song could be a subject for my painting even if I don't listen to it. Different music that plays in the background can start an inner journey to express the song. So you can paint with music A and express music B.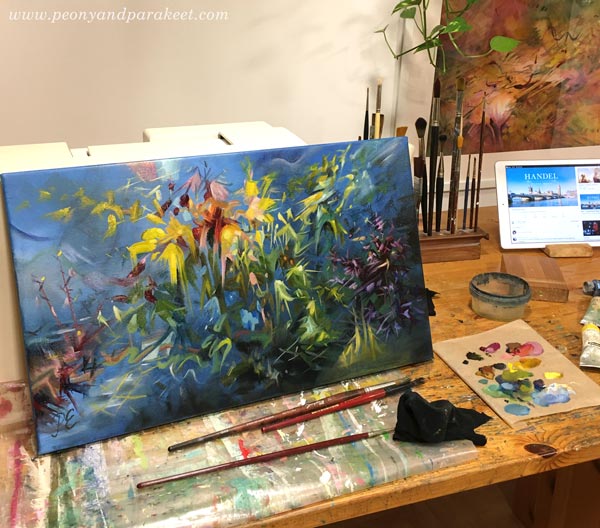 After finishing Water Music, I did play some Händel to check that the painting is in line with it.
Mixing Music with Other Inspiration Sources
Creating becomes exciting when inspiration is collected from several sources. One of my orchids surprised me with a small flower which affected the painting too.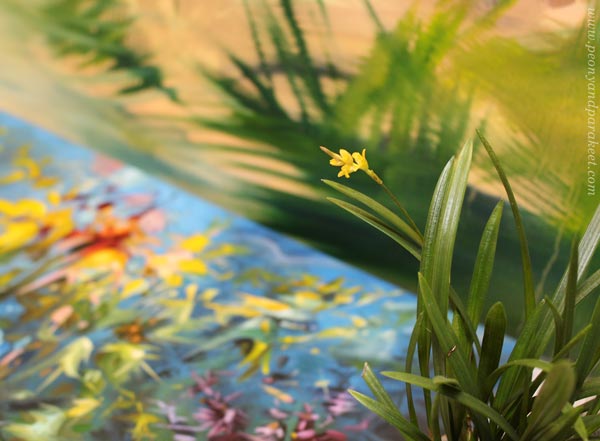 I often check that my art and plants go well together. I have taken the idea from Paul Cezanne, who said: "When I judge art, I take my painting and put it next to a God made object like a tree or flower. If it clashes, it is not art."
In the other small painting, Vivaldi's violins are mixed with the recent incident of seeing a fox carrying a hare in his mouth.
I feel that listening to music that I call "asymmetric" has developed my thinking. Instead of going around and getting back to the melody, music can travel long distances without repetition and create a sense of a vast space. For example, a Finnish composer Kaija Saariaho's orchestra piece Orion opened that way.
Jazz for the Control Freak!
Next, my plan is to learn to tolerate jazz! My husband likes it, but it's always been too rambling for me. "Music for those who like to be idle and lazy," I have said sarcastically when he's been listening to it.
But now I think differently. I don't have to be the music. I can just let the music be what it was born to be. And similarly, the music lets me be. It's like my best paintings: they let me be who I am, and I let them grow in the direction they want.
So, I can just be and let others be and still create a connection that takes us to the next level. I think that's what it means to "let go" when we talk about intuition and creativity.
My series will have seven paintings, and the last one is now on my easel. I will share more pics about it in later posts. It's been quite a lot of painting and I have started to miss my colored pencils!
Tell me, do you paint and draw with the music? What kind of music do you listen to when creating?