This week – turn some pop music on and start art journaling!
Since I started working full-time as an artist in 2014, my taste for music has gone wider. Listening to different genres has enriched not only my life but also my art. Music has taken me to all kinds of visual worlds. Even one sound can bring color or a shape to mind.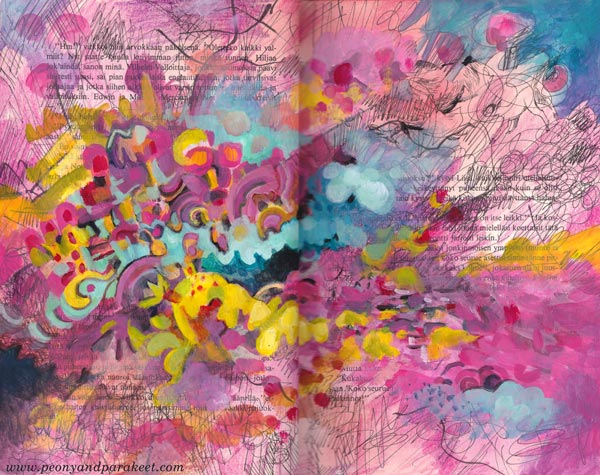 I have an old book as a music-inspired art journal. I like how the variety of music is shown on its pages. Now I wanted to make a spread inspired by Asian pop.
Sometimes Music is a Human, Other Times a Machine
Asian pop music is fun to listen and very easy-going – like an acquaintance who is always ready for a visit to a candy shop and to have a light conversation about current movies.
But when I paint big paintings, I prefer music that's more like a vehicle – no melodies, only interesting sounds that make me go deeper and deeper in concentration.
Without a repeating chorus and clear rhythm, I don't feel the need to express the music or paint at its speed. That's how I have become a fan of contemporary classics that I used to find too boring.
Pop Music in Art Journal – Playtime with a Friend
But this week, I wanted my friend back. I went to the Finnish radio website and turned on the newest of "Papananaaman K-Pop Show" which plays current Asian pop. My candy store was the box where I keep my red, pink, purple, and orange colored pencils.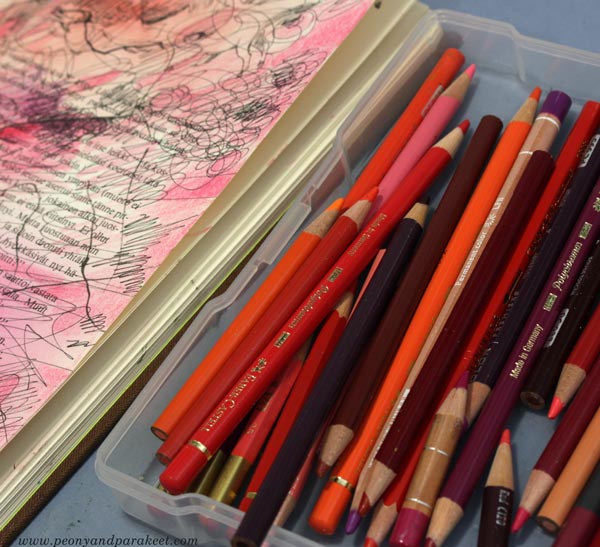 My music-inspired pages are in the "beautiful mess" style that I show step-by-step in an art journal mini-class called Music. It's relaxing to create step by step and not worry too much about the "proper" supplies. I played with black pens, stamping inks, and the shortest pencils.
When I create canvas paintings, I use oil paints, but acrylics are great for this kind of messy play.
The spread started as red, but I then introduced a wider range of candy colors gradually. This mono-tone approach is great when you want to keep things simple first, and then splash the colors in.
I like the candy colors and the informal look of the finished spread – pop music in an art journal!
I showed the spread to my Blythe dolls and they also gave their approval: "If that's how you see Asian pop, we can live with that."
Maybe these dolls have made me listen to Asian pop in the first place! One thing so often leads to another.
Music in Art Journal – Step by Step!
The art journal mini-class Music is now available as an individual class. But you have to be quick – it will go away on Feb 7! >> Buy here!