Expand your ideas and skills for portraits
Refresh the Way You Draw and Paint Faces
Innovative Portraits is an online class for making captivating and non-traditional images about human life.
Whether you want to become a mixed media artist or fill your sketchbook with fun ideas, start creating with Innovative Portraits!
This class is especially for you who wants to …
… increase artistic looseness and move away from flat facial stereotypes
… stop controlling the face with lines and learn how to use shapes with style
… invent ideas for portraits so that you never wonder what to put in the background
… not just create the staring face but to express the dimensions of human life through portraits
Innovative Portraits contains 34 pages of ideas and instructions + 9 inspirational and practical videos (over 3,5 hours of carefully edited video content).
Module 1 – Modern Women
Create stylish and modern abstract portraits.
In Module 1, you will play with geometric shapes, modern surface patterns, and bright colors. You will learn to simplify and stylize.
Also: Inspiration from famous Helene Schjerfbeck's paintings, drawing without any reference photos, making a layering plan, communicating a visual story.
Module 2 – Female Superheroes
Create visually rich and dynamic power figures.
In Module 2, you will discover personal symbols and find ways to include them in portraits. You will learn to add more depth and flow.
Also: Ideas from a vast collection of Paivi's self-portraits, choosing references, using many references for one image, how to enjoy following a reference, expressing age and attitude.
Module 3 – Rising Stars
Create ethereal spirits that glow quiet power.
In Module 3, you will use light and shadows so that they will intensify the expression. You will learn to blend and use color gradients.
Also: Using the elements of expression, getting ideas from old portrait paintings with practical examples.
Your Mentor – Paivi Eerola
I am a full-time fine artist from Finland. I believe that we all have personal superpowers that can be translated into our art. Innovating new approaches to ordinary things is one of mine. In this class, I teach you to paint and draw one of the oldest subject – human faces – so that you can be as minimal or as maximal as you like without falling into the trap of just repeating the same old thing.
Mixed Media – Use Your Stash!
You can use any art supplies for the projects. For sketchbooks, Paivi uses regular graphite pencils and colored pencils. For bigger projects, she uses thick paper (for example, smooth watercolor paper), acrylic paints, oil pastels, colored pencils, and regular graphite pencils. The mixed-media approach that we will use in the class makes it possible to use different kinds of supplies together.
Bonus: Membership for art community Bloom and Fly for 2020!
With the class, you will also get a basic membership for the Facebook group where you can share your work and have conversations with fellow artists. This membership is for 2020, so you can continue creating and sharing for the whole new year.
Technology Needed + Refund Policy
You can download the document to your computer immediately after the purchase. The document is in PDF format, and it contains the links and the passwords to the videos. The videos are offered as a streaming service. They are available at least six months after the purchase. You can access the videos as long as you want when you download the video as an MP4 file to your computer. No refunds. The digital files are delivered automatically after the purchase.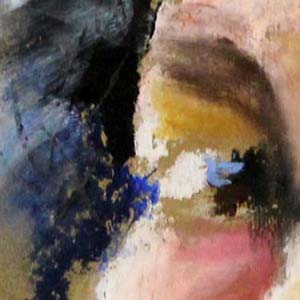 Yes, I want to get innovative with portraits!
Price: 85 EUR (approx. 93 USD)
Pay with Paypal using your Paypal account or a credit card.