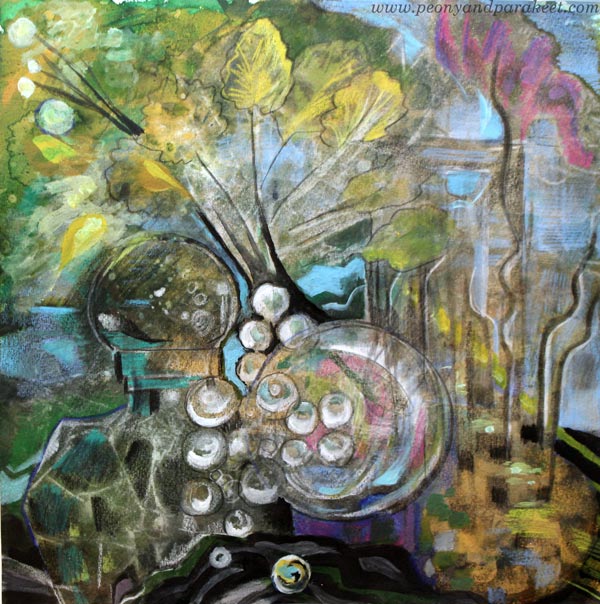 Last week, I visited Natural History Museum of Helsinki. My idea was to take a sketchbook with me and make few sketches – if I happened to see something inspiring. My skeptic attitude changed once I entered the place. I remember visiting the museum over 20 years ago but only the front door of the old building seemed a bit familiar, everything else looked new to me. I was mesmerized by the colors and details of stuffed animals, and only after a short while, almost overwhelmed by the amount of information and visual stimulation. It would have been impossible to put all the inspiration into sketches, so I took photos.
When I got back home, I knew I had to create an artwork inspired by the visit. But my mind seemed too full, not knowing where to start, what to express. I started a painting but against all my principles, I tossed it because I was totally clueless even if my mind was full of inspiration!
After a couple of days, I decided to make a sketchbook spread to help me process the subject. I loaded the photos to iPad and created several layers of watercolors while browsing the images.
I wrote down some of my thoughts: how I admired lions and African animals in general when I was a child and how rich country Africa is, in terms of nature.
After this spread, I asked myself: what inspiring did I see that than the animals. The answer was: glass cabinets and the concept of collections that were kind of surreal. With that in mind, I started a painting on a thick watercolor paper.
Randomly creating new layers with ink mists, watercolors, alcohol inks and gouache paints, I focused on the color first. Greens, turquoises and ochras were the ones that made the strongest impact on me when looking inside the glass vitrines.
With gold paint and white ink, I created more details to embark my imagination. Then I thought about Slavic melancholy, fall, piano concertos and let all of that get mixed with glass and nature. When I looked at the end result, I kind of like the idea of mixing a landscape with a still life. The idea is surprisingly similar than what I saw in the museum: still-lifes that are also landscapes! I would have not thought it this way though without processing the subject so much. By taking photos, painting without a clue, working with the sketchbook and then creating a lot of layers made me somehow understand what inspired me in the first place. When I let go and followed the pencils and brushes, it was ready to come out.
What I learned was: sometimes the creative process takes a lot of time, a lot of phases, don't stop too soon!
Challenge yourself in mixed media art! Buy a bundle of 6 art journaling classes!