Here's an art journal spread that I just finished. First, it was just a couple of old black and white drawings that – like Marie Kondo would put it – didn't spark joy. But I used the old floral drawings as an inspirational foundation for the revamped spread. How and why revamp art? Keep reading!
Why Revamp Art?
The more confident I have become in creating art, the more I have begun to see the potential in my old art. Busy sketches, not so beautiful messes, and clumsy paintings and drawings all show the level of inspiration that still satisfies me. It's the level of execution that I want to change. I want to tidy up some messes and add more expression and depth. I am certain that Marie Kondo would approve the idea of working with the old art journal pages. Isn't it quite minimalistic compared to buying new journals all the time?
Revamp 1 – Change the Topic of the Page
Maintain the composition but change the topic of the page!
Here's the spread before I started re-working it. It has a couple of carelessly drawn floral clusters.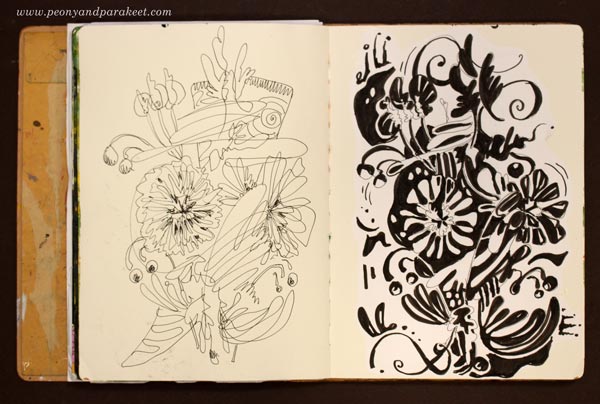 I changed most of the flowers of the left page to animals, added more details and shadows, and made the lines and shapes neater.
Then I used Derwent Artbars to color the line drawing.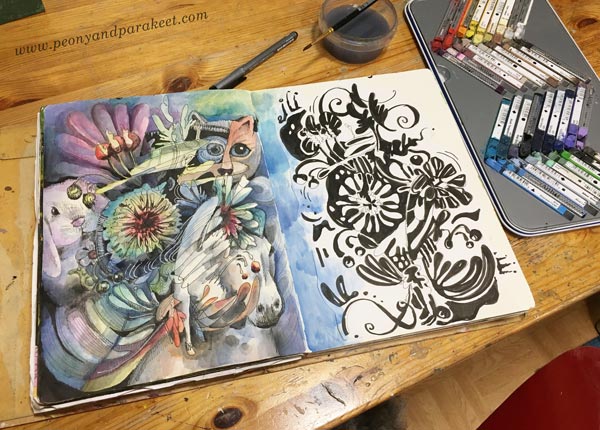 Revamp 2 – Tear the Page and Make Collage Art
I made some more drastic changes to the other page. I ripped parts of the black and white drawing that had been glued there. Then I went to my boxes of joy – the boxes that hold my hand-drawn collage pieces – and picked this motif.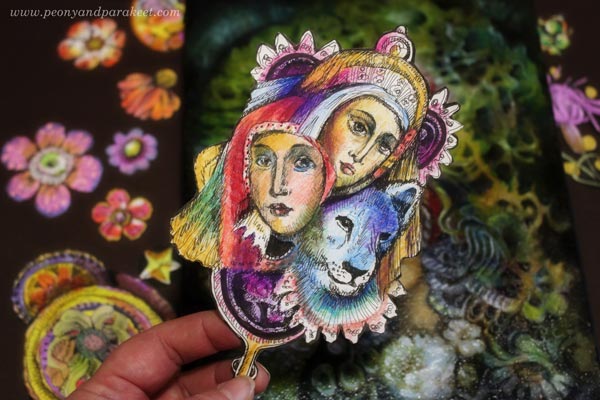 The background was painted with white acrylic paint. I worked in layers, glued some of the ripped pieces and doodled carelessly, then added more paint.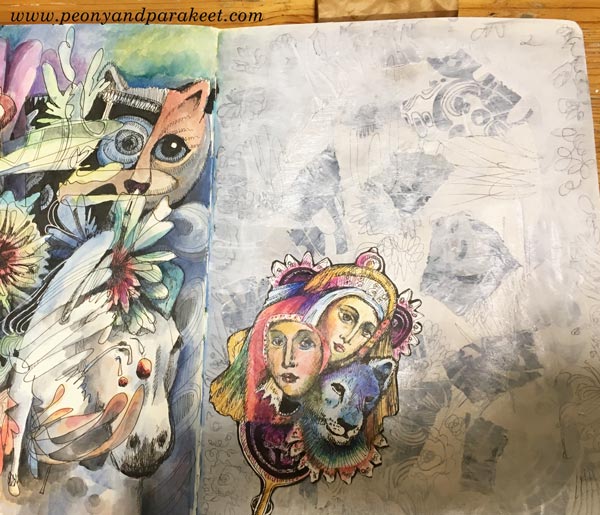 Revamp 3 – Paint Over a Part of the Page
I wanted to include a hand showing how I currently play with my art. I took a quick photo and used it as a reference.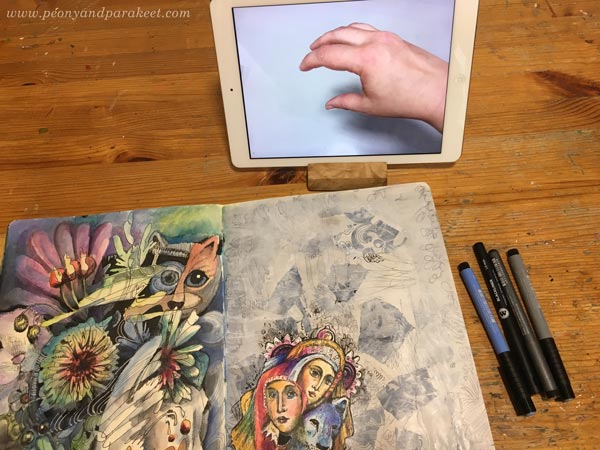 See how similar a page from my first art journal from 2010 is!
Have you documented your creative play? How you do it and how it makes you feel?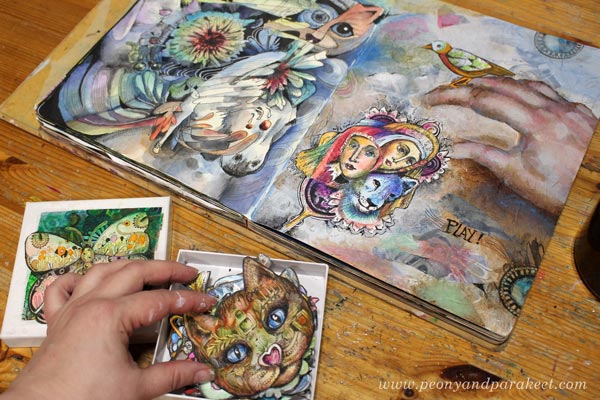 Revamp 4 – Cover a Page with a Piece from the Archive
Before I finished the spread above, I re-vamped another spread. This one only had some doodles on the right page, and then a drawing inspired by Mark Rothko glued on the left one.
I found an old hand-drawn collage and glued it on the right page. In 2010, the collage was disappointing to me. I wanted to find my style and as a fashion illustration, the image looked clumsy.
However, it seems now that I wasn't able to translate the message of the image correctly. Now, the piece makes me smile – there I am, sitting and handing the things that have always been inspirational to me: jewels and bags! I just wasn't able to draw them like I did last October so I didn't realize that they are the key elements for my visual voice.
My collage was saying: "You should draw more bags and jewels, Paivi!" What does your old art speak to you now?
Revamp 5 – Add a Decorative Frame
During the years, I have made quite many of Mark Rothko inspired drawings, see this blog post! I love detailed drawings, and no matter how skillfully I would try to replicate Mark Rothko and other minimalists, I was never satisfied with the result.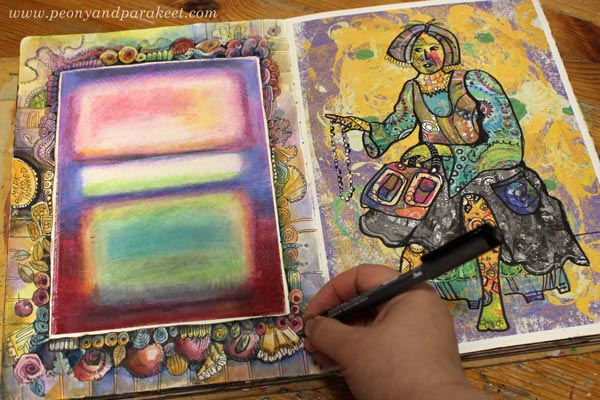 I wanted to hug the idea though and make a decorative frame around the old abstract.
This way I am saying that the level of inspiration is there – Mark Rothko really makes me want to create whenever I look at his paintings. But the level of execution that I enjoy and am best at is something totally different.
This spread really sparks joy to me now, and I also couldn't resist playing a bit with the collage pieces.
Isn't it amazing how similar the style can be after so so many years, and after spending so long time trying to figure it out!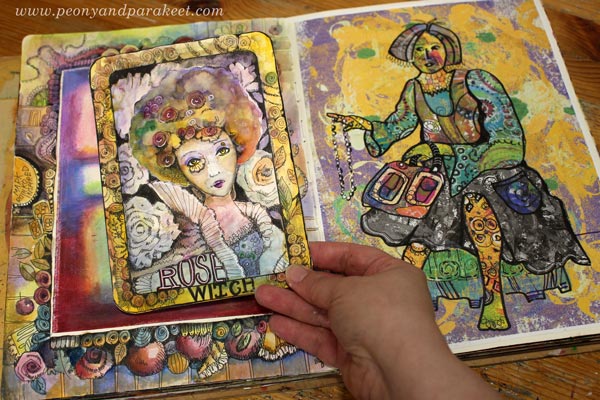 Here's to Mark Rothko!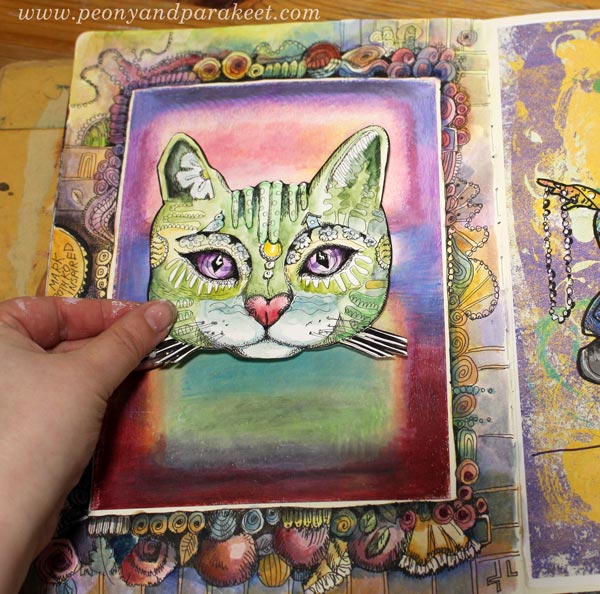 I am loving playing with the old art journal spreads, building the bridges between the years. If you separate inspiration from execution, does it make you look at your art in different eyes?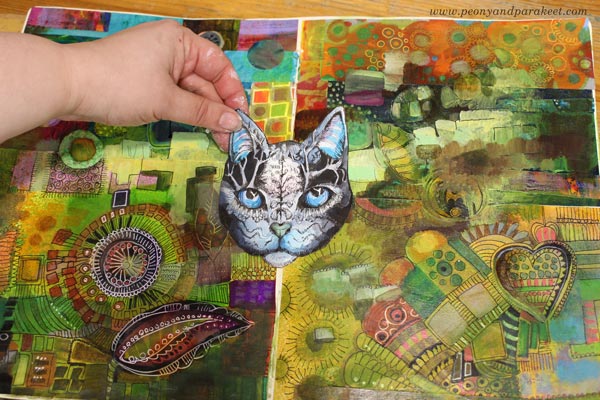 The Idea For This Blog Post Came from These
a) One of my notebooks mixes writing and drawing so that randomly scribble, doodle, and write there. It's a private journal, and I didn't want to publish its pages but the more full it has got, the more I have realized that when the sketches and writings are not organized chronologically, and I can revamp the pages repeatedly, they naturally produce new ideas.
b) Mackie d'Arge, a wonderful fellow artist from the USA, has shown her beautiful art in my art community Bloom and Fly. She has made many pieces by rebuilding and revamping her old artworks. It has given me the idea of looking at the potential of my old art and what could be made from there.
c) My classes Animal Inkdom and the upcoming Magical Inkdom are all about playing by drawing. I have wanted these classes to be fun, so they have made me include humor, fantasy, and play in my artistic process as well. They have made sure that my boxes of hand-drawn collage pieces stay filled even if I would "shop" there all the time! In Magical Inkdom, we will also draw decorative frames. >> Sign up Now!