This post is about artistic inspiration and spirituality and enabled by Arts Promotion Centre Finland. This is the seventh blog post of the project, see the first one here, the second one here, the third one here, the fourth one here, the fifth one here, and the sixth one here!
My second big painting is called "Roaming Instinct."
This painting and the previous big one have been really significant to me.
Regular practice and the big size have helped me to relax and let go – break the glass between the inner and the outer world, as Wassily Kandinsky would say.
Can There Be Too Much Artistic Inspiration?
As long as I have created art, I have been inspired by a variety of things. It has often felt like it's too much.
Here are some:
old portraits in fancy dresses
houseplants and their pots
midcentury-modern interiors
colorful kitsch
primitive dolls
dressage horses
English country gardens and cottages
Tibetan yaks
base jumping
mountain climbing
skateboards
graffitis
physics
outer space
mathematical algorithms
The list is ongoing and overwhelming!
I think this is not exceptional at all. The world is full of artistic inspiration. Like animals, we have a roaming instinct to explore further. No wonder they say that the hard choice for art-making is to choose what inspiration to pick.
But recently I have felt like I don't have to pick. No matter what I paint, I can bring it all together. If I paint a flower, it can look like a nomad, or a mountain, or a furry animal, or a space station, I don't have to define.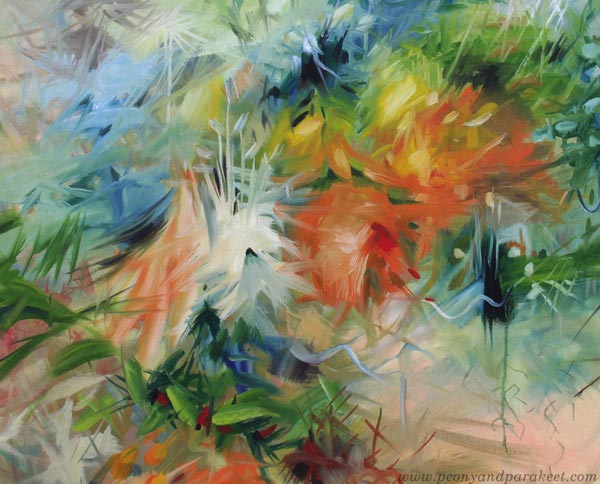 Every element can have a strong identity and the overall scenery can have a strong sense of location even if I can't name it. Some people say my paintings are underwater sceneries, others see outer space. For me, they can be both, and yet neither. I feel I am delivering more than what can be labeled.
Finding Your Artistic Voice/Style/Spirituality/Identity – Whatever You Call It!
I have created art for a long time expecting to become better at what to pick and why. I assumed that art would make me know myself better and yes, it has. But it's surprising that now when I am painting, it doesn't really matter who I am and how I get inspired. My art is not to limit or to focus but to integrate.
When I started the project, one of the goals was to get clearer about my spirituality. My question was: "Can a former engineer create spiritual art?"
At the moment, I find it difficult to separate physical from the spiritual. All material things seem to have a spirit and everything immaterial seems to have a figure. When I paint, they mix and merge, and after a while, the painting seems to have a mind of its own. It tells what it wants, and my job is to obey.
Does this make sense? What do you think?