Here's my recent art journal spread, inspired by a Finnish ceramic artist Rut Bryk (1916-1999). Espoo Museum of Modern Art Emma is currently showing her work and as a big fan of her work, I had to see the exhibition!
Rut Bryk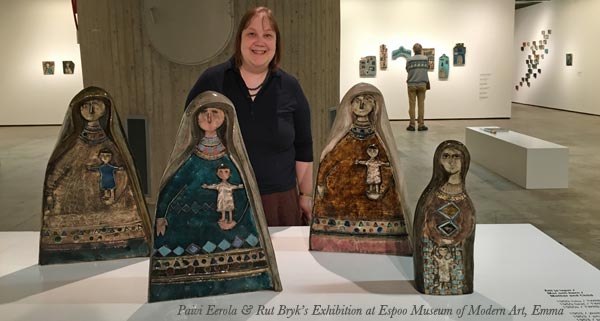 Rut Bryk is very known in Finland but not so famous worldwide. However, you might know her husband, a skillful designer and sculptor Tapio Wirkkala. Rut Bryk was an illustrator who got a job at Finnish ceramic factory Arabia in 1940s. Her early work was fairly naive and illustrative. But after working with ceramics for some time, she began adding textures to her work. Her 50s pieces were very mid-century modern.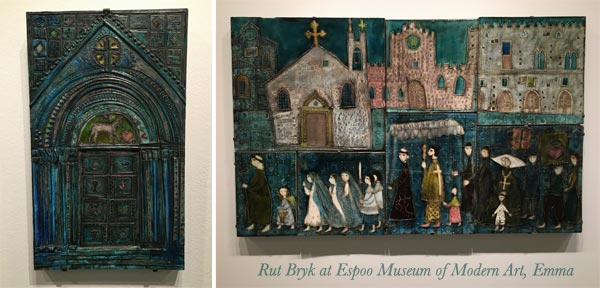 In 1960s her work grew more dimensional and abstract.
The abstract pieces she made are stunning.
This black city view is one of my favorites.
Many of Rut Bryk's artworks are composed of small ceramic pieces. They look like quilts or crocheted blankets to me.
Rut Bryk's and Tapio Wirkkala's daughter Maaria Wirkkala is also a well-known artist. She had made an installation of Rut Bryk's excess tiles for the exhibition.
Collage in Rut Bryk's Style!
Get inspired by Rut Bryk's brilliance and create a collage
with these step-by-step instructions!
You will need hand-decorated papers, acrylic paints, marker pens and gel medium or paper glue. See ideas for hand decorated papers: Basic Instructions, Frugal version, Kiwi, Arboretum, Spring Flowers (PDF download)
1) Paint the Background
Paint the background black.
2) Cut Collage Pieces
Cut collage pieces to simple shapes like rectangles, triangles, diamond shapes and circles. Cut big, small and medium-sized pieces. To make the pieces look like handcrafted ceramic plates, round the corners and soften the straight edges so that they are slightly wavy. Don't worry about the colors too much as you will be painting over them.
3) Glue the Pieces
Using gel medium or paper glue, begin gluing the pieces on the black background.
Pile up pieces so that some smaller pieces are glued on the bigger pieces. Before gluing, add black paint so that the piece on the top will have soft black borders. This will make your work look more dimensional.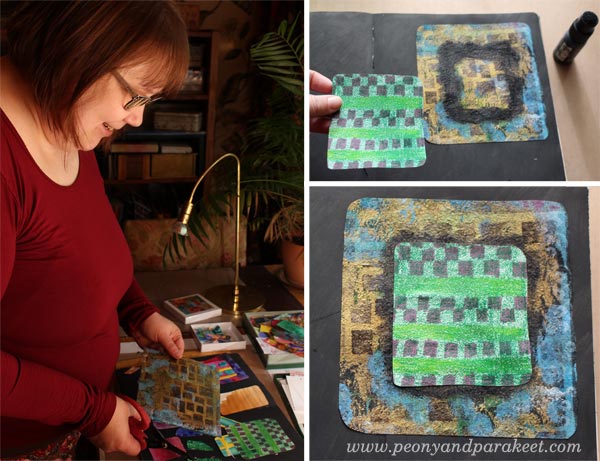 Don't fill the whole background but leave some of it black.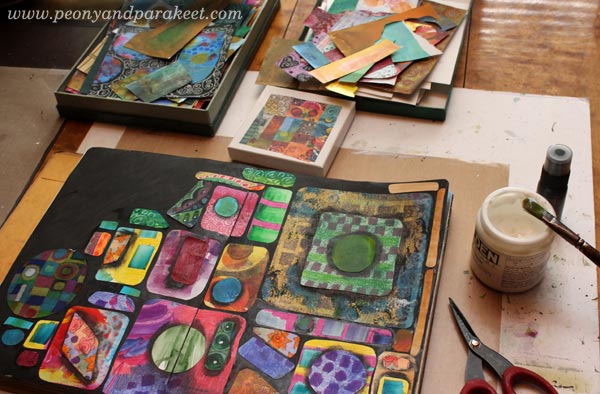 4) Paint Lightly Over the Pieces
To make the pieces look softer and to mute down their colors, add thin layers of acrylic paint over them.
Paint blocks where the black background is visible. Use neutral, fairly dark colors that suit well with the black background.
5) Draw Spotted Grids and Frame Collage Pieces
With marker pens or felt tip pens, draw spots so that they form grids. These grids can continue over the blocks. Also the size of the spots can vary. I use Faber-Castell Pitt Artist Pens as they work well on acrylic paint.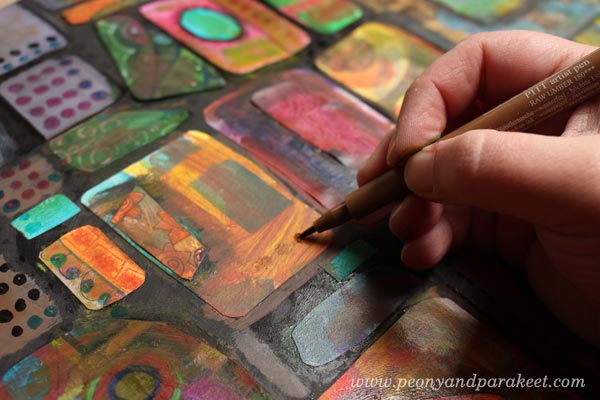 Frame the painted blocks and collage pieces with a black marker so that they look firmly attached to the background. I also used white Chinese marker to add few white lines here and there.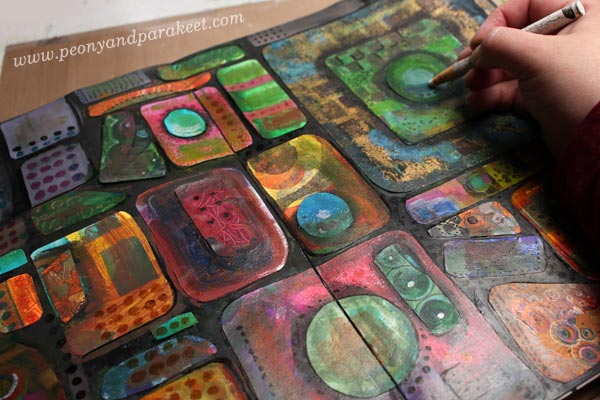 6) Paint Slightly Over Some Areas
To finish your work, add thin layers of paint for some areas. These painted areas represent light and shadows over the overall composition.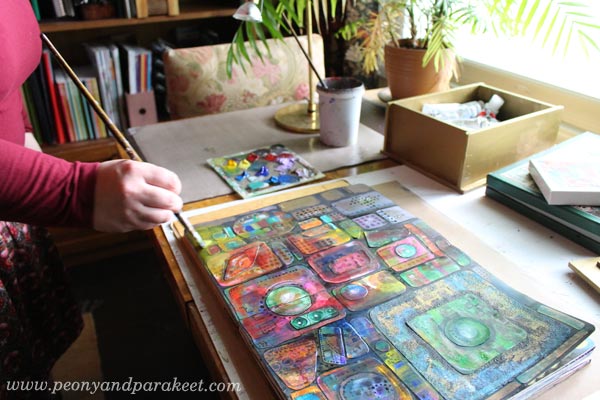 Here's my finished spread again.
Extra Project – Decorating a Box
My husband has made a wooden box for my paint tubes. I have painted it golden but the bottom part of the lid needed some decoration. I had already painted the framed area red so I just added black paint to the collage pieces.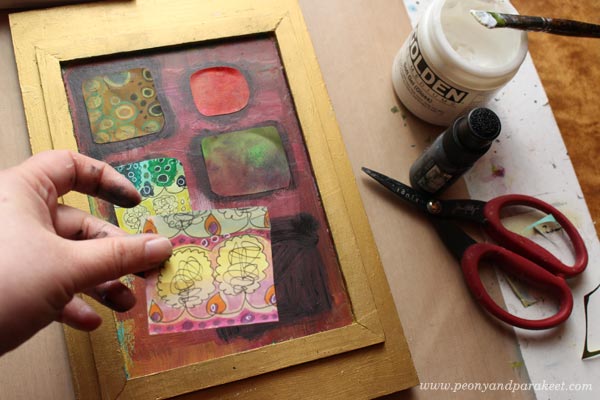 Then I continued the process like in the instructions. Finally, a layer of gel medium was added to protect the paper pieces.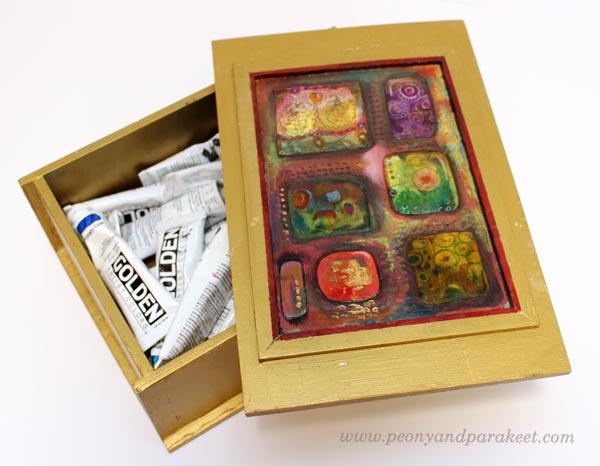 I like the idea of opening the lid and seeing the collage.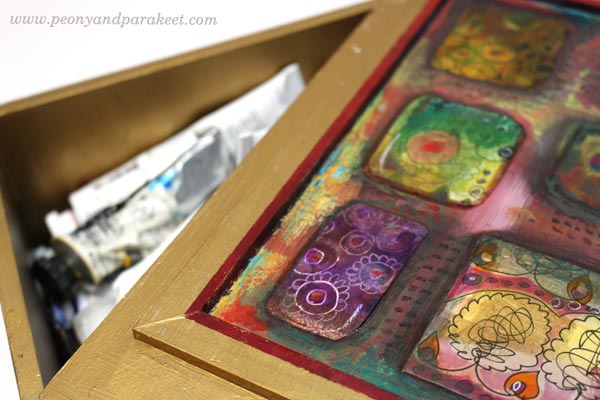 Thank you, Rut Bryk!
Expand Your Artistic Imagination!
This blog post is an example of how you can learn and get inspired by famous artists. This is how I see it:
– If want to find your own uniqueness, examine all kinds of artists and styles!
– If you have already found your style, keep on experimenting and expanding your skills!
It's exactly what my art journaling masterclass is all about. Every month a new artist or style is introduced, and you will get detailed instructions on how to create a project inspired by it.
Move Forward in Art Journaling!
>> Buy Art Journaling Bundle 1
>> Buy Art Journaling Bundle 2