This blog post is for us who love Jane Austen and Sanditon tv series. I watched the series last month, and it has inspired me a lot. I hope you enjoy this Sanditon inspiration overload!
Torchbearer – Esther and Lord Babington on the Beach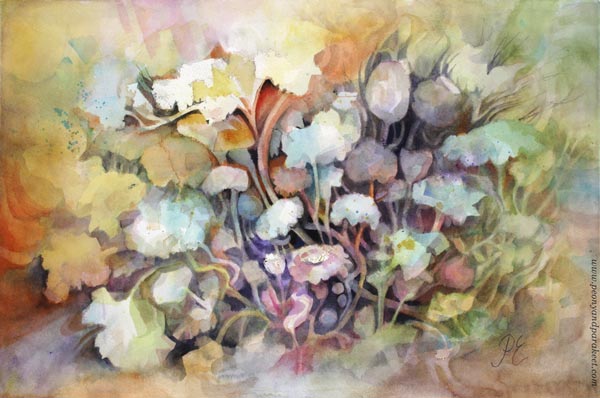 My newest watercolor painting called Torchbearer had a modest beginning and I had no clue how to finish it – until I saw episode 8 of Sanditon!
My favorite female character of Sanditon is Esther and the scene where she is in the carriage with Lord Babington was so romantic! The sudden change in her appearance, his gentle smile, black horses, empty shore – oh my! It hit me, that even if my painting has flowers, not people, I could express the emotion from the scene.
The tallest flower and the glow come from Esther's powerful spirit.
The flower that bends down, expresses her sensitivity.
I tried to paint every flower so that they highlight the bubbling energy. Their stems are like the carriage where the couple sat.
The black background represents both the horses and the lord, supporting Esther's joy.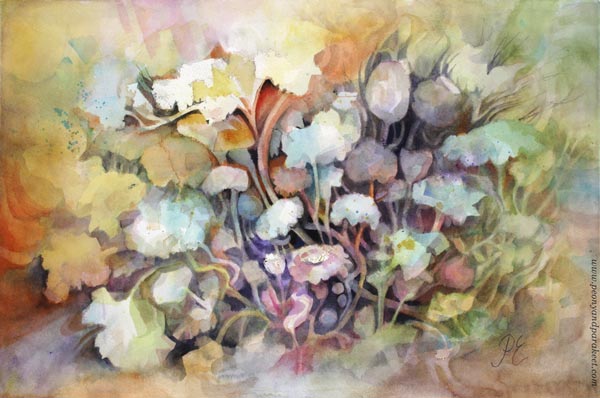 In this painting, Esther is a torchbearer who leads us to better times.
Tin Box – A Souvenir from Sanditon
I like little boxes that can be used for storing hand-drawn pictures and papers. I wanted to decorate a small tin box so that it would have old-fashioned and luxurious feel. So that I could think of it as a souvenir from Sanditon!
I already had saved a hand-drawn piece that was quite perfect in size.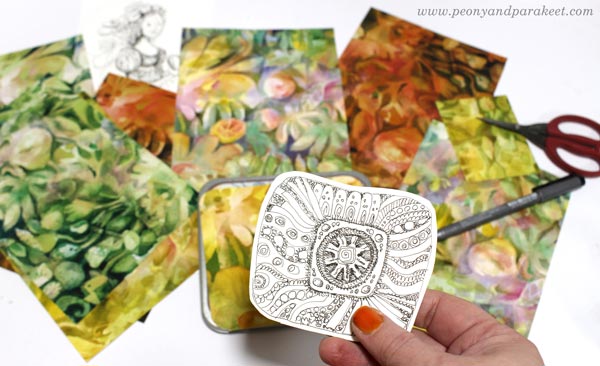 I also found some papers with a watercolor print. They were test runs of the surface pattern designed earlier this year. I mostly designed the pattern manually, so by painting a design on the center of the paper and then cutting the paper into four parts.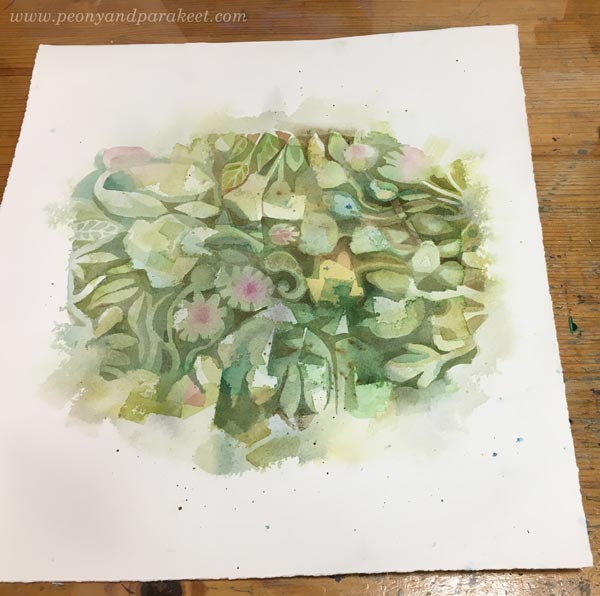 This way you get a continuous design.
Avoid painting edges, and re-arrange papers until they are all fully painted.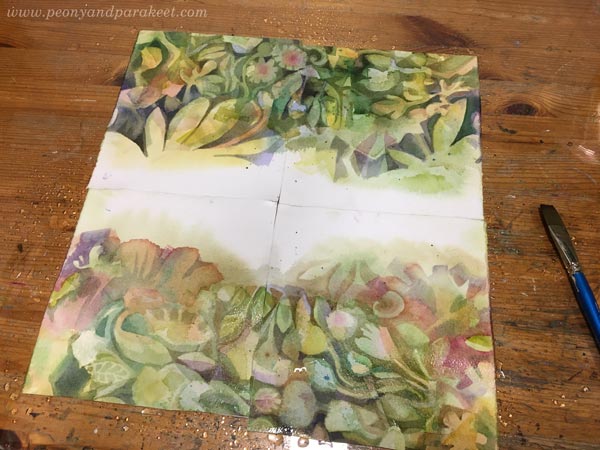 Then scan the papers, and clean the edges in an image processing software. Here's a sample of my design.
I made several variations in Photoshop. These papers go really well with hand-drawings, so they were perfect for the box.
The center motif was first colored with watercolors.
Then I hand-stitched it on a background paper and added more hand-stitching around the center. In the photo below, I highlight the surroundings of the stitches with a pen so that they look more 3-dimensional.
I also added beads, more colors and decorative marks.
The centerpiece is a button with a shank removed. I love this little box!
Esther Denham – Sanditon Paper Doll
I also wanted to create something for my ever-growing collection of collage figures. "Just an unknown habitat of Sanditon", I decided first. I didn't use any reference and drew the doll just freely, but when she was colored, she looked just like Esther!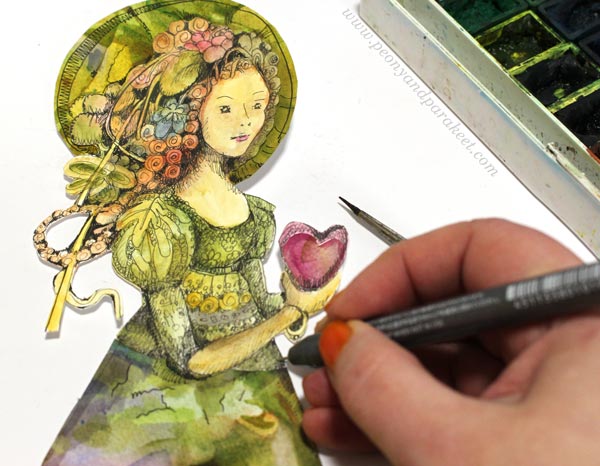 I played with her proportions so that she has overly long legs. That way I could make the dress more imaginative. The hem was cut from one of the watercolor papers. I couldn't help playing with her right away, trying wings on her, filling the teacup with herbs from Sanditon. The wings and the teacup are from my fun class Magical Inkdom.
Her hat is also a collage piece cut from watercolor papers.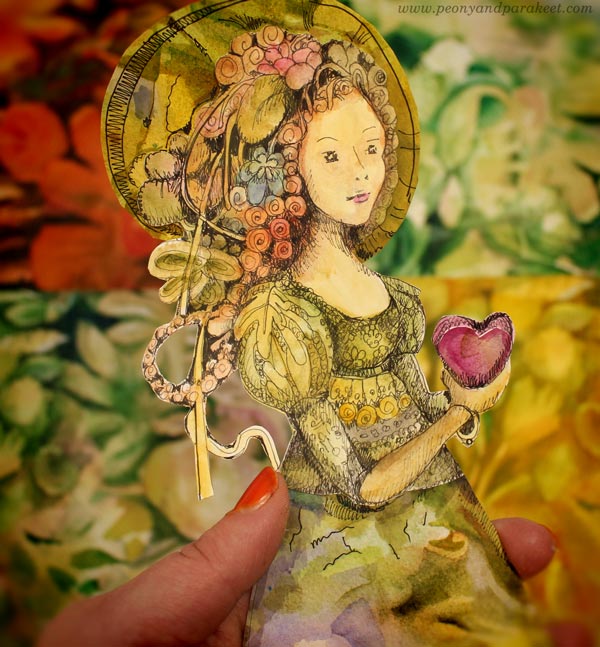 Souvenirs from Sanditon!
The Romance Continues
I am currently painting an oil painting that looks quite romantic already.
My vision is to make it the third in the series after Icebreaker and Torchbearer – and put it in the middle of them.

One Source of Inspiration – Many Interpretations
If you have been following my blog, you know that some of my projects are fine art, others more illustrational, and there can be a bit crafty things too. This blog post demonstrates well how the inspiration can be the same, but the interpretation is different. For me, the wide range of projects is a way to stay inspired and creative, and I hope that you have tolerance for all of them. I don't believe in getting too serious or not getting serious at all. The humorous side of art allows us to get playful, and the playfulness feeds our ability to express the deeper side of our inspiration.
Esther can be the person who handed me a crafty gift box, or an innocent paper doll, or a mysterious flower in a painting that took tens of hours to create. The key to your artistic style is less in the looks and more in the inspiration. For me, it's often old-fashioned romances, like Sanditon.
Welcome to my online classes!
– Paint watercolor fantasies – Sign up for Magical Forest!
– Draw the magic – Buy Magical Inkdom!