This painting is a monotype print where I have added only few collage pieces and a couple of little details with pens. In this artwork, the rooster is waking us up to notice that in art, whether we are makers or viewers, we are always in the middle of an experience. Thus, if you want to become a better artist, you should not focus on the final results only, but also on the experience.
Cassandra Tondro
There's a particular artist that I want to introduce for this subject. She is someone that I greatly admire, Cassandra Tondro. I am most honored to have Cassandra Tondro herself answering to my questions! I also got her permission to publish her photo and my favorite artwork of hers called "Illusion" in this post.
The Supplies
Cassandra Tondro has not only thought through about what kind of paintings she wants to create. She has dug deep into the whole creative process. The development of her current way of working has started steps back from what most of us would think. She wanted to find an environment-friendly solution and discovered a way to work with leftover house paint.
I did not have extra house paint but some odd jars of similar kind of fluid paint like Tim Holtz's Distress Paint. I also diluted few old acrylic paints with water to get more fluid paint colors.
Working with Colors
Cassandra Tondro has made videos of how she works with the paint. Instead of plastic sheet and canvas, I decided to use a glass plate with blank watercolor paper. My plate is about 12 by 12 inches.
While I poured colors on the plate, I thought about how suitable this process is when you want to forget the rest of the world and have a quality time with your favorite colors. Cassandra Tondro embraces quietness while working:
I like quiet when I work.  My experience is that we are surrounded with so much noise all the time — traffic, cell phones, airplanes overhead, radio, videos, Musak in stores.  My studio is my refuge from all of that.  I like to be alone in the studio — no phone, no computer, no Internet connection — and I like it quiet.
I agree. This is a process where colors are the music players, and the painter is the maestro, fully focusing on how to make it all work together.
Unpredictability
One general characteristic of art is an unpredictable creating process. While you have to accept more unpredictability than usually, there's a lot what you can control. Choosing the colors and creating color mixtures is one thing. Composing color areas is another. But as Cassandra says, this is an experimental process. Experimenting is also very freeing. As I was unable to repeat the strokes that I usually do, this process tweaked my style to an unpredictable direction.
Movement
When I pressed the watercolor paper against the glass plate, feeling colors crushing between the plate and paper, I felt like running. This process involves physical movement, even if you are working on the table, instead of laying the paint on the floor like Cassandra does. The action, combined with colors, lifts your spirit, forces you to concentrate and makes you curiously excited.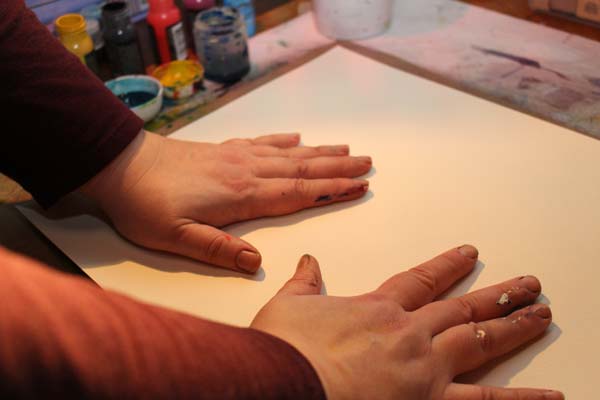 When the paper is turned over, and the artwork is revealed, there's no quietness anymore! The colors have found their home. They have abandoned the hard glass, and now lie rearranged on the soft paper. A good 24 hours of dry air and they are there to stay!
A warning: Once you have made one, you won't be able to stop!
I got fascinated by everything, including the cleaning of the glass plate!
Inspiration
I asked Cassandra where she gets her inspiration for painting:
My inspiration often comes from dreams or during meditation.  I like to meditate before I start to paint.  It sets the mood for creativity, and ideas often occur to me during meditation.  Another good source of inspiration for me is taking a walk.  Getting outside and walking frees up my mind, and I sometimes get ideas that way.
This kind of art thrives on the freedom. When I look at my pieces, I hear the colors thanking me: "You released us!" And as colors are so close to emotions, it feels like they have been released too.
This is the next print after The Rooster.
This piece was made on canvas textured paper instead of watercolor paper. It is not quite as sharp as those made on watercolor paper. If you create small pieces, as I did, I recommend using thick watercolor paper.
I composed the gallery-style image on a black background, but I think that Cassandra's work would look beautiful on a brick wall. I like to imagine how the colors would have flown in the air and crashed against the hard blocks.
The more you experiment with this technique, the more you begin to appreciate Cassandra's paintings. I see her art very powerful. Maybe because it is something totally different from my own, which often includes too much expression, too much explaining. Cassandra's art is the art of listening. Watching her paintings makes me think: I am free to live, I am accepted, there's no need for talking.
Let me be your mentor in art: Subscribe to my weekly emails!