If you browse my blog posts this fall, you would think that I have been painting only. But no, I have drawn too! I'm really happy about my recent mini-course that is available as a part of Imagine Monthly! It's called Drawing Factory as it's about drawing efficiently no matter what your current drawing skills are. Plus it's inspired by Japan, the land of high-production factories and fascinating culture.
Drawing ATC Cards
I got the idea for the mini-course in summer when I got the urge to draw a series of ATC cards.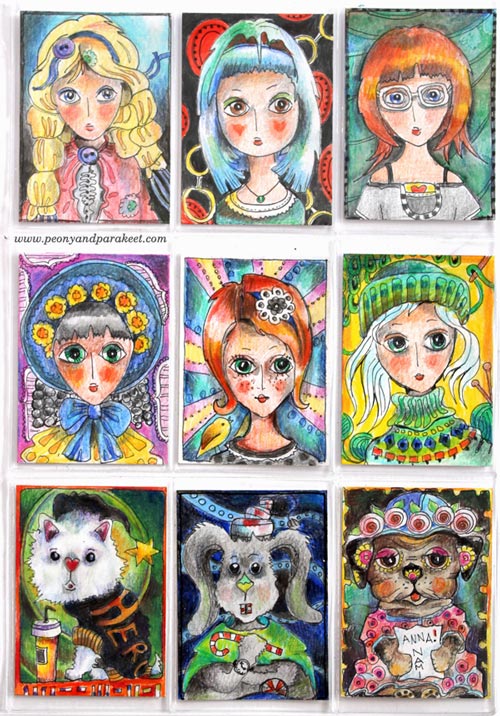 I had so much fun drawing these! While drawing, I thought about how much people use stamping instead of drawing in ATC cards. I felt liberated without them, drawing freely. How could I make hand-drawing more attractive and enjoyable?
Drawing with the Help of Stick Figures
Along drawing this big bunny art journal spread, I developed a series of tips and tricks about how you can create imaginative line drawings without tedious sketching.
My method is based on stiff lines as people often say: " I can only draw a stick figure!" But sticks can be an answer, not a problem!
The panda is the project that I am creating in the class video. The video also includes a drawing lesson where I show how to build drawings, or should I say rich illustrations, based on simple lines.
Buy Drawing Factory!
Drawing Factory is now available as an individual self-study class: Buy Now!