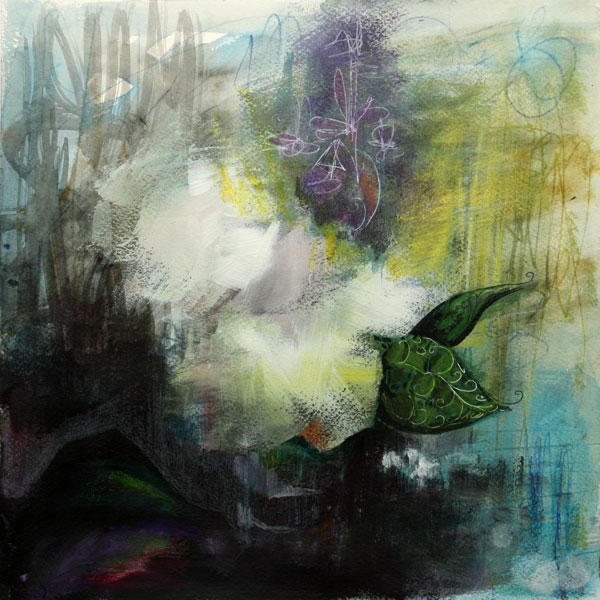 In art, I am fond of thin strokes and decorative details. I have often thought that blurry painting is like a bad photo – in need of sharpening. But slowly I have begun to get interested in blurry paintings. Those wide strokes have begun to feel tempting. The concept, where colors can take the leading role, has been sneaking into my thoughts. So, when I wanted to express something very familiar to my home country, I thought that the impressionistic style would go well with the theme.
The theme was melancholy and for me, it's all about white flowers. In general I do understand the beauty of white, but personally, I see it as a symbol of loss and emptiness. The painting called "Condolences". I wanted to give both white and black the position where they can be heart-breakingly beautiful. I wanted to treat them as real colors, not only as the elements to create contrast or compositional space.
Taking a New Route in Painting
Before I began to paint, I spent weeks of pondering the idea in my mind. After I had got hold of the feeling I wanted to express, I felt unsure of how to master the technique. Then I realized: if you want to stretch your style, you need to take a new route at some point in the creative process. 
My new thing would be the way I used the acrylic paints. But I could start with familiar things: watercolor the background and set the basic color scene.
After creating this background, I felt comfortable: same old, same old! Then, with the help of Coldplay's best hits, I got into the mood where I felt no uncertainty. When I have a clear theme in mind, I prefer to listen to the music that is pompous and not too deep. Then the music helps to improve my self-esteem without taking the focus away from the theme.
After few moments of walking around the room – that is a great way to boost your creativity too – I took the step. I mixed the paint, picked the broadest brush and dipped it into the paint. Then I began to brush boldly and very fast.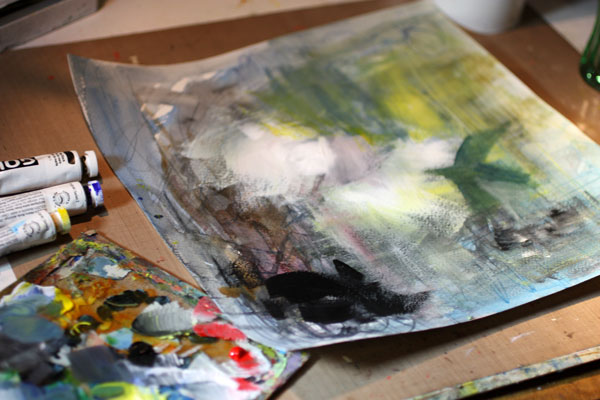 If you want to accomplish something new: think before you do it, not while you do it. Let your reason go through what you should create. But while you are creating, work very fast so that you reach the pace of your creativity. If you have some kind of image in your mind about the end result, it is important to focus on the feeling you want to express. The feeling should overcome the image while you are working.
Finishing Touches with Colored Pencils
There is something quiet and covered in the way the people grief, so I added a lot of blacks and other dark tones. After passing the most exciting phase, I became worried about the lack of depth in dark areas. After working with acrylics,  I added details with colored pencils. The white lines were made with a white gel pen.
I made the final touches with colored pencils by picking complimentary colors or colors very near their complementary.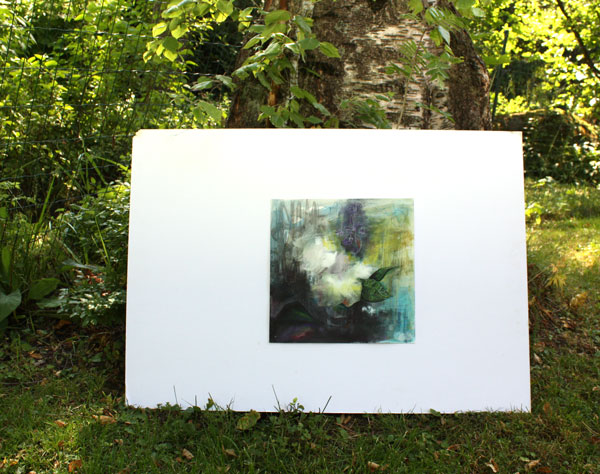 It felt somehow controversial to create this melancholic piece when the Finnish summer is at its best. But this was a good experiment. It raised an important question: Have I limited myself too much? Without too much questioning, could I try to create whatever comes to my mind?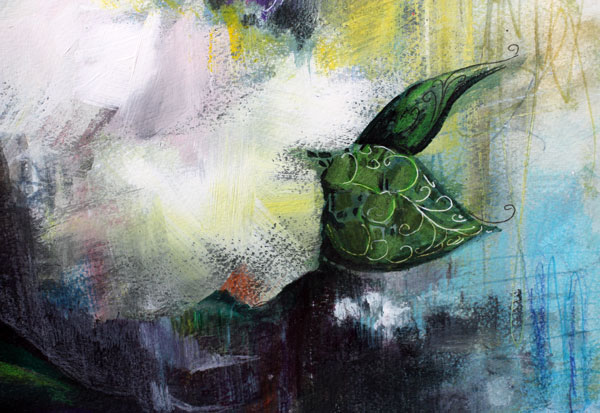 Stretch Your Artistic Style!

Give yourself permission to experiment! Here are my tips:
1) Pick the direction to go! When stretching your style, remember to pick something you kind of like, but still have reservations about it.
2) What are the factors the new style has? Using a dry brush and only a few strokes were essential for my experiment. Think about techniques, colors, composition and pick the things that are essentially different than your ordinary methods.
3) Which the step in your process is the one where you take the new route? When will you start incorporating those new things? In my process, it was after making the background. Preferably start with the familiar way to get into the flow of creating.
4) Get emotional so that your emotion leads the way while creating. Think about the stories behind the emotion. Get into the state where expressing the emotion is more important than mastering the new method. Turn the music on if you need some courage to express your emotion.
5)  Work fast without too much thinking. If you need to think, interrupt your work. Stand up and move around. Never forget the feeling you want to express.
6) Sleep overnight and finish your work on the next day. Embrace the good and fix the bad. Do not make major changes anymore as there will be a new day, a new blank paper, a new play, a new chance!
Stretch your artistic style
and get inspired by the world of art: Sign up for Imagine Monthly Fall 2016