This week, let's play with hand-drawn paper pieces and create 3D collage art.
My example is eight by eight inches (about 20 x 20 cm), so fairly small, but it has quite a lot of details. I used foam tape to add dimension to it, and the result is lovely. It brings embroidery or applique to my mind.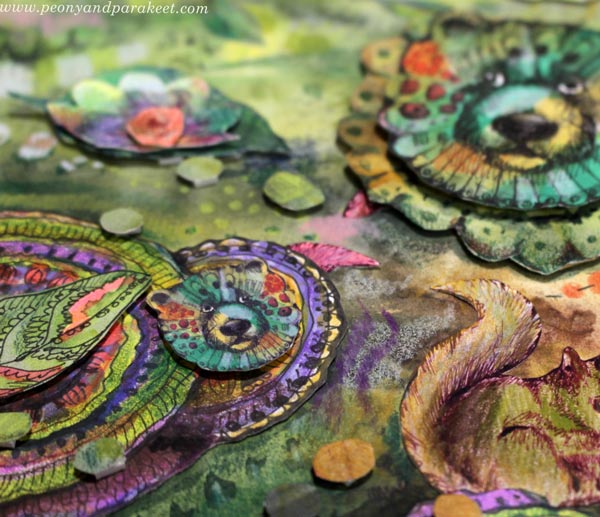 The idea of using foam tape between the layers is familiar to many from card-making, but I think the result is much more original when you use your own hand-drawn art.
Boxes of Joy – Shops Made by You for You
For years, I have been inspired by the idea of creating my own little paper shop. This shop is not about selling stuff for others but creative play where you are both a shop owner and its best customer. This picture is from 2016, when my shops were pretty simple and contained mostly paper sheets.
But the longer I have been in business, the more demanding my customer has got. I have got requests from myself to draw doodles, embroidery imitations, animals, magical stuff, flowers, dolls, and the little shops that I call boxes of joy have increased year by year and course by course.
Sometimes the things I have drawn feel too precious to put to use. For example, the roses that I made for Doll World.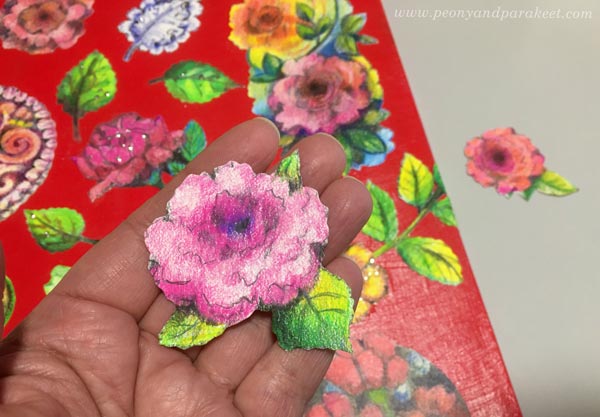 But the older the pieces get, the more I try to use them. And if something doesn't "sell," I can recolor it or add something to it so that I – my best customer – feel tempted to "buy" it.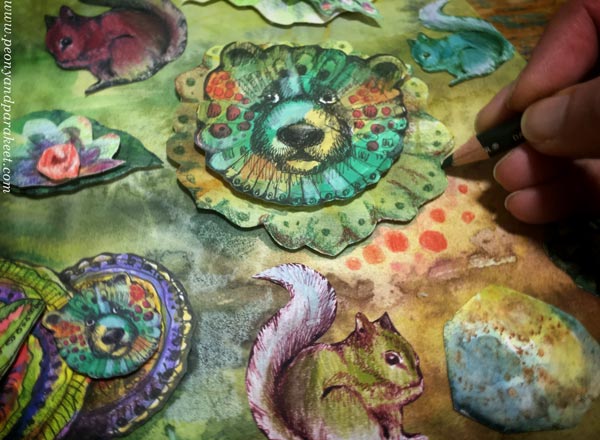 I like this process of adding more to something that's pretty full already!
Thick Paper Love
One of my favorite papers is thick and smooth watercolor paper. It is suitable for both painting and drawing, but I sometimes avoid it because the collage gets so bulky. But for 3D effects, thick paper is perfect. It's sturdy and goes very well with foam tape. Another paper that I like is Bristol paper. It's not so thick but very smooth and sturdy enough for 3D.
The background of this 3D paper collage is hand-painted watercolor paper. The elements are hand-drawn on watercolor paper or Bristol paper mostly.
Colored Pencils for 3D Paper Collage
Back in 2016, I used acrylic paints a lot. But nowadays, they feel less tempting. Not only because they are messier than colored pencils or watercolors but also because they are too similar to oil paints that I use for canvas paintings. I want to separate play from the pieces that I sell.
With play, I also want to grow my drawing skills. Colored pencils are great for that. They also go well together with watercolors. I have had a break with watercolors, but I hope to use them more this year.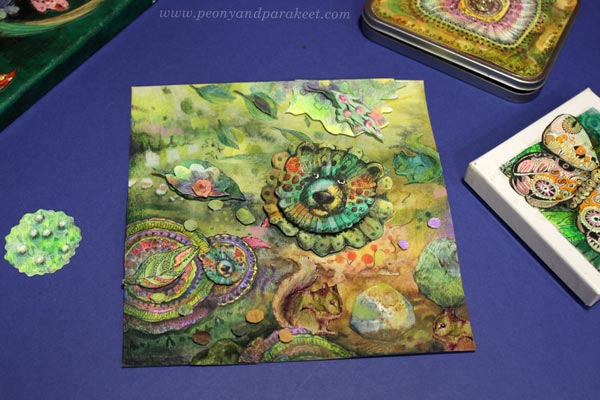 I like the many tones of green in this piece! I have colored many white parts with green to integrate the pieces better with the background.
Artist's Life – Upcoming Projects
My playing time will get more limited soon because I will start a new series of oil paintings. I have been invited to a wonderful art history-related group exhibition that begins in August, and there is a smaller fantasy-related show in April. I will tell you more about these in the upcoming posts.
This spring is also full of art in other ways. I enjoy seeing all the lovely dolls from the participants of Doll World and other classes in my Bloom and Fly community. I hope to help you there as much as I can throughout the year. I am also participating in a Finnish artist coaching program to get to know the practices of the fine art world better. You have enabled my growth, and I hope that my growth will also benefit you. I hope that 2023 will be a good year of art for both of us.