One of my goals for this year is to learn surface pattern design. I want to move back and forth between art and design, and add more design to this blog as well. This week, I picked three of my favorite designers and played with Gelli Plate to imitate their style. These don't replicate any of their work, just their style.
Three Designers from Three Centuries
My three favorite designers are Tricia Guild, William Morris, and Wassily Kandinsky.
Tricia Guild a designer from the UK, and she has a company Designer's Guild, and I have been her fan since the 1990s when I discovered her book Design and Detail. It's been my interior design guide for 30 years, and all my homes have got ideas from that book.
William Morris is also English, but he lived earlier, in the 19th century. Two rooms of our home have curtains designed by his company, and I regularly admire their clever repeats and ornamental shapes.
Wassily Kandinsky was more of an artist than a designer, but he taught designers in a famous Bauhaus art school in the early 20th century. For me, he is the father of modern design. I see his paintings in the works of most midcentury modern designers. Lately, he has felt even closer, when I have been built a class Floral Freedom that is based on his and Paul Klee's teachings.
Who are your favorite designers?
Three Designers – Three Color Palettes
I have always liked making hand-decorated papers. Actually, my most popular blog post is this ancient one: How to Make Your Own Patterned Paper from 2010. So let's get back to basics and make some!
First, I painted the backgrounds with acrylic paints and a flat brush. This set a color palette for each paper.
Muted pastels and rich darker tones remind me of Tricia Guild. She often uses stripes or checks too. William Morris has greyish colors and many of his designs have dark backgrounds. Wassily Kandinsky often had a very light background in his paintings.
Three Design Styles – Three Kinds of Shapes
I continued each of the papers by mono-printing motifs with a Gelli Plate. For Tricia Guild's style, I used a small plate and painted the motifs with a brush on a plate, then pressed the plate on the paper. Because Tricia's style is often quite relaxed, there was less pressure for perfect outlines.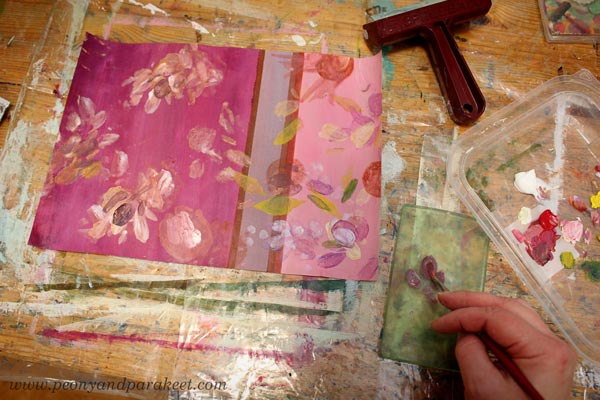 William Morris's designs are very sharp and ornamental. I cut out ornaments freehand from paper and used both negative and positive shapes. I used both a big Gelli Plate and a small one.
Here's how the paper looked after mono-printing.
Wassily Kandinsky's shapes are mostly geometric, so I cut templates that had circles, lines, squares and triangles.
Here's how the paper looked after mono-printing.
Three Design Styles – Three Levels of Detail
After mono-printing, I finished the papers by painting. I used a narrow brush and made small tweaks only.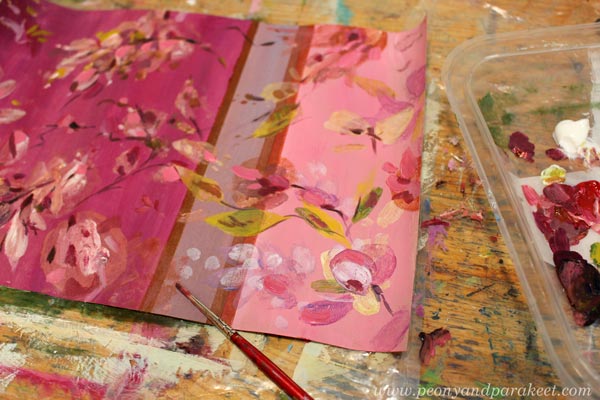 I like Tricia Guild's designs because there modern meets classic and historical. They feel luxurious, but still comfortable. They don't require similar perfection from the space than William Morris's designs. So I didn't perfect every shape or line, just added a bit more realism to the floral motifs. Here's the finished paper.
William Morris's designs are full of outlined motifs, and I connect them with books. "For people who have a library," I wrote in a notebook that I keep for studying. But I quite liked my mono-print, and didn't want to stiffen everything. So I only outlined a part of the motifs, and added some small dots and thin lines inside the shapes.
Here's the finished paper. I really like the big yellow motif! Maybe that could be a part of my future designs.
Wassily Kandinsky's work didn't lack details either. But if William Morris is for bookworms, then maybe Wassily is for systematic thinkers – for more scientific than humanistic introverts, and for those who love mathematics.
I used the monoprint as a foundation for the composition of shapes and followed Wassily's advice and ideas from his book Point and Line to Plane, the book that I teach in the class Floral Freedom as well. Here's the finished paper.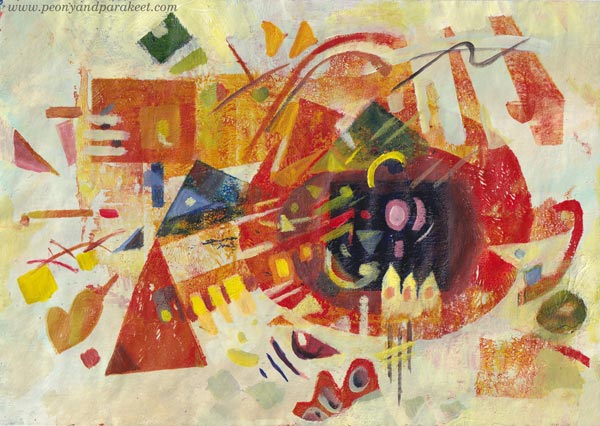 Three Wallpapers
I wanted to see how these papers could work as repeats. I didn't have time to play with the repeats properly, but here are some quickly made images to demonstrate how the motifs would look in a smaller scale, for example, as a wallpaper.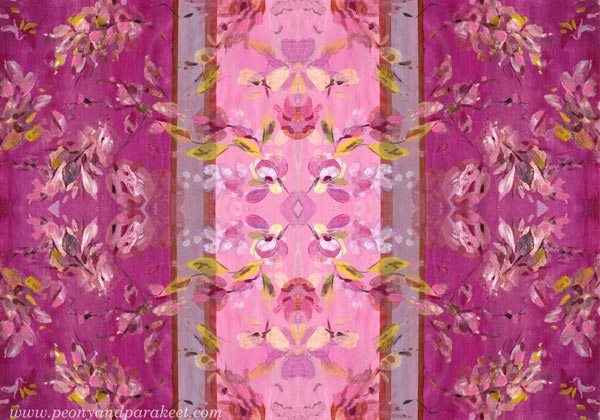 It was a full day, but I had fun making these! Tell me, which three designers would you pick?