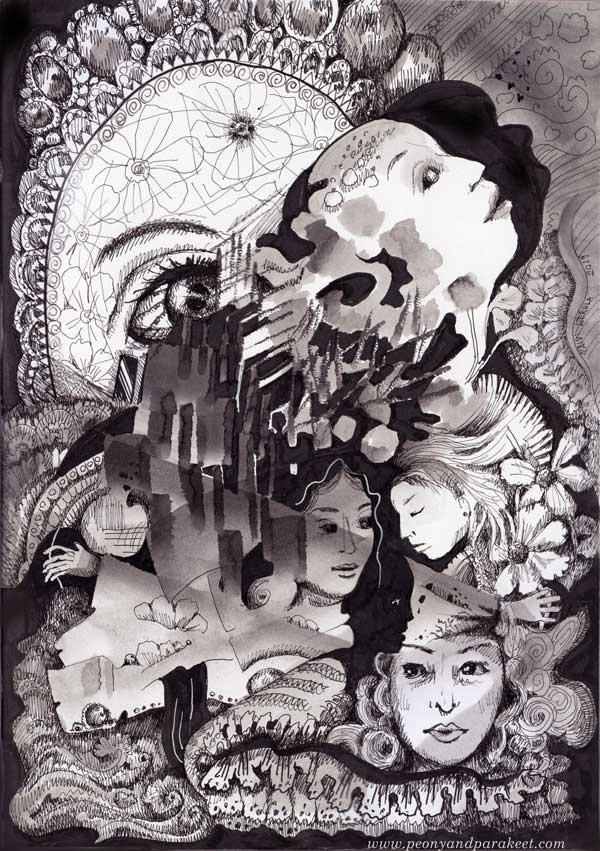 It's soon October and with that – Inktober! Last year, I did all 31 prompts. Read about my previous experience here and here!
This year, I intend to make at least some drawings. And because Inktober was such a great experience for me last year, I want to support you to take it too. Here's an Inktober warm-up exercise. I hope it inspires you to use inks and black felt-tipped pens to create black and white art. Follow the steps to keep going!
1) Paint an Abstract Composition
Let's start by playing with liquid ink! Mine is Dr. Ph. Martin's Bombay India Ink. I make the image on Leuchtturm 1917 Sketchbook.
Put a few drops of black ink on a palette. Mix some water to the ink so that it's grey rather than pitch black. Make some pale strokes with a flat brush. Then add new strokes on the top of previous ones. Work slowly! Enjoy each stroke and the translucency of it.
Turn the brush upward and make narrow strokes by using the tip of the flat brush. Experiment with both wet and dry brush.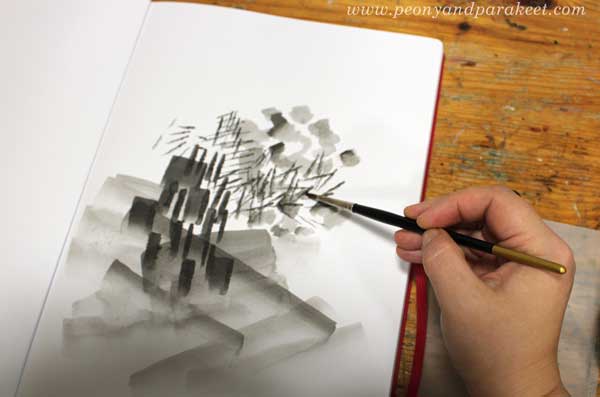 Pick a small round brush and add some ink on the top of the narrow strokes. Now you should have an abstract composition that has a variety of painted elements.
2) Fill Spaces Between the Painted Areas
Use a brush pen or black ink that hasn't been watered down. Focus on the center of your composition.
Fill most of the spaces between the painted areas with black ink. Leave some white to highlight the best parts. Black adds depth to the grey composition.
3) Draw Realistic Objects
Select black thin-tipped drawing pens of various thicknesses. I use Copic Multiliners from 0.05 to 1.0.
Choose a realistic object that you want to repeat in the image. My choice was women's faces. For example, flowers or birds could be great too.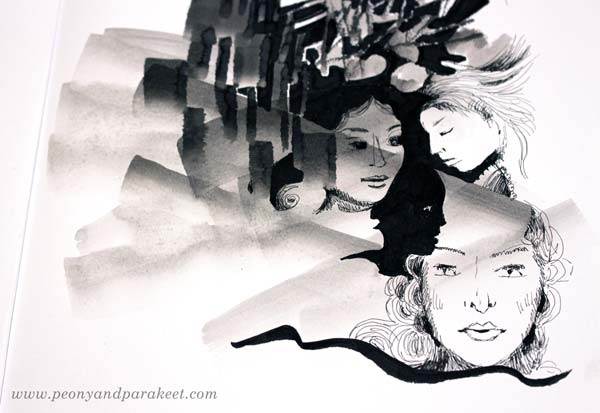 Look at the abstract composition and seek for places where you can add the objects. Add more black, and adjust the shape of the pale areas so that they partly outline the objects. When drawing the objects, play with the scale so that some are big and some small no matter where they are located in the image. All the objects don't have to be fully visible. Some can hide partly behind the abstract elements.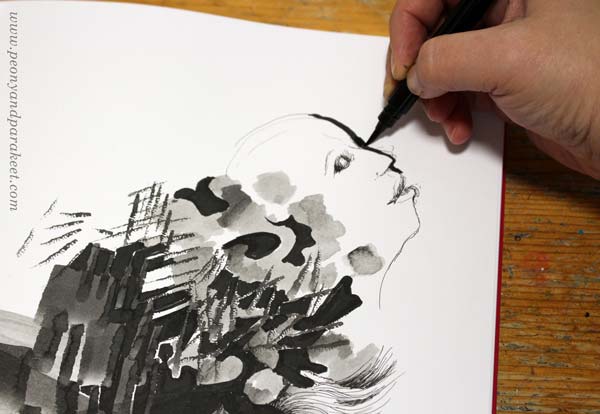 I like to draw faces so that I sketch it first with a thin ink pen, and then adjust it by adding a black element beside the face. (In my classes Animal Inkdom and Magical Inkdom, I show easy step-by-step methods for drawing all kinds of fun figures.)
4) Doodle Decorations
Continue with the black drawing pens, and doodle on the blank and pale areas. I also use a handmade oval template to get a big geometric shape that is fun to decorate.
For decoration, the sky is the limit, but I like jewels, frills, laces, waves, and flowers!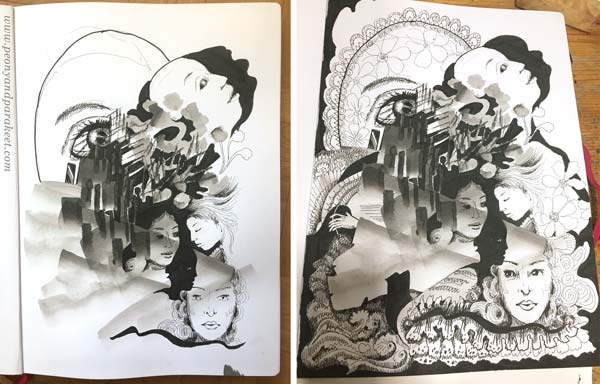 When doodling, I also add shadows to the elements by drawing thin lines side by side.
5) Finishing Touches: Shadows and Highlights
Squeeze your eyes and point all the white areas. Usually, there are too many and it makes the image look busy. Pick a brush and paint most of the white with diluted black ink.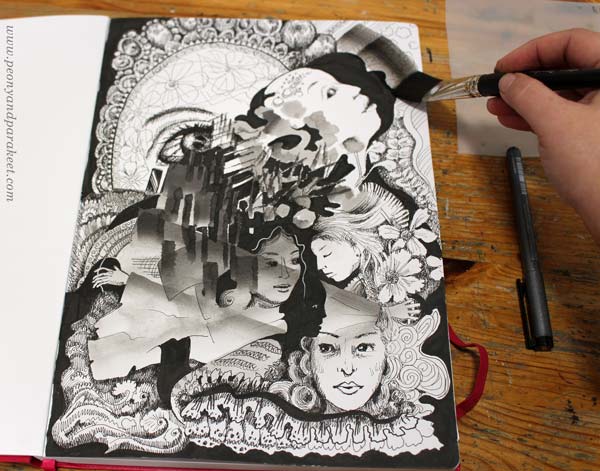 Especially the areas that are near the edges are worth toning down.
I also like to paint over the shadowed areas to give them a softer look.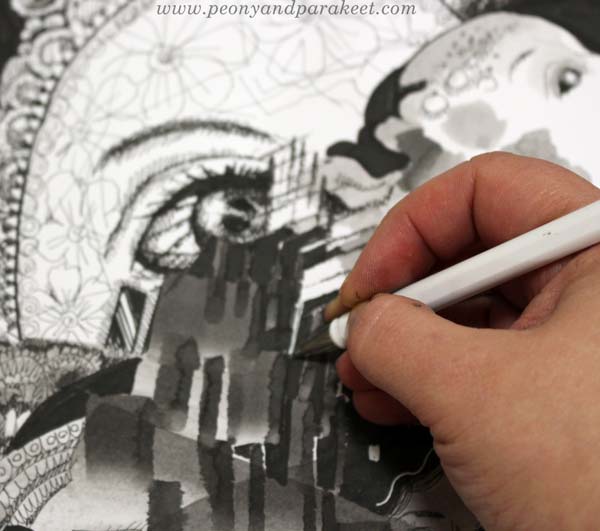 White gel pen can be handy for those areas that need a little bit more white.
Inktober Warm-Up – Finished Piece
Here's my finished piece again. See how limited the number of white areas is.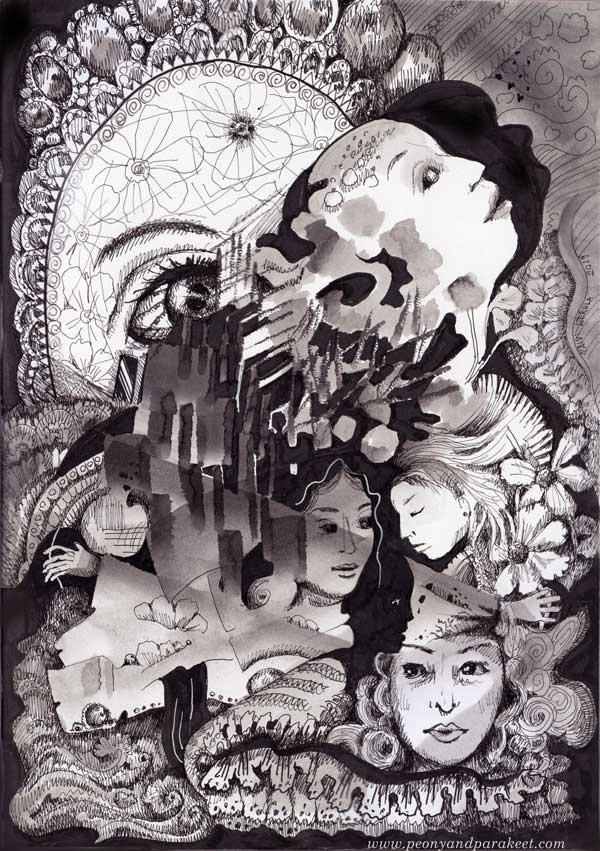 I hope you enjoyed this Inktober warm-up! Tell me – are you going to participate in Inktober?