This week I have a consolation post for any artist!
We start from a movie and then let thoughts fly from top to bottom and come back up.
The Movie – The Electrical Life of Louis Wain
Just a couple of days ago, I watched an inspiring movie called The Electrical Life of Louis Wain. It's a story about the illustrator Louis Wain (1860-1939) who got famous for his cat drawings. Louis Wain's life was full of misery, he was poor, responsible for five unmarried sisters, lost her wife to breast cancer soon after the marriage, made bad business decisions, and suffered grief and mental illness.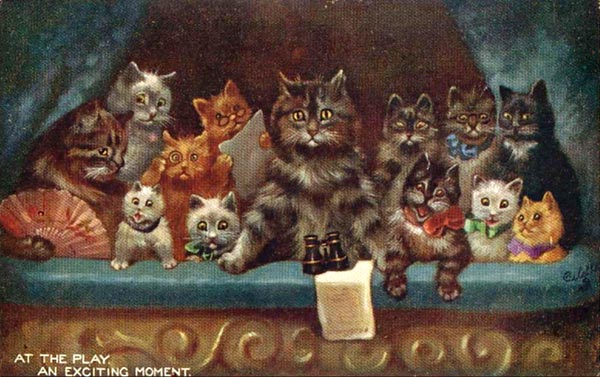 And yet, Louis's cat drawings were fun illustrations full of liveliness and details.
The Two Undertones of Any Day
The movie felt strangely therapeutic. Maybe partly because it expressed so well what I had been thinking lately: how life has both melancholic and uplifting undertones and how important it is to recognize and make room for both of them.
For Louis, life had two separate sides – the harsh reality and the wonderous world of imagination. I think that many of us can relate to that even if in our lives, the melancholic and uplifting undertones would spread more evenly. If I think about my artist life, there have been so many rejections that where I am now is a small miracle. And if I think about the future, more small miracles are needed to move forward.
Here's a short video about my journey so far.
This video was published on my Instagram account first, so the proportions were optimized for that.
Those Who Believe in You
In the end, you only need to have one person who believes in you as an artist. Many times you can be that person for yourself. Like Louis, the world of imagination has the power to keep the uplifting undertone going.
But for me, there have been times when a small miracle has been needed – that someone else brings me up. When Louis found supporters in the movie, I thought of mine. They are a part of my electrical life story. Who could be yours?
It wasn't easy to contact any of them – ask, apply, and reach out just after losing the belief and energy, but doing that has pushed me forward. Sometimes they have been friends, but many times strangers who have given me a chance to connect with their audience. In the art world, and especially in the fine art world, people are hesitant to accept outsiders. But once you get one door open, some others will open up too. The number of your supporters will grow step by step.
Opening Up for Small Miracles
In the beginning, art was something I did in secret. If I didn't believe in my art, I simply stopped creating for a while. But the more I created, the more I wanted to find connections with other people. First with others who create, and then more publicly. After going public, stopping is much harder because you start to see wider: There must be someone who says yes.
I see that the melancholic and uplifting undertones are wrapped around each other like two plies in a yarn. By expressing both of them, not only a person but also her art becomes stronger – more touching and captivating. It's then easier to make small miracles happen – have positive electricity as Louis Wain would put it.
What do you think? Have you seen the movie?
P.S. If you want to turn back the clock and learn from 6-years-younger Paivi, here's your chance! Planet Color, is retiring on Sept 30, at midnight PDT.

If you are a beginner in painting and want to use acrylic paints more, for example, in your art journals, check this class! Planet Color is now more than 50% OFF before it goes away! >> Buy here!