This month, the focus is on art history. Art history is often talked about in a very serious tone, but let's examine it through imagination and start by drawing ornaments!
Ornament Tells a Story from Childhood
It's fascinating that even if the ornaments are stiff and organized compositions, one can express a whole story.
The background of this drawing is a funny story from my childhood. When the school asked each student's favorite food, I answered "Mansikoita ja kermavaahtoa!" – Strawberries and whipped cream" while the others listed macaroni dishes or meatballs. Both the teacher and the students were quite shocked by the answer, but I wondered how anyone would prefer to eat something so modest and usual.
This story tells a lot about how I've always wanted to get away from the mundane. I still want to draw things so that they look like a luxurious celebration rather than a gray everyday life. I like drawing jewels, lace, floral motifs, and swirls, and you can have a lot of those on the ornaments.
I often want to include people or animals too. For example here, I wanted to make the whisk half-human, and draw two fairies that enjoy the dessert.
The method that I teach for human poses in the course Doll World was very helpful here.
Inspiration from Antiques, Old Buildings, and Paintings
There are plenty of ornaments in my photo archive. When I visit old buildings, I go through doors, ceilings, wall panels, and floors, looking for nice ornaments.
I also love to examine antiques closely.
Old paintings often have lovely frames. Whenever I photograph one, I always try to include the frame in the picture.
This frame is like an ornament representing a palace!
Lots of Simple Shapes
The decorative appearance of the ornaments can mislead you into overestimating their complexity. When an ornament is taken apart, the shapes can be quite simple.
I love this kind of sophistication based on quantity and repetition, with which you can express anything – humorous subjects …
… or more serious.
This example shows well that you can also express light when drawing ornaments.
Ornaments Can Both Hide and Reveal
I am fascinated by the fact that although the subject can be drowned in decorative forms, it can also be brought out more directly and more concisely than in a regular drawing. Time travel to the past can become surreal when the horizon disappears and the items are arranged as part of a floating structure.
Ornaments as Collage Art
If drawing the whole ornament in one go feels too demanding, remember that the ornaments can also be collage art. You can glue individual elements so that they form a decorative tree or medallion. I have put together many kinds of ornaments from hand-drawn animals and hand-decorated papers.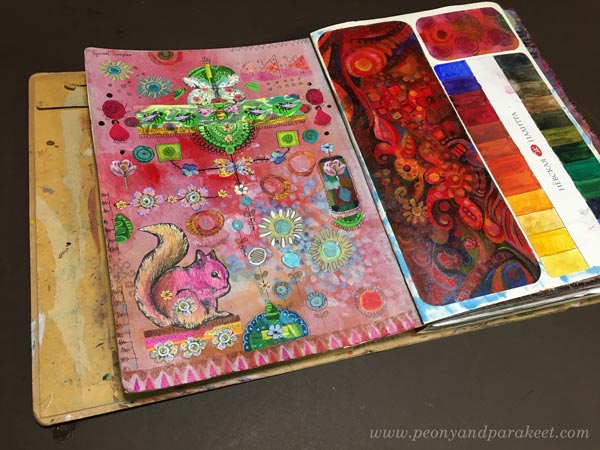 You can also scan or photograph the drawings and assemble the ornament digitally with an image processing program. Here are animal figures and flowers from the course Animal Inkdom and a teacup from the course Magical Inkdom.
Drawing Ornaments is Expressing the World
After working with ornaments for a while, you begin to realize that the world is largely based on them. Surface patterns are everywhere. The beauty of organic forms can be found in all living things.
Ornaments build a bridge between the living and the non-living. They make the living an object and the object alive.
Hidden Love for Ornaments and How it Shows
I think that many of us have an innate need to design ornaments. Maybe you dream about designing fabrics or have a huge stash of them. Maybe you collect jewelry or save photos of them. Maybe you feel that something is lacking if you only draw or paint complete images and are not able to rearrange the composition so that it's something more stylish and less representational.
I only realized this tendency of mine when I made ornaments as part of the illustration for a children's book. Back then, I used transparent marker paper to design the symmetry, and my desk was full of different versions.
One day when picking the pen, I suddenly felt happy and meaningful: "I should do this more!" Since then, I have not underestimated even the smallest encounters with ornaments.
Drawing Ornaments Inspired by Embroidery
I relax from my work as an artist by doing cross-stitch and those projects also inspired me to draw ornaments.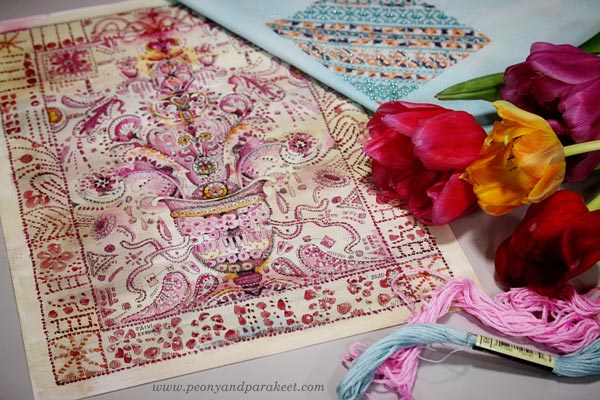 See here how to draw and color an embroidery-inspired ornament – Doodler's Sampler Step by Step!
Drawing Ornaments without Perfect Symmetry
I drew the last ornament with the ProCreate app. The good things about it are that the background can be kept separate so that the background colors can be varied and it is easy to create symmetry. However, I think completely symmetrical ornaments are a bit too stiff and boring, so I also made quite a lot of asymmetry for this ornament.
I hope you will start drawing ornaments right away whatever technique you choose!
Related Courses