Knitting Through Childhood
I learned to knit before school when I was about five years old. Before that, my older sisters had taught me to crochet, but it wasn't enough. "There will be much more stitches, and they get dropped easily," they said. But I was determined. I sat in the kitchen with a ball of dark green light-weight yarn and thin needles that had duck heads in the other end. I wrapped the yarn around the needles and was sure that I would figure it out by myself. It must have been an endearing sight because my sisters gave up and taught me to knit.
After that, I was unstoppable. My mother taught me to make socks and mittens, and when I went to school, I learned more from there. Our local library had a couple of shelves of knitting books, and I borrowed them regularly. As a teenager, I bought a knitting machine and made a sweater in a couple of days.
Late-Night Knitting
Like art, knitting has always been with me. But even if I have had times in my life when I haven't created art, I have never stopped knitting. No matter what crisis I had, how busy at work I have been, there has always been time and energy for knitting. It's still like breathing – in, out – knit, purl.
As a child, I had a phase when I dreamed about being a textile artist. But the older I have become, the more I have realized that the connection between knitting and art-making must be looser for me. In the late evenings, when the working day is over, I say good-bye to the artist in me. Then it's time to stop producing and start consuming. I browse online yarn stores, their Instagram accounts, and Ravelry.com – the ultimate database for knitters – and plan my next projects. I watch knitting podcasts on Youtube and knit obsessively as long as I can stretch the night. I don't think about art, and I don't feel like an artist. By following or adapting a pattern that someone else has written makes sure that I don't have to think but just knit.
But strangely, for each big painting, I need a lot of knitting. It's my way of processing all the ordinary so that the extraordinary can come up.
Art and Knitting – Work and Hobby
When I started blogging over ten years ago, my blog was about knitting. At that time, I also sold handmade bags called folk bags and wool that I produced in co-operation with my friend and a few farmers. There might still be some of you who have followed me since then. Thank you for sticking around!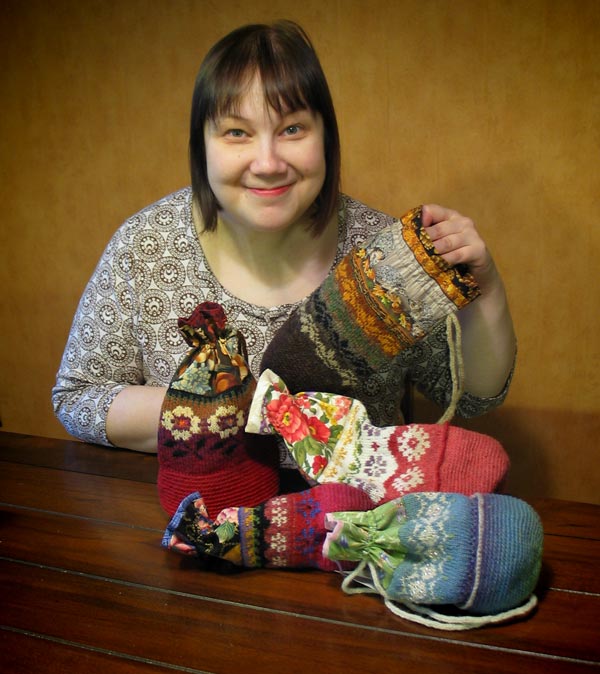 When I grew my artist's identity, I wanted not to talk about knitting anymore. I needed a hobby, not another job, and I felt that knitting and fine art don't go so well together in public. People often have a hard time understanding that art can be a real job.
But last year, I decided that it's time to approach art with greater confidence than before. It has made me more open, and maybe it has added a bit more self-acceptance too. So yes, I am both an artist and a knitter. Art is my work, and knitting is my hobby, but I would not be able to work without the hobby.
Does this make sense to you? Let me know what you think!