When I was a child, my most prevalent feeling was boredom. It felt like childhood was a long wait for things to happen, life to start. I was at the mercy of others and dreamed of the time when I could do it all by myself.
At that time, in the 1970s, there was no iPad to keep me company. Instead, I often grabbed the only picture book from the shelf where my parents kept their books. It was a softcover book about old paintings. I was staring at Monet and Manet while my mother cooked us dinner. The book wasn't big, and the images were small. But this way, culture was introduced to me at a young age. Having this one book on the shelf, my parents unknowingly affected my life's journey.
I was browsing the book in a colorful living room.
It had yellow, orange and red textiles and a grey sofa. Later, the colors were changed to warm green, and brown. It was all fine before my mother bought greyish mint green curtains. She was exhilarated about the color and kept talking about how well mint green fitted with the rest of the decoration. I, in turn, was in shock – cool green doesn't fit with the warm tones! Every time I was in that room, the curtains made me feel uncomfortable. I waited for the day to pick my own palette!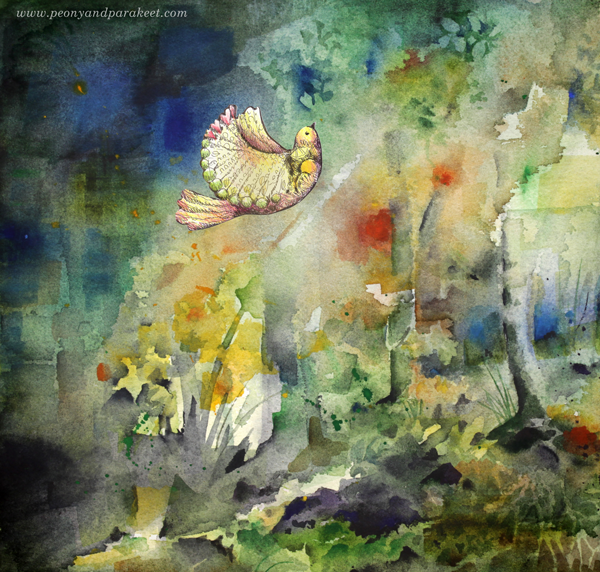 My sisters were living in a red room. It also had white, so it was quite cheery, but I didn't like the colors. Even the table had a red frame, and it bothered me quite a bit. When my sisters moved away, and the room became mine, my parents traveled to the nearest big town Joensuu to buy new wallpaper. And when they came back, surprisingly, my father, who never had anything to say about the colors, had chosen little yellow roses! "Aww … everything has to be changed to yellow now!" I cried. My mother agreed. They bought curtains that had yellow flowers, a yellow clock, a carpet that had yellow and brown, and sunny yellow bedcovers for the two beds that the room still had.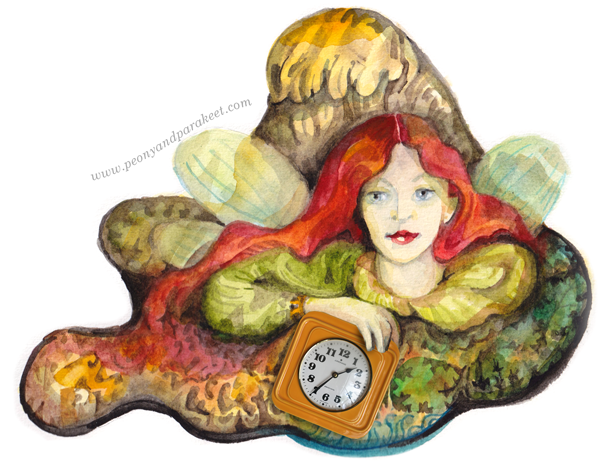 I was thinking about these colors all the time.
Did everything match? What I liked and what I didn't like? I assumed that all people were similar, contemplating their color choices, walking around their homes, thinking about the tint of the curtains.
My first art book got abandoned when I started using the local library. It had huge books filled with master paintings. For years, I sat in the library and waited for my life to begin. I admired the colors, and Picasso and Matisse became my favorites.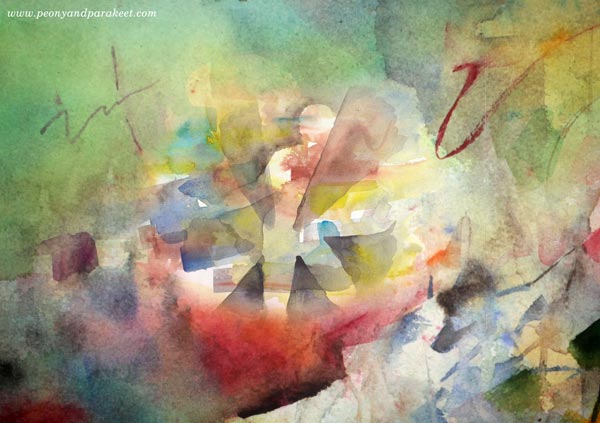 At a young age, I knew that green is not only green. It could be muddy green or mint green or something between. And when I was accepted in the local icon-painting group, I also learned that there can be a strictly defined range of tones. It was so satisfying when my teacher told me that I had produced not only an acceptable but beautiful blue for the background. We all used the same amount of the same pigments, and still, every one of us had a slightly different blue. Amazing!
When walking to my home from a group session held at the cellar of the nearest church, I looked at the dark starry sky and admired its deep shade against the white snow. The number of colors that I was able to see was growing all the time.
All this seemed insignificant back then.
I was just filling the moments of boredom while waiting for my life to begin. And then, finally, I grew up, moved away, went to study, met my future husband, got a dog and a good job, built a career, bought a house.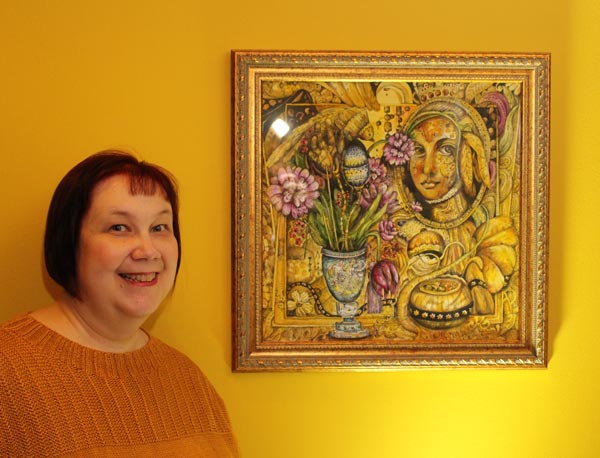 But when I am creating, these events feel less important. Instead, I want to get back to those childhood years trying to remember every single dull moment and detail, including the tone of my yellow bedroom. I am dependable on that boredom. It defines me as an artist. Everything genuine and sincere in my art can be connected with my childhood, with the age of boredom.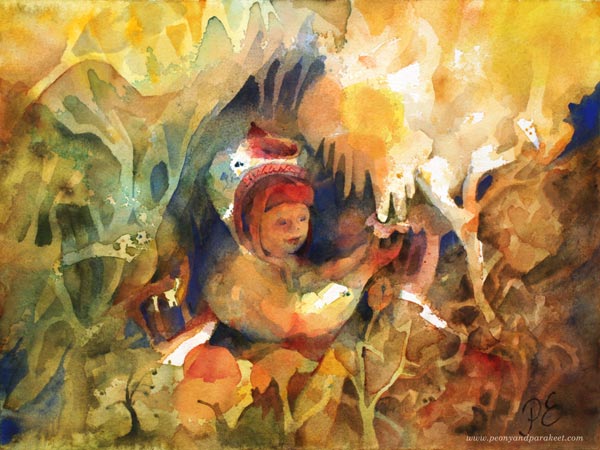 Does your childhood show in your art? Do you aim for the images that you see other people create, or are you geared to finding your own? This is one of the carrying themes in Lesson 2 of Magical Forest, starting on February 1st.

Hop along! The class ends at the end of April, and you will get Lesson 1 right after the registration. >> Sign up here!