I loved my old watercolor set. I bought it at the time I thought I should learn how to use watercolors. I also bought a book about watercolor painting. It would explain to me how to do it in correct way. That meant: merrily paint those landscapes and still lives in a row like all watercolor artists seemed to do. Soon I realized that even if I admire all those great artists I got nothing out of painting like that myself. Partly blaming my watercolors for it I put them away.
They must have been sad. All those beautiful things that they held inside was in the dark for years. How happy and thirsty they must have been when they were finally able to see the light again. They persuaded me to give them another try. They promised to be ready what ever I would assign them to. "Come on, stroke us with those soft brushes you have", they pleaded.
I gave them a stroke, and another… After many long and hard discussions I realized that all I had to do is to let go. Not only put away my assumptions about their purpose but also their nature. These were social guys. Ready to talk not only with me but also with my color pencils, acrylics, inks, markers, you name it.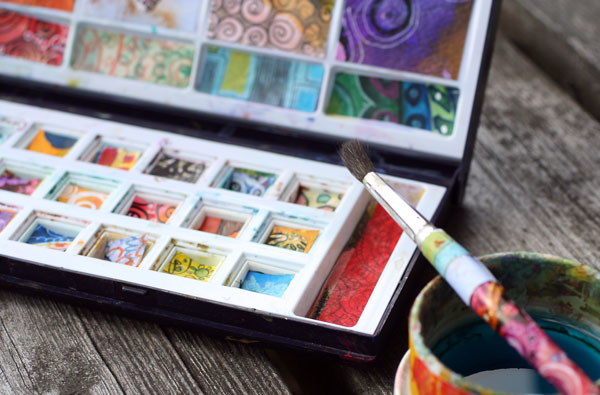 Now the pads are all gone. But even if the tray is empty, the beloved colors can be found in my art journals and display books. I kind of think that I have set them free. To celebrate their freedom and the happy moments spent with them I made a tribute for them. I even dressed their favorite brush and their water cup.
With this tribute I let my watercolors speak to you: use your art supplies and let them show you where art can take you. Art is not a competition, neither any other predefined experience. Art is not too noble or too serious. You have the privilege to fly to the world of imagination and your art supplies crave to help you with that!
Let me be your art teacher: Subscribe to my weekly emails!