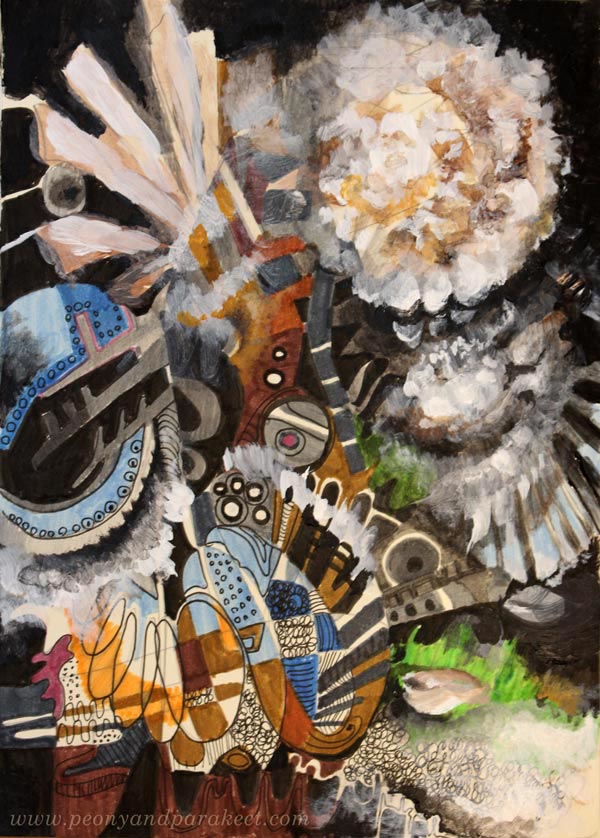 This is my latest art journal page called "The Secret Language of Peonies." I had two inspiration sources for this page.
Mid-Century Modern Brooch
The first part of my inspiration was a brooch that I found at an antique fair. I think it could be a Danish design from the 1950s or 1960s. It only cost 5 EUR, and I liked the idea of having a brooch that is like a piece of abstract art.
Drawing Shapes – Pencil and Felt-Tipped Pens
When I began the journal page, I only had an idea of creating something more graphic than usual.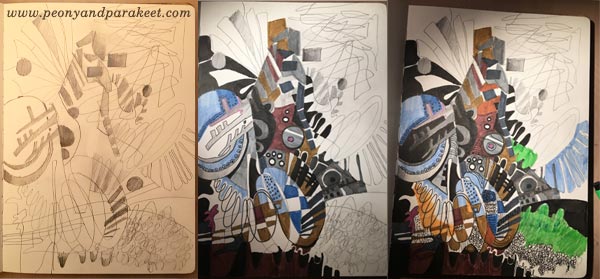 I made a rough sketch with a pencil and then colored a part of it with Faber-Castell PITT Artist Pens. Once the coloring progressed, I felt that I need another idea for the page. I also needed to get more clarity of what I want to say with the image. So I didn't finish the page but left it to wait for another time and inspiration.
For the Love of Peonies –  If They Could Speak …
I have nine peony bushes in the garden, and eight of them are blooming this summer. It's like a big celebration to me, and I have been taking photos a lot. I also belong to the Finnish Peony Society, and they have a lively discussion group. While browsing my photos and seeing other people's snapshots of peonies, I began to wonder why we always take these close-up photos, like the ones below.
I took some steps further away from the flowers and tried to capture the atmosphere in my garden, instead of photographing just one flower.
And then it hit me: I should also include the falling petals, the whole thing.
I imagined how peonies are setting a big show, fireworks included, and how we people don't always get it. Everything in this performance is beautiful in some way. We should let go of the idea of a single flower and embrace the whole experience instead.
It also made me think how it can be liberating for the peony bushes to let go of the flowers. Falling petals and the wind blowing through the bushes must make soft sounds that only spiders and ants can hear. This whispering sound, in turn, made me think about the imaginative language of peonies – what kind of language would that be? And while I photographed the bushes, it became apparent to me: if that language exists, if peonies can really talk, it would be something rich, with a lot of nuances, many kinds of words, complicated structures. Something that we people are perhaps too inadequate to understand.
Two Ideas and Two Styles – Combining Ideas to Deliver the Message
I felt the urge to express my thoughts about peonies visually. Then I remembered the art journal page that I hadn't finished yet. The complicated and secret language of peonies fit perfectly with the abstract shapes. All I needed to do, was to add some reference to peonies to complete the visual message. Because the language was something that had a dimension of its own, I wanted to use different media for the flowers.
So I painted the flowers with acrylic paint, just intuitively, without any fixated idea of how peonies should look.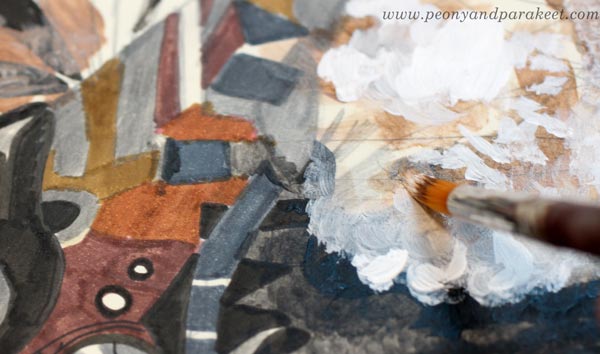 When peonies talk to each other, they see themselves in a different way than how we people see them. The flowers are just the frills. The heart of peonies is more intelligent than we think. It's more like the brooch that I bought! Showing this controversy with two styles makes the page more interesting than sticking with one approach. What do you think?
When there's an imaginative story behind the image, I like to write down some thoughts on the opposite page of the journal. It makes the journal as an idea book for bigger paintings where I want to include more than one or two ideas.
I also have something else to share …
Coming up: "Collageland"
Many of you who have been following me for some time, know that some years ago I made a lesson for 21 Secrets Spring 2015 art journaling class called "Artistic Embroidery with Pens and Paper." This class is no longer available, and I have got back the rights to publish the lesson as an individual piece separate from the rest of the class. However, a lot has happened in the video quality since those times. When I watched my lesson, I wanted to re-record it. And not only re-record it but add more ideas and inspiration into it.
I got the idea of inviting you to my studio to get inspired by the many embroidered pieces, fabrics and quilts I have to show you. I also wanted to deliver the experience of spending a day in my studio and creating paper collages from that textile inspiration. So it would be like seeing my country Finland as "Collageland" and then rebuild it in your imagination.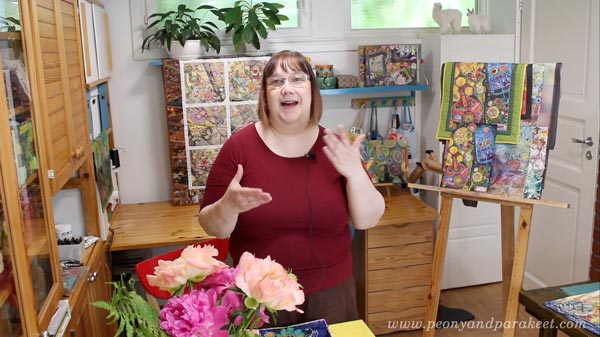 Last week, I recorded videos for one whole day from morning to evening. My husband also helped me so that we got the best footage for each step.  I am currently in the process of editing the videos. Collageland is geared for beginners who like to doodle and see more possibilities in self-expression through it. My original thought was to publish a self-study, but I also want to ask you: are you interested and if so, how would you like this class to be delivered?
SaveSave
SaveSave
SaveSave
SaveSave
SaveSave